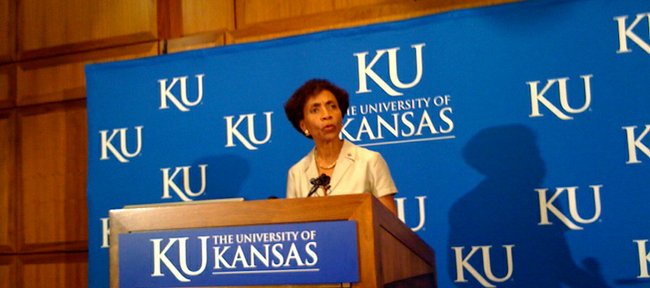 Reader poll
A

26%

1431 votes

B

31%

1719 votes

C

15%

824 votes

D

12%

681 votes

F

14%

779 votes
5434 total votes.
Not even two hours after Kansas University acting athletic director Sean Lester said he wants to become an athletic director at Kansas or elsewhere, Chancellor Bernadette Gray-Little issued a statement that said, in part: "While I am confident in Sean Lester's ability to lead Kansas Athletics as interim athletics director, he has expressed to me that he is not a candidate to be our next athletics director."
Clearly, the search for a replacement for Lew Perkins got off to a confusing start Tuesday.
Anyway, the chancellor, in her statement, announced that the search committee will have five or six members and will be announced by the end of next week.
Major hires in athletics tend to zero in on candidates who have major differences from the previous person sitting in that chair. Based on that, look for the search committee to center on administrators with more a Midwestern than Northeastern sensibility.
Also, given the fallout from the ticket scandal that pushed big-money boosters of KU athletics several rows back in Allen Fieldhouse, expect a candidate the fan base can trust to make sure every area of the department is handled with integrity.
The chancellor's lack of experience in athletics makes trying to forecast the field of potential successors difficult, but look for the leading candidates to have all or most of the following qualities: a reputation for integrity, Midwestern ties, strong salesmanship that can lead to reviving fundraising to the level it was at before the scandals hit and knowledge of how to heighten the profile of the football program.
A look at candidates who match some or all of those characteristics:
Gary Barta, Iowa: A high-energy, driven worker who went from Wyoming to Iowa in 2006, Barta has a strong reputation for integrity and fundraising skill, and his daily exposure to one of the most rabidly loved football programs in the Midwest certainly mesh to make him a strong contender. Plus, he's not afraid to acknowledge when he makes a mistake, as he showed by firing basketball coach Todd Lickliter three years after he hired him. But would he uproot his young family to leave a great job?
Mike Bohn, Colorado: Former KU backup quarterback and member of the baseball team, Bohn has served as CU's AD since 2005. He played a role in helping the Buffs get into the Pac-10 during the conference shakeup that threatened to dissolve the Big 12. He also served as athletic director at Idaho and San Diego State.
Jay Hinrichs, Northern Colorado: To meet him is to like him, remember him and want to see him again, all great qualities for a fundraiser. Made a great hire when the school was searching for a basketball coach. Tad Boyle was such a hit, Colorado stole him. Hinrichs used to work in the Kansas City Royals front office and at KU in the Williams Fund, when it was scandal-free. Does he have a strong-enough football background?
Cheryl Levick, Georgia State: She has been athletic director at Santa Clara and Saint Louis and was a high-ranking administrator at Maryland and Stanford. One noteworthy strike against her on the fundraising trail should she become Kansas AD: She's a Missouri graduate.
Craig Littlepage, Virginia: In his current position since 2001, Littlepage has such a high national profile he was head of the NCAA Men's Div. I basketball committee in 2006. His image took a hit when he came off as a control freak in 2008, when he banned signs from all the school's sporting events, a ban lifted by the school president.

Bernard Muir, Delaware: Muir's desire to be at a school with a bigger football program was thought to be the main reason he left Georgetown, a Big East school, for Delaware of the Colonial Conference. Before going to Georgetown, Muir served as Deputy AD and was a secondary administrator for football. A graduate of Brown University, where he played basketball, Muir worked for the NCAA for eight years and worked his way to become director of the Div. I NCAA Men's Basketball Championship. Personable style lends itself well to raising money. Reportedly butted heads with Georgetown basketball coach John Thompson II.