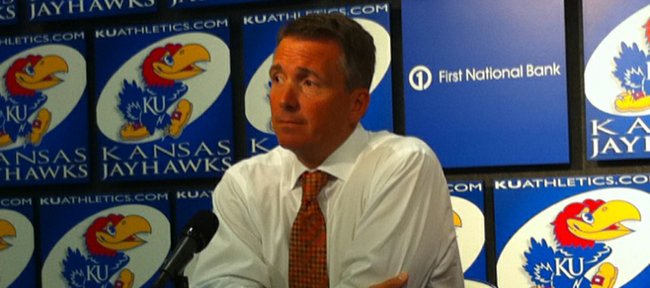 Lew Perkins retirement
Videos
Lew Perkins retires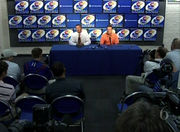 KU's athletic director retired abruptly Tuesday afternoon. Perkins was involved in many changes in the department, good and bad.
Reader poll
A

26%

1431 votes

B

31%

1719 votes

C

15%

824 votes

D

12%

681 votes

F

14%

779 votes
5434 total votes.
Feature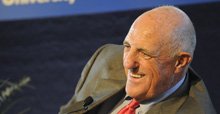 KU Athletic Director led the Kansas Athletic Department for seven years and retired on Sept. 7, 2010. Look back at his time at KU.
Lew Perkins will retire from his position as Kansas University's athletics director effective immediately, according to a release from KU.
"There is no question that Kansas Athletics has benefited from Lew Perkins' leadership," said KU Chancellor Bernadette Gray-Little in the release. "One need only look at the academic success of our student-athletes, at KU's trophy cases and at our state-of-the art athletic facilities to see those benefits. I appreciate his service and understand his decision."
Perkins had previously announced he would retire next September. Sean Lester, an associate athletics director, has been named interim athletics director.
In a press conference Tuesday afternoon, Lester said he was shocked by Perkins' resignation and that he only found out about the situation Tuesday morning.
Men's basketball coach Bill Self told the press he heard the news when the chancellor called him Tuesday morning. He then called Perkins who confirmed the news.
Self said there is a plan in place to find a new athletics director, and that he would be happy to give his input during the process.
"I want someone to come in here and love this place as much as we love it, and to be able to sell it and have a passion about it," Self said.
Lester spent eight years as a senior administrator under Perkins at the University of Connecticut before coming to KU in 2003 — the same year Perkins became athletics director.
As part of a retirement agreement, Perkins will receive an amount equivalent to his salary through the end of his employment, which was otherwise set for Sept. 4, 2011.
All told, Kansas Athletics will pay Perkins $2 million before taxes following today's announcement.
That figure includes payment for a retention bonus due to Perkins if he were still employed on June 30, 2011.
No taxpayer money or tuition dollars will be used.
He said the decision would allow him to stay involved in the Lawrence community in different ways, and allow him to explore other professional opportunities.
"I am grateful that Chancellor Hemenway allowed Gwen and me to come to Lawrence to be part of the great university," Perkins said in the release. "We love this community; we consider it home."
Check back with LJWorld.com for updates.