Videos
Lew Perkins retires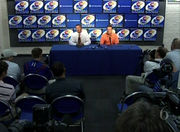 KU's athletic director retired abruptly Tuesday afternoon. Perkins was involved in many changes in the department, good and bad.
Hiring an athletics director will involve a nationwide search.
Chancellor Bernadette Gray-Little has been in contact with stakeholders, alumni and donors since Lew Perkins announced in June that he would retire next year.
The chancellor said in a statement that by the end of this week she plans to form a search committee of no more than five or six people. "Our goal is to name a new athletics director by the middle to latter part of the spring semester, if not sooner," Gray-Little said.
The chancellor said Sean Lester, who was named interim athletics director, will not be a candidate for the job.