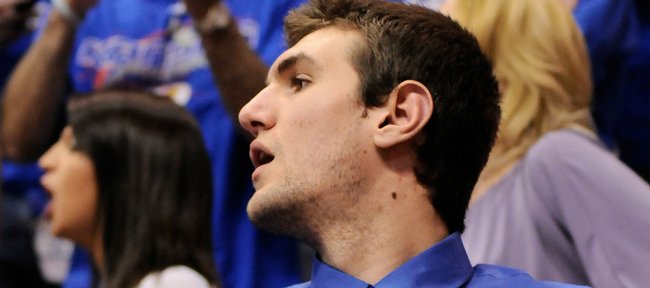 Kansas University freshman center Jeff Withey will miss four to six weeks of practice after suffering a stress fracture in his right knee earlier this week in practice.
"He slightly fractured it two days ago," KU coach Bill Self said, noting Withey would not need surgery. "It's not a major injury, but it's one that's nagging. He'll be back in a little bit, by Dec. 1 is what they tell me."
Withey, a 7-foot transfer from Arizona, will not be eligible to play in games until the conclusion of first semester in mid-December.
Senior Cole Aldrich said Withey was hurt chasing a loose ball.
"He's not going to be missing any games that he would have if he didn't red-shirt," Aldrich said. "He's just trying to get healthy. You get nicked here and there. It's sports. You get injured once in a while. He has a great attitude."
Aldrich said Withey had been playing well.
"He gave me that length and athleticism. It's much tougher to score over him," Aldrich said. "He is a great shot-blocker. Every once in a while he gets me thinking, and it affects my shot."
Self said freshman guard C.J. Henry has been slowed by various aches.
"He's nicked up, whether it be a knee, ankle, hyperextended elbow. He's been practicing a majority of the time, not full time yet. It's nothing serious, just nicked up stuff," Self said.
Two versus UT unlikely: Texas coach Rick Barnes says he'd love to play KU twice a season: once in conference play and again in a game added to the slate.
"It'd be playing the one conference game in Lawrence or Austin and the other in Kansas City or Dallas," Self said.
Self said he did not believe KU ever would schedule two games versus the Longhorns. The two teams could always meet in the Big 12 tournament.
"If we are going to play somebody else, another great name — say a Villanova — could we get as much out of playing Texas again than Villanova? Nobody in our league has done it thus far. I don't know if it's something that will happen. It's on the board."
Turg ill
Texas A&M; coach Mark Turgeon did not attend Media Day. He remained in College Station because he was ill.
Just like Wilt: Self said Aldrich could be KU's best true big man since Wilt Chamberlain.
"It's a huge honor," Aldrich said. "You look through the fieldhouse and see Wilt all over the place. Just being in the same sentence with Wilt is huge."
X's future
It has been said Xavier Henry is a one-and-done player.
"I've got 15 guys right now leaving after this year if they had it their way," Self cracked. "Every coach does. He hasn't once said he's positively leaving. That's the talk if he performs at a high level. If he puts himself in position to make that decision, I'm all for him doing it. I didn't bring him here saying he's going to be here two, three years. I brought him here believing when the time is right, you go. If it's after one, it's one. If it's after two, it's two. Xavier would tell you the same thing."
No summer school
Self admitted some Jayhawks wondered why Xavier and C.J. Henry worked out in Oklahoma City all summer rather than attending KU summer school.
"No doubt they said that: 'Why isn't X here? Why isn't C.J. here?'" Self said. "I explained the reasons they weren't. They didn't hold it against them. They were all looking forward to them getting here. I told Xavier and C.J., 'Just so you know, there are going to be some guys lined up to guard you when you get here.' Our guys bought into them the first day they walked on campus. They are really good kids. They've done a good job fitting in."
Coaches clinic
Self today begins his two-day coaches clinic. Guest speakers will include former Kentucky and Texas A&M; coach Billy Gillispie and former NBA coach Del Harris.