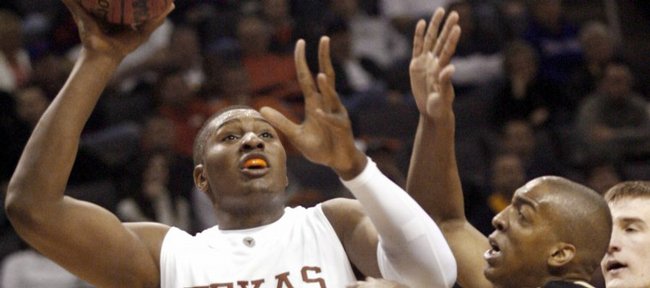 Kansas City, Mo. — The following capsules break down the Big 12 teams outside of Lawrence for the upcoming hoops season.
Teams are organized in the order they appeared in the Big 12 coaches poll released earlier this month. Kansas University was the unanimous No. 1 selection.
Texas (23-12 overall last season, 9-7 Big 12)
Returning standout: Senior center Dexter Pittman. The 6-foot-10, 290-pounder was a force at the end of the season, averaging 17 points and 11 rebounds in three Big 12 tournament games.
Fresh face: Avery Bradley. The freshman was the No. 4 overall Rivals.com recruit last year and should make immediate impact in the Longhorns' backcourt in replacing A.J. Abrams, the Big 12's all-time leader in three-pointers made with 389.
Quotable from Thursday's media day at Sprint Center: "He got sick a couple weeks ago and got down to under 290 (pounds) for the first time. I said, 'Maybe you should stay sick all the time.'" — Texas coach Rick Barnes, joking about Pittman.
Sorrentino says: UT is the only team that will challenge Kansas for the Big 12 title. The Horns have one of the deepest frontcourts in the country (Pittman, Damion James, Gary Johnson, Jordan Hamilton). Texas loses to Kansas in another epic Big 12 title game, but the Horns knock on the door of the Final Four.
Oklahoma (30-6, 13-3)
Returning standout: Sophomore guard Willie Warren. No longer is OU Blake Griffin's team. Warren (14.6 points, 3.1 assists per game) will be the face of the Sooners.
Fresh face: Tommy Mason-Griffin. At 5-11, 203 pounds, the freshman has nearly the exact frame of KU's Sherron Collins. Griffin put up monster numbers as a high school senior last year (22.8 points, 5.3 assists, 4.4 rebounds, 3.7 steals per game) and should play from Day 1.
Quotable: "Myself," Warren said, smiling, when asked who the best player was in the Big 12. "That's just my confidence. I hope Sherron Collins has the same confidence. That's what you need to have a great team. You need your best player to feel like he's the best in the conference."
Sorrentino says: OU's identity will be reversed from last year, when the Sooners punished teams down low with Griffin. Coach Jeff Capel's best players now play along the perimeter. OU will make the NCAA Tournament, but won't challenge Kansas or Texas for the Big 12 crown.
Kansas State (22-12, 9-7)
Returning standout: Senior guard Denis Clemente. The Wildcats are a guard-oriented team with Clemente (15 points per game) and junior Jacob Pullen.
Fresh face: Wally Judge. The Wildcats keep recruiting in Washington, D.C., and it seems to be working. Judge, a five-star recruit, played for the same AAU factory (DC Assault) as former KSU star Michael Beasley.
Quotable: "The first time he threw it off the JumboTron and it went in, no one saw it," Pullen said of Clemente's famous H-O-R-S-E shot off the scoreboard made popular on YouTube. "No one believed it. I was like, 'I haven't seen that. I don't believe it.' He kept trying to do it and finally he had someone record it."
Sorrentino says: K-State will make the NCAA Tournament after missing it last year. The Wildcats must improve upon their Big 12-worst 65 percent free-throw percentage. No one on the team shot 80 percent from the stripe.
Texas A&M; (24-10, 9-7)
Returning standout: Senior guard Donald Sloan. With Josh Carter gone, Sloan is the Aggies' returning scorer (11.8 points per game) and floor general.
Fresh face: Naji Hibbert. He's a 6-6 shooting guard who, according to Rivals.com, could put on some body mass to become a more effective player.
Quotable: "Oh, Allen Fieldhouse, by far," senior guard Derrick Roland said of the toughest atmosphere in which he's ever played. "My freshman year (2007), we went there and won, and then last year we went in there and didn't do well at all. The crowd totally revs them up. All the props and things. It's pretty amazing to see, when the fans get into it like they do."
Sorrentino says: A&M;, with a top-30 recruiting class, has an interesting mix of youth and experience (Sloan, Roland, Bryan Davis). The Aggies will go dancing in March.
Oklahoma State (23-12, 9-7)
Returning standout: Junior guard James Anderson. He is the best scorer in the country that no one knows about. The true test to see if Anderson can be a leader will be toward the end of games. No longer will the Cowboys have Byron Eaton knocking down clutch shots and demanding the ball with the game on the line like he did to knock Tennessee out of last year's NCAA Tournament. Can Anderson be that guy?
Fresh face: Ray Penn. Coach Travis Ford said Penn had a more complete game than any other freshman on the team. The Cowboys lack a point guard after Eaton's departure and could look to Penn to fill that spot.
Quotable: "In practice, he once made 92 or 93 threes in five minutes. He's an incredible shooter." — Senior guard Obi Muonelo, on sophomore guard Keiton Page.
Sorrentino says: The Cowboys like to launch it from deep (four players averaged close to 40 percent from the arc last year). They may sit on the bubble in March, but here's guessing they make it.
Missouri (31-7, 12-4)
Returning standout: Senior guard J.T. Tiller. Simply put, there's not a better defender in the country. He exemplifies coach Mike Anderson's relentless style of pressure defense.
Fresh face: Michael Dixon, Jr. Anderson said he viewed Dixon as one of the best guards in the country in the recruiting process.
Quotable: "There's a reason why we won 31 games ... We led the nation in assists. We led the nation in assist-to-turnover ratio. This is a team that was No. 5 in the country in scoring, playing up-tempo. I think people fail to recognize that." — Anderson.
Sorrentino says: The task of trying to replace DeMarre Carroll and Leo Lyons makes Missouri the most unknown team in the Big 12. They'll be on the bubble for tournament time and barely miss out.
Iowa State (15-17, 4-12)
Returning standout: Junior forward Craig Brackins. He's a dominant scorer, but he needs help. Brackins averaged 20.2 points per game last year. He was the only Cyclone to average in double figures.
Fresh face: Chris Colvin. The four-star recruit should challenge for minutes right away at point guard.
Quotable: "If you're going to win in the Big 12, you have to have versatility on the wing with some size. We were desperately missing that a year ago. We really haven't had that since we had (6-6, 200) Rahshon Clark (2004-2008)." — ISU coach Greg McDermott.
Sorrentino says: In talking to Brackins about passing on declaring for the NBA, he said he talked to former Cyclone and current Memphis Grizzlies guard Mike Taylor and came to the conclusion he wasn't ready for the business aspect of the NBA and felt that he needed more seasoning. Brackins is a star talent, but he doesn't have enough around him for ISU to make a tournament run.
Texas Tech (14-19, 3-13)
Returning standout: Junior forward Mike Singletary. He was the most exciting player in the Big 12 tournament last year after scorching Texas A&M; for a tournament-record 43 points.
Quote of the day: "Oh no, I just tried not to screw it up. I swear, I told the guys to run a ball screen for (Alan) Voskuil or (John) Roberson and they called me off. They said nope, we're just going to give it to Mike." — Coach Pat Knight, on Singletary's Big 12 tournament performance.
Sorrentino says: Singletary and point guard Roberson are underrated, and the Red Raiders will be one of the surprise teams in the Big 12. They're a year away from making the NCAA Tournament, though.
Baylor (24-15, 5-11)
Returning standout: Junior guard LaceDarius Dunn. He's streaky, but when he's on, he's the most lethal three-point shooter in the conference.
Fresh face: Junior Ekpe Udoh. The University of Michigan transfer could impact the paint for Baylor immediately. He led the Big Ten with 2.91 blocks per game two years ago.
Quotable: "He's been our best defensive guard the last couple of years. We've put him on the best offensive player. And now I think he'll get a chance to show more of his offensive ability." — coach Scott Drew, on senior guard Tweety Carter.
Sorrentino says: Baylor had a nice run last year with an appearance in the NIT finals, but the departure of Curtis Jerrells won't make it any easier in getting back to the tournament that really matters.
Nebraska (18-13, 8-8)
Returning standout: Senior guard Sek Henry, 8 points per game. The Huskers need to find a scorer after Ade Dagunduro's departure.
Fresh face: Brandon Ubel. The 6-9 Overland Park product comes from the same high school (Blue Valley West) as Texas Tech sophomore Robert Lewandowski and could make an immediate impact.
Quotable: "Coach and I have known each other for about 20 years. He was an assistant at Oklahoma State. I worked for coach (Eddie) Sutton also. We became friends. He is just very, very good at what he does. He feels sorry for me and gives me strokes in golf. But it probably won't happen as much now. He's got a daughter in college. I'm sure he's budgeting a little bit tighter. But no, he's just a great guy. He's a guy that no matter if we were fixin' to play them tomorrow, he'd spend the time to visit with me." — Nebraska coach Doc Sadler, on KU coach Bill Self.
Sorrentino says: Somewhere toward the bottom of the Big 12.
Colorado (9-22, 1-15)
Returning standout: Junior guard Cory Higgins, 17.4 points per game.
Quotable: "Our weakness is going to be our rebounding. It was last year. If that doesn't change, you know, to be quite frank, we're not going to change much from a win and loss standpoint. And players know that." — coach Jeff Bzdelik.
Sorrentino says: Somewhere toward the bottom of the Big 12.