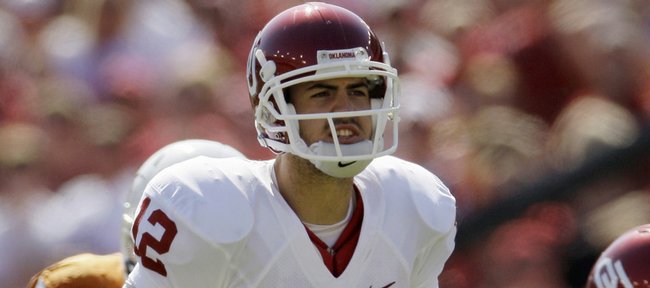 Norman, Okla. — Less than halfway through his first game as the backup to Heisman Trophy winner Sam Bradford, Landry Jones got called on to make his Oklahoma debut much earlier than expected.
A few weeks later, after just one offensive series in the Sooners' biggest rivalry game of the season, his number got called again.
The nightmarish season for the loser of last season's BCS championship game has also provided a trial by fire for Jones, the team's projected quarterback of the future.
"No stage has been too big for him. No situation has overwhelmed him," said quarterbacks coach Josh Heupel, the 2000 Heisman runner-up for the Sooners. "I think he's handled himself with a lot of confidence, and I think our football team has felt that as well."
Jones has had the unenviable task of twice stepping in to replace Bradford, who had one of the most remarkable years in college football history last season with 4,720 yards passing and 50 touchdowns.
Jones was expected to rescue the Sooners' national title hopes — all while missing a tight end with 26 career touchdown catches, three senior wide receivers and four starters on the front line from last season's offense. And without ever before taking a college snap.
"This season has gone by so fast. It's been a lot of fun," said Jones, a red-shirt freshman. "I obviously would have wanted it to come out differently in some of those games, but this season has been a blast for me.
"I've played more than I ever thought I would play this year, so it's been a lot of fun."
Jones came to the 25th-ranked Sooners (3-3, 1-1 Big 12) from Artesia, N.M., where he was a Parade All-American and won back-to-back state championships. He started out playing running back and linebacker, but stuck at quarterback after he started throwing the ball late in elementary school. Now, he considers himself a fan of Carson Palmer, admiring the way the Cincinnati Bengals quarterback throws with balance and strength.
"Since he's been here, I've known he's a good ballplayer," tight end Trent Ratterree said. "It's just sometimes you get in a situation where you've got a better ballplayer over the top of you."
When Jones committed to play in Norman, there were three others entrenched in front of him on the depth chart — Bradford, Joey Halzle and Keith Nichol. Halzle finished his senior season last year, and Nichol transferred to Michigan State after losing the quarterback competition to Bradford.
As the Sooners prepared for the BCS title game last winter, the grooming of Jones was in full force.
"I thought it was going to be a long time before I got to play here, especially when Sam was here and Keith was here and Joey was here," Jones said. "I just kept plugging away and kept working as hard as I could. Fortunately enough, I got to play my red-shirt freshman year."
Jones has had his highs and lows. He broke the school record held by Bradford, Heupel and 2003 Heisman winner Jason White when he threw six touchdown passes in a 45-0 win against Tulsa, and he earned a cult following among students for a straggly mustache that seemingly got more attention than his play against BYU after Bradford got hurt.
The low points, of course, came in three losses that have knocked Oklahoma out of the national championship picture. Most recently, he threw two fourth-quarter interceptions to seal the Sooners' fate in a 16-13 loss to No. 3 Texas on Saturday.
"They say you have to forget those bad plays that you do, but you can also learn from the bad ones," said Jones, who was named after former Dallas Cowboys coach Tom Landry. "Some of those plays that I did I'm going to learn from in the past and never make those mistakes again."