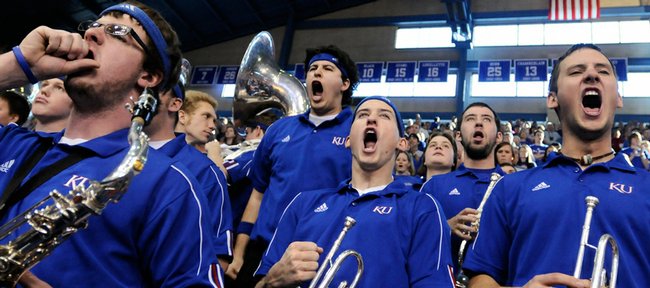 Reader poll
Live music

78%

2347 votes

Recorded music

3%

95 votes

A combination of both

11%

359 votes

Neither

2%

66 votes

It doesn't matter

4%

137 votes
3004 total votes.
It was all band, almost all the time at Saturday's Kansas University men's basketball game.
A switch to more recorded music over the loudspeakers and less band music at Wednesday's game versus Iowa State had some fans worried that KU's basketball tradition was being tainted with NBA-style shenanigans.
But the tune changed on Saturday.
The band's continuous repertoire of fight songs and crowd-pleasers such as "Come On Eileen" and "Sweet Caroline" left many in the stands of Allen Fieldhouse with smiles.
"Band all the way," self-described Jayhawk fanatic Lori Carr said.
KU senior A.J. Brenn noticed the acoustic difference when he watched Wednesday's game on television. And he appreciated the return to primarily band music at the next home game.
"I'm sure some people get pumped up with the piped-in music, but I think the majority of students like the traditional band playing," Brenn said.
Jeff Ayesh — who has held season tickets since Larry Brown started coaching — said the recorded music reminded him too much of Kansas State games.
Not everyone was opposed to Wednesday's switch up. Cheering from the student section, KU freshman Josh DeBoer said it helped fill in the silences; Lawrence resident Bryan Smith said it was easier to hear over the recorded music; and KU freshman Jack Xu said it really didn't make that much of a difference.
"It's just music," he said.
After Wednesday's game, Jim Marchiony with KU Athletics Department said the addition of recorded music was an effort "to change things up a little bit." On Saturday, Marchiony said he didn't have anything more to say about the subject.
As for the band, members said Saturday it was nice to know that their work doesn't go unnoticed.
"I know that we are a big part of the game," bass guitarist Joe Nasternak said. "But it's made me realize how big of a deal we are here."