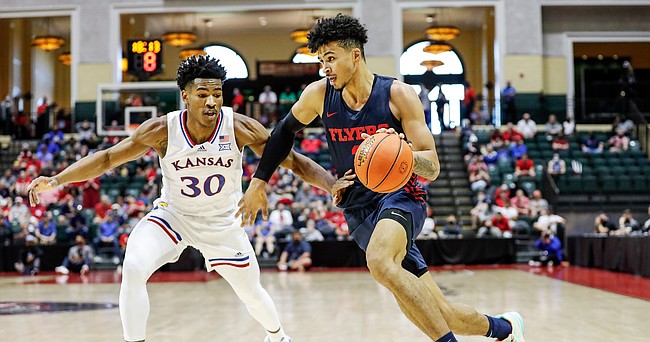 No. 4 Kansas Jayhawks (4-1) vs. Iona Gaels (6-1)
Time: 12 p.m., Sunday, Nov. 28, 2021
Location: HP Field House, ESPN Wide World of Sports, Kissimmee, Fla.
TV: ESPN | Radio: IMG Jayhawk Radio Network
Keys for Kansas
1. This one's about pride
The goal for Kansas when they left for Orlando was to bring home another tournament championship. But extending their streak of consecutive in-season tournament titles to seven went out the window with Friday's loss to Dayton.
Now, the Jayhawks take on an Iona team that knocked off 10th-ranked Alabama on Thursday, with the hope of avoiding a losing record at the event.
There's little doubt that the past couple of days have been spent trying to tighten up a few Xs and Os and areas of execution to help them in the big picture. But, for the most part, the matchup with Iona will be about how KU responds to their first setback of the season.
Guys like Christian Braun and Ochai Agbaji have been in this position before. And their experience and leadership qualities should serve them well.
The question will be, can they communicate to their teammates how to handle the disappointment of a game they feel they should've won, and can the roster collectively move past it quickly enough to win a consolation game while playing for the third time in four days.
Agbaji, who again led Kansas in scoring with 21 points in the loss to Dayton, admitted to being worn out by the end of that game, largely because of the pace and high intensity. But even with tired legs, he said he found a way to keep pushing because he knew his team needed it and that's what he signed up for.
The responses from both Braun and Agbaji following the loss to Dayton made a bounce-back seem possible.
When asked about responding to the loss, Braun said, "it can either tear you apart or you can get better."
Agbaji pinpointed the most important part of answering that question.
"The main thing is to stay together," he said.
Kansas coach Bill Self believes that the setback could recalibrate this team's approach.
"The way that we kind of see the game right now, in some people's eyes, when we're behind or we're struggling, an individual needs to go try to get it back right as opposed to the team trying to get it back right," he said Friday. "We can learn from that. Those are mistakes that are correctable."
2. Defensive intensity from start to finish
The Flyers shot 53% from the floor in Friday's victory and a much higher percentage than that (63.2%) on 2-point baskets.
For the second game in a row, KU allowed the opponent's guards to get downhill and attack the rim without much consistent resistance and Dayton, as a whole, grabbed 12 offensive rebounds, 11 second-chance points and scored 42 points in the paint.
Part of the defensive issues for Kansas right now come when the Jayhawks go to their second unit. But there's also the issue of chemistry, buy-in and simple execution.
As any KU fan knows, Self will not settle for sub-par defense. So the emphasis, in practices, on off days and on game nights, will continue to be finding a way to get the defense right. This team has the pieces to defend at a high level, and, at times even this season, it has shown that to be the case.
"I need to study it to know exactly," Self said. "But our defense has been pretty darn good the first 10 minutes of most every game, creating havoc, (not letting guys get) what they want. But in the second half, (Dayton) didn't score off their actions, they scored off their players."
Put a different way, KU's players often made the right moves and were in the right places on the defensive end, but they did not finish enough possessions to prevent points.
On some occasions, bad offense leads to bad defense, as sloppy play or silly shots can lead to easy points for the opponent. But Self noted that he did not think that was the case against Dayton. It simply came down to Dayton's offensive players asserting themselves and pushing past KU's resistance.
"We didn't have many empty possessions, offensively," Self said. "Maybe a marginal shot that leads to run-outs. … But you've got to be so good on one end when the other end's not good."
And KU's margin for error on the offensive end is limited right now because of the team's issues on defense.
3. Bigs must play big
It's no secret that KU's big men — most notably David McCormack — have struggled mightily throughout the first five games of the 2021-22 season. But it's also no secret that Self is not going to go away from using them altogether any time soon.
Self has said throughout the early portion of the season that the Jayhawks need their bigs to be effective, whether that's on the stat sheet and in terms of production or simply by being a presence on the floor.
As McCormack has struggled out of the gate for the second season in a row, Self has focused almost entirely on getting his starting big man to play to his size and impact the game as a rebounder and rim protector more than anything else.
If he's able to do that, the points and stats will come. But too often this season McCormack has played below the rim and let smaller players bother him on defense and score over him or through him on offense.
That has put extra pressure on KU's other front-line players to not only do their jobs but also to try to help pick up some of the slack in the paint.
"Until we have a post presence and we can defend the rim and defend the paint and score inside some, it puts a lot of pressure on Och and CB to be our inside presence," Self said following KU's semifinal loss to Dayton. "And that's what they were today. That's what they were the last game, as well. So we've got to get our bigs going."
Super-senior Mitch Lightfoot has given Kansas good minutes in spurts. But he's a couple inches shorter and several pounds lighter than McCormack and can only do so much. The same goes for freshman Zach Clemence, who has played some at the 5 but is doing it for the first time while figuring out how to adjust to college basketball in general.
The onus for improvement in this area falls squarely on the shoulders of McCormack. And because of the construction of this roster, Self is going to keep giving him chances. How long those chances last and how many minutes he plays in a given game is entirely up to how well McCormack produces while he's out there.
The belief among the coaching staff and his teammates is that McCormack can turn this around. They saw him do it last year and they know that his desire is not an issue. It's all about effort and execution at this point.
Marquee Matchup
Kansas coach Bill Self vs. Iona coach Rick Pitino
Talk about your all-time heavyweight battle in the coach's box. Sunday's matchup between Self and Pitino features a pair of Hall of Fame head coaches with more than 1,500 combined victories matching wits in the ESPN Events Invitational's third-place game.
The game will mark the first meeting between the two iconic college basketball coaches. KU never played Louisville while Pitino was there. And Self's Oral Roberts and Illinois teams never faced Pitino's Kentucky or Louisville squads either.
While Self was the head coach at Tulsa, from 1997 to 2000, Pitino was the head coach of the Boston Celtics.
The two coaches were one matchup away from squaring off on college basketball's biggest stage at the 2012 Final Four. But eventual national champion Kentucky knocked off Pitino's Louisville team in the national semifinals in New Orleans to advance to the national title game against Self's Jayhawks.
Out of college basketball for three seasons from 2017 to 2020 after being fired by Louisville in the midst of a scandal, Pitino resurfaced with the Gaels at the start of the 2020-21 season and immediately led the Gaels to an NCAA Tournament berth.
Iona was a 15 seed in last season's NCAA Tournament and lost to Alabama in the first round in Indianapolis. With much of that roster set and the foundation for Pitino's brand of basketball in place, Iona opened the current season with six straight wins before falling to Belmont, 72-65, in Friday's second semifinal game.
Self enters this matchup with an all-time record of 733-224. More than 500 of those wins have come during his 19 seasons at Kansas.
Pitino enters with a record of 788-278, with more than 600 of those coming during his days at Kentucky and Louisville.
While many coaches in college basketball have transitioned to the more casual sideline approach during the past two seasons, with polos and pullovers taking the place of jackets and ties, Pitino is one of the few coaches who continues to wear a suit on game nights.
Pitino's team is averaging 72.7 points per game and giving up just 67, while shooting 42% from the floor and 32% from 3-point land. Their 3-point defense thus far has limited opponents to just 25.3% shooting from behind the arc, which ranks 22nd nationally according to KenPom.com.
Iona's defense also ranks in the 78th in the country in defensive efficiency, and in the top 50 in effective field goal percentage, preventing offensive rebounds and block percentage.
Jayhawk Pulse
During the 2018-19 season, when the Jayhawks suffered their first loss of the year in a road game at Arizona State, then-point guard Devon Dotson was fuming mad afterwards.
It was his first loss as a Jayhawk, and, up to that point, it really seemed like he thought he would never lose a game in a Kansas uniform.
He went on to lose a handful more, of course, and his ability to accept the losses when they came and learn from them played a huge role in Dotson's sophomore team finishing 28-3 and as the favorite to win the national title before COVID hit.
With so many newcomers and fresh faces on this season's roster, learning that lesson sooner rather than later will be a key part of the next several weeks for the Jayhawks.
"It's a marathon," Selfs said matter-of-factly after Friday's loss. "The team that we have today won't be the team that we have in February and it may not be the team we have the first of January. We haven't become a team yet. But I do think we're gaining on it."
One thing that accelerates progress and growth more than anything is finding out what you're made of in moments exactly like the one Kansas is facing today.
"When things are going well, a lot of times you can't really tell what kind of team you have," Self said. "You can tell more about (your team) when you don't make shots or you don't make free throws and the game becomes harder and you're laboring."
Kansas leads the all-time series with Iona, 3-1, with the most recent meeting coming in 2013. KU won that matchup 86-66 during a mid-November game in Lawrence.
Probable Starters
No. 4 Kansas
G – Dajuan Harris, 6-1, 180, Soph.
G – Remy Martin, 6-0, 195, Sr.
G – Ochai Agbaji, 6-5, 210, Sr.
G – Christian Braun, 6-6, 205, Jr.
F – David McCormack, 6-10, 265, Sr.
Iona Gaels
G – Tyson Jolly, 6-4, 205, Sr.
G – Elijah Joiner, 6-3, 205, Jr.
G – Berrick JeanLouis, 6-4, 200, Sr.
F – Quinn Slazinski, 6-9, 215, Jr.
F – Nelly Junior Joseph, 6-9, 240, Soph.