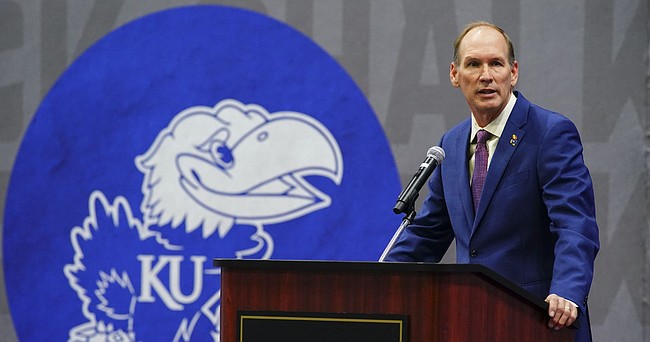 Lance Leipold's first staff at the University of Kansas will consist of what the head football coach considers to be a "great blend" of former Buffalo assistants and returning KU coaches.
KU announced all 10 of Leipold's assistants on Wednesday. As previous reports indicated would be the case, Brian Borland came in from UB as the Jayhawks' new defensive coordinator, Andy Kotelnicki will take over the role of offensive coordinator, and Emmett Jones will remain on staff as the Jayhawks' receivers coach.
Also following Leipold from Buffalo to Lawrence are offensive line coach Scott Fuchs, linebackers coach Chris Simpson and quarterbacks coach Jim Zebrowski.
Leipold ultimately decided to keep five of the assistants who were on Les Miles' last KU staff: Jones, defensive line coach Kwahn Drake, cornerbacks coach Chevis Jackson, special teams coordinator Jake Schoonover and running backs coach Jonathan Wallace.
"I am extremely proud of the staff we have assembled here at Kansas," Leipold stated in a release. "It's no secret how much I value continuity among a coaching staff, and I truly believe we've achieved that here. This is a great blend of coaches who know the philosophies and principles I want to bring to this program and coaches who know the ins and outs of Kansas football as well as our current personnel."
Leipold described his assistants as "elite talent developers, excellent recruiters and hard workers" who are ready to "do their very best" for KU's players.
Borland worked with Leipold at both UB (2015-20) and Wisconsin-Whitewater (1994-2014).
"He has directed some dominant defenses throughout his career," Leipold said of Borland, "and I know he is eager to get things going here."
Similarly, Kotelnicki and Leipold have worked together since Leipold was winning national championships (six in total) at Division III Whitewater.
"He does an excellent job leading our offense and maximizing the strengths of our team each season," Leipold said of the OC. "He is a smart and detailed coach, who has guided some very productive offenses throughout his career. Our guys are really going to enjoy being coached by Andy because he relates with his players so well."
Jones, of course, served as the Jayhawks' interim head coach throughout spring football. Leipold said the Jayhawks are "very excited" to keep Jones, now in his third year at KU.
"It's extremely obvious after talking to people here that Emmett brought great energy to every practice and pushed this program in the right direction," Leipold said, referencing the team's 15 spring practices under Jones' guidance. "He is an excellent wide receivers coach and recruiter, and I am very excited about having the opportunity to coach with him."
A former offensive line coach at Buffalo, Wyoming, North Dakota State and Southern Illinois to name a few, Fuchs played O-line at North Dakota State in the early 1990s.
Said Leipold: "Scott is a former national champion as a player and a coach and understands the effort and sacrifice it takes to succeed up front. His offensive lines have been strong and well-coached, and that's what I'm looking forward to here."
Simpson has coached linebackers at Buffalo, Eastern Michigan and Grand Valley State in the past.
"Chris did a stellar job with our linebackers at Buffalo," Leipold said, "and helped develop and recruit some very productive players. He and Coach Borland complement each other very well because of Chris's knowledge of our scheme and history on our staff."
Zebrowski, Buffalo's quarterbacks coach the previous four years, also coached QBs at Minnesota (2011-15) and Northern Illinois (2010) before reuniting with Leipold at UB. Zebrowski also was Whitewater's offensive coordinator and QBs coach form 2007-09.
"We have some talented quarterbacks on our roster here," Leipold stated, "and I think Jim is going to do a great job of working with them and developing them. He's worked with several different types of quarterbacks in his career and can tailor his style to his personnel."
Like Jones, Jackson and Drake were among Miles' first hires, when he took over the program in late 2018.
KU's new head coach, Leipold described the the cornerback group, which includes sophomore standout Karon Prunty, as a position with "exciting young" players.
"Chevis has stood out in his recruiting and development since joining the staff," Leipold said, "and that will no doubt continue moving forward."
Drake came to KU after working with former defensive coordinator DJ Eliot at Colorado.
"We have a lot of young players with great potential on the defensive line, and it's imperative Kwahn continues to develop them and work with them," Leipold said.
Schoonover was hired by Miles this past February, coming to KU from Bowling Green. Although he was initially an outside linebackers coach and special teams coordinator, Leipold will have Schoonover handle special teams exclusively.
"He began putting his fingerprints on the special teams this spring," Leipold said, "and we certainly want to continue that momentum into next season."
KU football 2021 coaching staff
Head coach - Lance Leipold
Defensive coordinator - Brian Borland
Offensive coordinator - Andy Kotelnicki
Receivers - Emmett Jones
Cornerbacks - Chevis Jackson
D-line - Kwahn Drake
O-line - Scott Fuchs
QBs - Jim Zebrowski
LBs - Chris Simpson
RBs - Jonathan Wallace
Special teams coordinator - Jake Schoonover