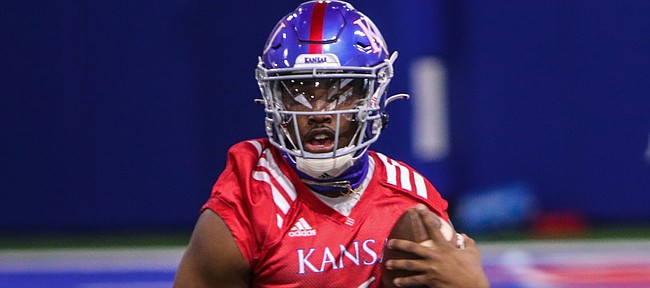 There's no telling now who will be considered the Kansas football team's No. 1 quarterback by the conclusion of spring practices — let alone at the start of the season in September.
The way interim head coach Emmett Jones views it, the QB competition is "an all-out race" at this juncture, with more than a dozen spring practices still ahead of the Jayhawks.
"You've got seven guys out there competing," Jones said during his video press conference on Tuesday, immediately following the team's first spring session.
Avoiding tipping his hand regarding any frontrunners, Jones didn't mention any of the contenders by name while discussing the state of KU's QBs. The coach only revealed that he liked the way the players at that position prepared for the team's first practice since December.
Jones said the QBs showed up proving to be "great students" of the game, displaying some of the knowledge, characteristics and skills that offensive coordinator Mike DeBord and interim quarterbacks coach Travis Partridge expected to see.
But Jones also emphasized that the QBs will be tested throughout the spring schedule.
"Now the bullets are flying around a little bit out there," Jones said. "They're seeing D-linemen coming at them a little bit. They're seeing mike backers dropping, or some type of stunt. But for the most part those guys are competing. I thought they did a decent job (Tuesday). Some of them flashed at different times."
One of the receivers who spent KU's first spring practice catching passes from the QBs, super-senior Kwamie Lassiter II, shared afterward what stood out to him about the throwers. The first teammate Lassiter mentioned was sophomore Jalon Daniels, who started six games as a true freshman in 2020.
"J.D.'s still got the nice arm," Lassiter said. "He threw me a nice ball today."
The veteran receiver also brought up the names of QBs Miles Kendrick and Miles Fallin, both of whom are seniors.
"They all stood out to me, really," Lassiter said of the QBs. "I couldn't even tell you one person. Every time they went in they made plays."
The Jayhawks will have yet another QB in the mix later in the year, with former North Texas starter Jason Bean set to transfer in this summer. Jones said he couldn't yet comment on Bean, and that he and KU's other offensive coaches are focused on the QBs who are on campus this semester, and preparing them to be ready to play in the fall.
"The objective is to get better each day," Jones said. "But we definitely saw some things we liked out of a few of those guys (at the first practice)."
Two of the seven quarterbacks for KU this spring are true freshmen: Class of 2021 signees Ben Easters and Conrad Hawley. Lassiter said both young QBs are "still learning."
"But they've got a lot of talent. They've got nice arms," Lassiter added of Easters and Hawley, each rated as a three-star prospect by Rivals.
The veteran receiver expects the two young QBs to become more effective with time and reps.
"Once you know the offense, it just slows the game down — it's just like making a layup," Lassiter said of the process.
Medley moves out wide
One of the Jayhawks' former reserve quarterbacks, Jordan Medley, has since moved to a new position, Jones shared this week.
A high school quarterback who joined the program in 2020, Medley, listed at 6-foot-2 and 212 pounds this spring, has joined the receiver group. Medley will be a redshirt freshman this year.
"We got stronger and bigger on the wide receiver side," Jones said regarding Medley. "It all worked out well."
QBs on KU football 2021 spring roster
• Jalon Daniels, 6-0, 203, so.
• Miles Kendrick, 5-10, 203, sr.
• Conrad Hawley, 6-5, 220, fr.
• Ben Easters, 6-3, 195, fr.
• Miles Fallin, 6-6, 211, sr.
• Torry Locklin, 6-2, 210, so.
• Jordan Preston, 5-10, 206, so.