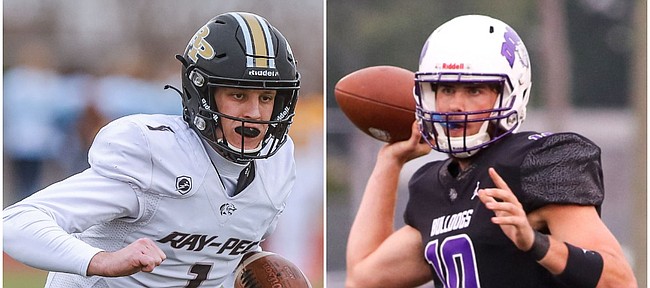 Even before they packed up everything they will need to bring to Lawrence for their first semester at the University of Kansas, incoming freshmen Ben Easters and Conrad Hawley got a sneak peek at their new lives as KU football quarterbacks.
The Jayhawks' pair of Class of 2021 QBs, who will both move in to their new apartments on Sunday, have been on Zoom calls in recent days with offensive coordinator and QBs coach Brent Dearmon, as well as some of their new teammates.
"I'm already getting a feel for what it's going to be like," Easters told the Journal-World in a phone interview. "So I'm really excited about getting to learn the offense. Coach Dearmon makes it sound so easy."
Easters and Hawley, both of whom were rated by Rivals as three-star prospects, said the calls include some video review with all of KU's quarterbacks hopping on.
Hawley said some of his earlier Zoom calls with Dearmon during his recruitment gave him a good introduction for what was to come.
"Getting to be around the guys (virtually) is actually the most fun part, because everyone gets to chime in and you can really see what everybody's about," Hawley told the Journal-World during a phone interview.
The couple of QB video meetings the Jayhawks had this past week lasted roughly 90 minutes.
"In my opinion the most beneficial thing is watching film with everybody," Hawley went on, "and learning how everybody works and how we should work as a quarterback room. I'm excited to get to know my teammates."
Easters, a 6-foot-3 QB from Brownsburg, Ind., said the sessions have allowed him to already understand some of KU's offensive plays long before he will be asked to execute them himself during spring practices.
"It's really cool to hear Coach Dearmon explain things and really get an insight into how I will be coached," Easters said. "He does such a good job of explaining things and really breaking down the play and telling you, 'This is what you need to do to be successful.'"
Hawley, a 6-5 QB from Ray-Pec High, in Missouri, said because of the early prep he's already learning how to recognize certain cues from defenses, with how players move before and after a snap. He said that process was "kind of cool" for him, because the defenses he faced in high school typically ran whatever they showed schematically when they lined up before a snap.
"If there's certain guys in this gap, the pressure's going to be here," Hawley said of some of the defensive subtleties Dearmon is teaching them to identify. "Certain teams like to show this but then they'll bail to that. You'll just see tendencies of these defenses, which has been pretty awesome."
Easters said the clips the QBs watched were from both the 2020 and 2019 seasons.
"Carter Stanley made some good reads, some good throws. He's pretty incredible," Easters noted.
For the most part the KU QBs have been reviewing base pass plays within Dearmon's offense.
"The stuff that will be in every week and can work against any coverage," Easters explained. "Kind of an introduction into the play book before we get into everything."
Both Easters and Hawley are eager to try and compete for the starting QB job in 2021, and they're looking forward to getting to know the other top candidates for that spot, Jalon Daniels and Miles Kendrick.
Easters said he's already texted with Daniels some about how to get adjusted as a freshman, and he hopes to lift with Daniels and be around both Daniels and Kendrick as much as possible while getting acclimated.
"I think I can really learn a lot from them," Easters said.
He also lauded Hawley as an "incredible" player, noting the local QB won the Simone Award, given annually to the top high school football player in the greater Kansas City area.
"From the Zoom calls we've had he seems incredibly smart," Easters shared. "Great understanding of the game. So I hope we can both come here and make each other better and grow as players and as people."
The QBs are among a small group of 2021 recruits who will enroll early for the spring semester and get to participate in offseason strength and conditioning as well as the entirety of the spring practice schedule. Safeties Omar "O.J." Burroughs and Jayson Gilliom, offensive tackles De'Kedrick Sterns and Larson Workman and cornerback DeVonte Wilson also have planned to start their college careers a few months before most of the freshmen arrive. Easters said Sterns and Workman will be two of his roommates.
According to the young QBs, they've already heard from Dearmon about what's to come during their first semester as college football players.
Said Hawley: "Just expect to be pushed, expect to learn a lot and just work really hard. And the biggest thing for me as a freshman is just come in and work my butt off and bring competitiveness and leadership into the quarterback room and hopefully elevate the quarterback room."
Easters, too, said he is expecting "a lot of work" based on what Dearmon has shared in a group chat he set up for all the QBs.
"In order to be a successful program we have to set the standard," Easters said of a message from Dearmon that stood out to him. "We have to let our teammates rise to excellence with us and be the guys that they look at. We have to outwork everyone.
"So I should expect — we all should expect — coming into this winter together, lots of hard work, lots of competition."