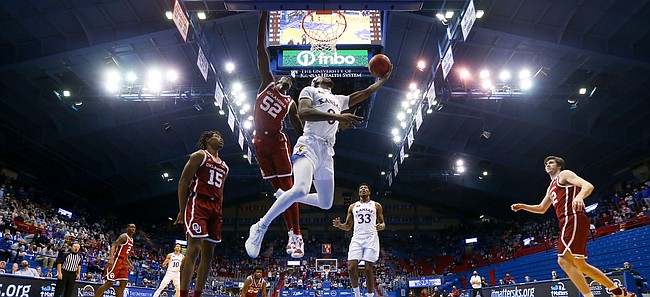 No. 9 Kansas Jayhawks (10-4 overall, 4-3 Big 12) vs. Oklahoma Sooners (8-4 overall, 4-3 Big 12)
Time: 11 a.m., Saturday, Jan. 23, 2021
Location: Lloyd Noble Center, Norman, Okla.
TV: ESPN | Radio: IMG Jayhawk Radio Network
Visit KUsports.com for our live game blog coverage and follow the KUsports.com staff on Twitter: @KUSports @mctait @bentonasmith & @SJacksonLJW
Keys for Kansas
1: Find a balance between pumped and poised. During Monday's game against second-ranked Baylor, Kansas junior Ochai Agbaji performed much better in the second half (13 points off of two steals and three 3-pointers) than in the first. The reason? He said he was a little too fired up at the beginning.
"I started off the game really amped up, kind of too sped up," Agbaji said Thursday. "I didn't really get to that happy medium early on."
He wasn't alone. Junior forward David McCormack, who coach Bill Self said "really wants to do well," also opened the Baylor game with a little too much intensity, which led to him picking up two fouls and turning the ball over in the game's first three minutes.
If the Jayhawks are going to get things turned around and find their stride before the end of the season, their leaders are going to have to find a way to strike a balance between being fired up enough to play hard and staying calm enough to execute.
"Every athlete knows that you're supposed to play with juice and energy," Self said on Thursday. "And hopefully, through years of preparation, that allows you to have control of your emotions. But kids still get excited."
Self said it's better to coach a group that's too turned up than one he has to get going, but better still is finding that middle ground and being able to execute in that space.
"I think our last two games, we've had both emotions," he said. "We needed to get turned up at OSU and we didn't, and we needed to calm down at Baylor and we waited a little bit too long to get that done."
Agbaji said he realized that he can't wait until the second half to play the way he did in the tail end of the Baylor game — he needs to perform that way in both halves. He said his teammates have been keeping him on track.
"They do a great job of keeping me confident, keeping me going, (telling me to) just to look for my shot and to stay aggressive," he said. "Because they need me on the court for that."
2. Get Jalen Wilson going again. After exploding in the season's first 10 games and making a name for himself on the national college basketball scene, Wilson has scored in single digits in three consecutive games.
Wilson's coach and teammates said they were confident he was fine and wasn't in a slump. But the fact remains that these Jayhawks need him to find his scoring touch again if they want to reach their ceiling.
There's no better time to do that than this weekend against Oklahoma. The last game against the Sooners was also where his slide began. He scored 9 points in that game and hit a couple of 3-pointers late that helped KU escape with the victory. But he was quiet offensively up to that point, and he also turned the ball over seven times.
"Jalen is going to be fine," Self said Thursday. "Jalen is a tough kid. But he's also a freshman, and people scout in this league. And they've taken some things away."
Agbaji experienced something similar his freshman season — a red-hot start and a slump late — and his advice for his teammate is to worry less about the opponent and focus more on his own team.
"It's really to just play in our system and play how we play and not really get sped up by what they're trying to do to us," Agbaji said.
A fair amount of Wilson's success early in the season came in KU's five-guard looks, with him at the 5 spot. And there's a chance that the Jayhawks could get back to more of that in the weeks ahead. But even if they don't, Self and Agbaji said Wilson would find ways to make a positive impact.
"He does need to see the ball go down," Self said. "But it will."
3. Get on the offensive glass. Self said KU's effort with its transition defense was 10 times better against Baylor than it was against Oklahoma State the game before.
Now it's time for the Jayhawks to correct another area that plagued them against the Sooners the first time and nearly cost them the game — offensive rebounding.
KU ranks third in the Big 12 in offensive rebounding with a rate of 34%, meaning that the Jayhawks get back about a third of the shots they miss. The last time KU and OU met, however, that number was 25% (6 offensive rebounds on 24 misses), and the Sooners outrebounded KU on the offensive glass, 9-6.
The Sooners rank eighth in the conference in offensive rebounding rate at 27.9%, and they actually underperformed by hitting just 24.3% in the first meeting with Kansas.
Beyond the rebounding numbers, KU's 16 turnovers (compared with just nine for Oklahoma) also helped the Sooners fire up 13 more shots than the Jayhawks the last time these two played.
Every game is different. And some feature long misses or weird bounces that can skew the rebounding numbers. But focusing on the offensive glass is sure to give the Jayhawks more breathing room this time around.
Sophomore guard Tristan Enaruna, whose minutes have gone up in recent weeks with freshman guard Bryce Thompson out of the lineup, said Thursday that offensive rebounding was an area he targeted for ways he could help this team.
"I think rebounding on both ends (is key)," Enaruna said. "But I think, offensively, stealing some extra possessions on that (end) can impact the game."
The Kansas lineup features five players who average more than one offensive rebound per game. McCormack and Wilson both average better than two offensive boards per game.
The Sooners also have five players averaging at least one offensive rebound per game, but none of them averages two or more.
Marquee matchup: KU's defense vs. Oklahoma's Brady Manek
Just hours before these two teams met at Allen Fieldhouse on Jan. 9, Manek, Oklahoma's leading scorer, was ruled "unavailable because of COVID-19 protocol." But even without their leading scorer, the Sooners still played Kansas to within a couple of possessions and had their chances to win the game late.
Now that Manek's back after a 12-day absence, the Jayhawks know they'll have to account for him when he's on the floor. It's not yet clear how often that will be. In his first game back earlier this week, Manek played 11 minutes off the bench in OU's win over Kansas State.
Still, Self is familiar enough with the OU senior to know that he's a serious threat and can carve up an opposing defense all by himself.
"First thing I think of is quick release," Self said. "I mean, how many guys that are 6-foot-9 have a quick release like that from the perimeter? That makes him extremely hard to guard because he needs no space to get it off."
Manek enters this game shooting 40.7% from 3-point range this season and with a 37.7% clip from 3-point range for his career.
"We've got to guard all five (players)," Self said. "But we can't let him make five or six 3s. And if he gets off six or seven, he's capable of making that number. So we've got to do a real good job on him."
The Jayhawks said they didn't change much about their game plan after learning that Manek was out in the first meeting, and that approach has them better prepared for Round 2.
"(It's) the same mindset," Agbaji said. "(Knowing) how they run their offense through him and just attacking him and taking away what he has in his game."
Jayhawk pulse
The Jayhawks still have yet to face two Big 12 teams in conference play this season — Iowa State and Kansas State — but they'll now be taking on OU for the second time in 14 days.
Will that recent experience against the Sooners be an asset? Self said there are ways it can work for the Jayhawks.
"I think we can learn what worked (with) how we guarded them," Self said. "And maybe what didn't work."
Even that, though, comes with a disclaimer. Self said that OU's 5 man, Kur Kuath, keyed their entire defensive game plan against OU. But if Manek is in the game at the 5 for any length of time, Self said the Jayhawks will not be able to employ the same defense.
In addition to defensive principles, a lot of the details on the scouting report for OU's individual players have resonated more this week given the fact that the Jayhawks not long ago saw those players in action.
Regardless of how prepared either team is for the other — or how differently either side plays — the Jayhawks enter this one with the mindset that it's a big game.
"I think we really need that," Enaruna said. "We all know it. We've been kind of slacking a little bit lately, so I think we all need to get together and get that win on Saturday."
This is now the Jayhawks' third straight road game because KU's home game against Iowa State, originally scheduled for last weekend, was postponed. While that's not the schedule anyone would prefer, Self said he was not going to get hung up on those types of details because he and his players were just happy to be playing.
"I'm just going to roll with it, and hopefully the players can do the same thing," Self said. "That, to me, is the best way to attack (this season) in a way that we can maximize our chances to play as many games (as possible) and be as effective as we can be."
KU has won three in a row over the Sooners and leads the all-time series with OU, 151-68.
The Jayhawks are listed as a 1-point underdog according to KenPom.com, which gives both teams a 50% win probability.
Probable Starters
No. 9 Kansas
G – Marcus Garrett, 6-5, 195, Sr.
G – Ochai Agbaji, 6-5, 210, Jr.
G – Christian Braun, 6-6, 205, Soph.
G – Jalen Wilson, 6-7, 190, RS-Fr.
F – David McCormack, 6-10, 265, Jr.
Oklahoma
G – Austin Reaves, 6-5, 206, Sr.
G – De'Vion Harmon, 6-2, 198, Soph.
G – Alondes Williams, 6-5, 201, Sr.
F – Brady Manek, 6-9, 231, Sr.
F – Kur Kuath, 6-10, 220, Sr.