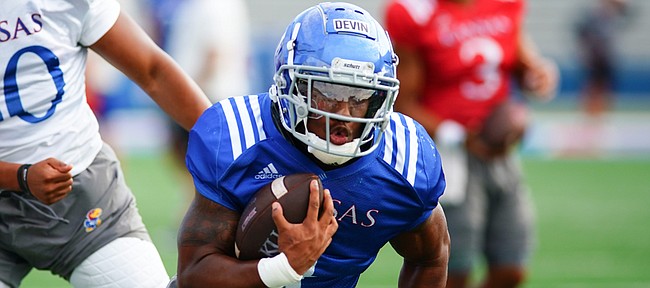 Lance Leipold has led enough preseason football practices in his 15 years as a college head coach that he's come to expect true freshmen on his teams will hit a wall at some point in August. One of the many qualities Leipold appreciates about Devin Neal is the young Kansas running back is proving to be the exception to that rule.
"Man, he's taken a lot of reps and he's not tapping out," Leipold said of Neal, the former Lawrence High star, who is the top incoming freshman from KU's 2021 signing class.
As much as the Jayhawks' head coach values the toughness and physical readiness of Neal, a 5-foot-11, 210-pound hometown back, Leipold also thinks highly of how Neal handles himself on and off the field. Leipold said the coaching staff learned a lot about Neal during preseason camp.
"It's his maturity," Leipold said of how Neal stood out. "He doesn't get flustered. He doesn't flinch. He takes coaching."
The way camp played out within KU's deep group of running backs, Neal proved to be the healthiest in the bunch. When one or two of his fellow backs was unavailable at a practice, it just meant more chances for the freshman to show the staff and his teammates what he's made of.
Neal considers himself "truly blessed" to be in this situation and able to contribute just a few months removed from his high school graduation.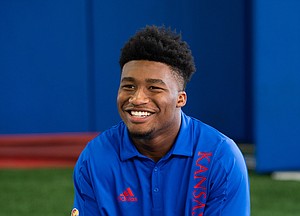 "I'm just using each and every rep to learn. Just trying to stay in the film room," Neal said, adding that KU running backs coach Jonathan Wallace has proven helpful, as have his fellow backs.
"Whether it's a good rep or a bad rep you can always learn from it. I like to believe in daily improvement, so I'm satisfied as long as each and every practice I'm getting better and not staying the same — or getting worse obviously," he added with a chuckle.
When Leipold walks past Wallace's office inside Anderson Family Football Complex, it's not uncommon for the head coach to spot Neal in there, asking questions and seeking the type of input that will help him get better.
Wallace called Neal a "smart kid." The position coach has been impressed by how quickly Neal, who just turned 18 earlier this month, is picking up coordinator Andy Kotelnicki's offense.
Wallace said Neal's work ethic and study habits stand out. It's clear to the coaches Neal invests his spare time football because he cares about his growth and future with the program.
"The best thing I love about him is he's got a mindset where he always feels like he's got to improve in some other area," Wallace said. "A lot of times as coaches we're trying to pick out those small details of what we want them to see and I'm starting to see that with the whole (running back) group. They're coming to me with things they need to improve on by themselves before it gets to me. So I think that's always a good thing."
Watching clips, seeking knowledge and asking questions, Neal said, have been a part of who he is as a player for a long time.
"I've always been a film rat," Neal said. "Just watching film, just learning. And it doesn't have to be my own film. I love watching especially NFL film. Those are pros, so it's hard to replicate, but you try your best to."
The time he spends reviewing video clips has only increased since he enrolled at KU this summer, because Neal wants to get on the field as early as possible during his freshman year. He figures it never hurts to learn more and said he's constantly looking to address parts of his game that need improvement.
His quest for knowledge recently took him to KU quarterback Jalon Daniels. The QB said Neal approached him to inquire about Daniels' experience playing as a true freshman a year ago and what it would take for Neal to be able to do the same.
"With Devin it's all about work," Daniels said. "He works with his head down."
Leipold hasn't yet publicly released a depth chart or made any announcements about who will be starting at any position. But when asked the coach confirmed it's reasonable to expect to see Neal contributing for the Jayhawks' Sept. 3 opener versus South Dakota.
"I see Devin playing a lot of football in some capacity this season," Leipold said.
While part of Neal's role this year could involve returning kickoffs, too, he appears to be on track for carries out of the backfield on offense. Kotelnicki said Neal is getting a lot of practice reps for a true freshman.
"So I would have the same expectations for him as anyone who would ever go into a game for us," the O.C. said, "to execute."
KU's coaches have options at running back, with Neal joining a group of returning ball carriers that already included junior Velton Gardner, sophomore Daniel Hishaw Jr. and redshirt freshman Amauri Pesek-Hickson. But they have expectations for Neal, too, because of his maturity and willingness to recognize his own weaknesses.
At practices, Leipold said, some days the staff sees "really good flashes" of what Neal's future holds and then there are other times when he looks more like a freshman.
"But he's learning and he's a sponge," the head coach said. "That's the thing I love about him. He takes coaching, he's not defensive. When something's not there he doesn't have 15 reasons why he did what he did. He takes it and then he finds another way to go and get better."
One of Neal's most memorable lessons to date came during KU's first camp scrimmage. The former LHS star said he knew college defenders hit harder than high school ones, but the severity of the difference was more than he even anticipated.
"Nick Channel," Neal said of the junior inside linebacker, "he ran me right over. I'm not even going to lie to you. He did. I got flatfooted and he made me pay for it."
In his head, as Neal picked himself up off the turf he thought, "Well, welcome to the Big 12."
Like everything else Neal is experiencing during the preseason, he considered it part of his path toward enhancing his game.
"I got my introduction," he said. "Learn from that one."