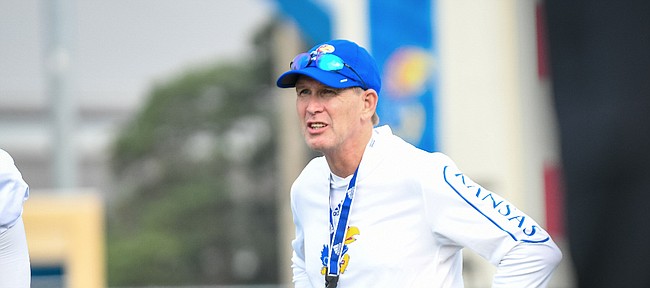 Injuries have impacted the Kansas football team's preseason camp to varying degrees this month, but head coach Lance Leipold said Tuesday he considers the roster to be "in pretty good shape right now" in terms of available personnel.
When asked during a video press conference about the general health of his team, Leipold said he thought the Jayhawks were headed in a good direction with a little more than a week to go before the season opener.
"Unfortunately injuries are a part of the game and we go through them," Leipold said. "Much like most camps you're going to have some and knock on wood and say prayers and all the other things you have to do."
Leipold chose not to disclose any specifics about what players are currently dealing with injuries or whether anyone might be out of the mix longterm.
"I'm not going to get into that right now," Leipold responded, when asked if some Jayhawks could miss time this season due to injury.
Although KU is deep at running back, it's a position group Leipold mentioned has dealt with availability issues the past few weeks. Camp opened with junior Velton Gardner missing several practices before he was cleared to participate.
At different points, Leipold said, other running backs have missed practice, too. The one back who has been out there getting reps "every day," the coach added, is true freshman Devin Neal, the former Lawrence High star.
"(Neal) has been probably one of the more consistent guys out there each and every day," Leipold said, "and he's taking advantage of those opportunities while others have not been there."
The head coach also praised the work of Trent Carter, the team's head athletic trainer, and the medical staff for the job they've done both caring for the players and keeping in communication with the coaches about what players are going through.