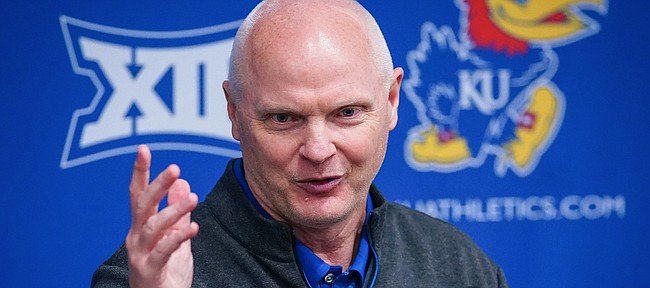 Three practices into the Kansas football team's preseason camp, coordinator Brian Borland couldn't complain Saturday about where his defense was at, given the circumstances.
"It's probably better than I would've even anticipated, based on not really having any kind of (typical) preparation beforehand," Borland told reporters immediately following practice.
Borland, like his longtime boss Lance Leipold, of course, didn't have the common benefit of going through 15 spring practices with the defense this year like he normally would.
The timing of the program's regime change, with Leipold getting hired just as the Jayhawks wrapped spring practices, meant the staff felt a little off-center in the leadup to the start of preseason practices.
"It was really unique," Borland said, adding that the defensive players were provided with written information and video clips to help introduce them to his scheme and playbook. "We had very, very minimal meeting time quite honestly, and really next to no practice with them or anything like that."
Nonetheless, the players learned what they could about Borland's defense over the past few months so they could make the most of their time once practices began.
"I give those guys a lot of credit, because that wasn't easy from their perspective, either," the former Buffalo and Wisconsin-Whitewater defensive coordinator said. "But I can see it's paid off, because stepping on the field a few days ago and up until now, I can tell they've really embraced those things. And we're picking up some of the concepts for sure."
Borland describes his scheme as a four-down front with multiple coverages, featuring some zone, some man and other combinations that combine the two. There are blitzes and other packages, but Borland said the concepts essentially stay the same on various plays.
"I think once you learn the basic core of it, the other things that we branch off into are pretty easy to grasp," he said."This is new, but it's just like this other thing that we already know."
Following Saturday's practice, super-senior safety Ricky Thomas Jr. said the video clips helped the defensive players prepare mentally for camp under a new coordinator, with new play calls and expectations.
"We just try to be detailed, do everything right," Thomas added. "Whatever he says, do. And do it right."
Junior safety Kenny Logan Jr. said the defensive players are getting used to Borland, his defense and his approach at practices.
"So we're all buying in, just trying to understand the defense and get better," Logan said.
A few days into preseason camp, Logan gave examples of some of the biggest differences he has noticed about playing for Borland, Leipold and a revamped staff.
"Just attention to detail, the effort between guys, guys buying in, guys locked in during practice and just the tempo of it," Logan said.
Of course, Borland and the KU coaches want to learn about the players, too, as the Jayhawks prepare for Year 1 of the Leipold era. Borland said just three practices in, he's looking for progress out of his defense.
"We're looking for guys that are buying in to what we're trying to give to them," he said. "And a lot of that is effort, strain, finish. Just some of those basic fundamental things. And I really feel like guys are buying in to those kind of things. I think we're making a heck of a lot of progress."
Advancements, Borland added, have been made schematically, too.
"You've got to learn the fronts, you've got to learn the movements, you've got to learn the coverages. There's that part," he said. "And then there's the technique aspects of how to do — how to put those things into practice."
With the Sept. 3 opener versus South Dakota just a few weeks out, and much more progress needed before that day comes, Borland thinks there is a sense of urgency among the players and coaches to accomplish much in a short amount of time this August.
"We're not throwing 100% of the playbook at them," Borland said of where they're at in that process a few days in. "There's certain things that we're just holding off of until such time that we can probably absorb it. We're just making sure that we've got the basic parts down."
3 Jayhawks still out
KU football's list of players who didn't suit up for practice got trimmed down to three on Saturday, with junior running back Velton Gardner, sophomore defensive end Steven Parker and redshirt freshman receiver Jordan Brown being the only three Jayhawks who were completely unavailable.
All three have appeared on the list, which is distributed by KU's communications staff, each of the first three days of camp.
Freshman receiver Majik Rector, who missed the first two days of practices, was in uniform and participating for the first time Saturday.
Redshirt freshman Garrett Jones and freshman linebacker Trey Staley, both of whom had to miss Friday's practice, were off the unavailable list on Saturday.