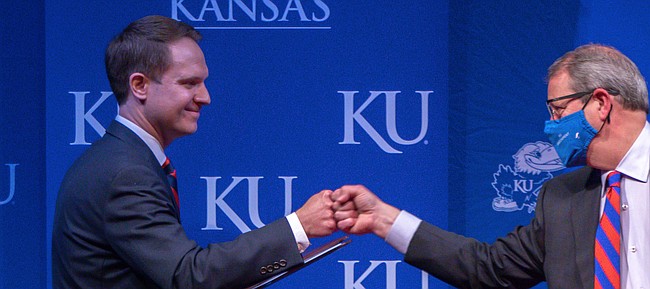 While new University of Kansas Athletic Director Travis Goff has a strategy and some possible scenarios under consideration for the future of the KU football program, Goff described himself Wednesday as "open-minded" about the team's head coaching vacancy.
Goff, on his second day running the athletic department, didn't reveal during his introductory press conference at the Lied Center many details about a timeline for making a decision, nor did he say exactly how long interim head coach Emmett Jones will remain in charge.
According to Goff, a former Northwestern deputy AD, it was important for him to get to Lawrence with "a few different plans" in mind and an understanding of his options, but he also wanted to avoid rushing into a decision.
Goff said it would have been "insincere" of him and not in the best interest of KU to have shown up with his mind made up about the football team's head coaching job.
So on Tuesday, Goff said he "really wanted to prioritize" getting out to practice so that he could observe Jones and the rest of the staff in person.
"The energy was incredible," Goff said of his initial impression. "And it's been well documented for me coming in, and I was able to witness it with my own eyes, just what a great job Coach Jones and that staff has done — keeping this group together, keeping them united and having the kind of energy you need to have in spring football."
The new AD met with Jones and the rest of KU's assistant football coaches Tuesday night, following the team's third spring practice. Goff said what he told them then still remained true Wednesday.
"I come in wanting to listen, learn, absorb, understand where we're at with this football program," Goff related of his conversation.
There was only so much he could do, Goff said, before he got to Lawrence this week.
"I have to listen to the individuals who know a lot more than I do today about where Kansas football is at, the state of this roster, the mindset of the (players)," he added.
Though he didn't choose to share specifics, Goff reiterated during a question and answer session with media members that he has a plan for the football vacancy.
"It's about when will I have enough information, when will I have had enough engagement and what would be the right approach to launching that forward," he said.
The Jayhawks just began their 15-practice spring schedule the week before Goff was hired. They still have a dozen practices left during this crucial portion of the offseason, which includes a May 1 spring game at David Booth Kansas Memorial Stadium.
Although the future leadership of the program remains up in the air, KU super senior Ricky Thomas said Tuesday during the team's video interview session that the Jayhawks are essentially trying to put on blinders amid the uncertainty.
"We're just players, man. So we're just focusing on the task in front of us," Thomas said, "and that's just getting better every single day. Put our best foot forward and let whoever takes care of that handle that."
Now that naming KU's next permanent head football coach is Goff's responsibility, it will be up to him to find someone that can turn around the long struggling program, which has floundered and seen four different head coaches — Turner Gill, Charlie Weis, David Beaty and Les Miles — come and go since Mark Mangino was forced out following the 2009 season.
"I think we've, at the University of Kansas, learned a lot over the years," Goff said, when asked what gave him confidence that the next head coach can have more success. "And building football programs is incredibly difficult — it's certainly difficult in the Big 12 Conference, one of the best in the country. And it's certainly difficult even more so without any type of continuity."
In his previous job at Northwestern, Goff served as an administrator for the Wildcats' football program. Goff worked in the Big Ten from 2012 up until this week. During that time, Northwestern head coach Pat Fitzgerald led the team to six winning seasons, and a 5-1 record in bowl games. Goff said that experience allowed him to "live through" how a college football program can be built and sustained.
Goff may not necessarily lean on Fitzgerald as he makes a final decision for KU's future, but he said his former colleague "was awesome through this process and so incredibly supportive," as Goff became the KU AD.
He thinks what he observed from Fitzgerald and Northwestern football through the years will prove helpful.
"So I'll take some of that," Goff said. "And then (Fitzgerald will) be a great sounding board through the process."
At this early stage of his assessment of the KU football program from up close, Goff thinks he has a good idea about some characteristics he will be looking for in a head coach.
"What's important and what I'm really trying to be focused on in these days ahead is what will be applicable here at the University of Kansas," Goff said. "And that's where I need to listen, absorb before charting that path forward."