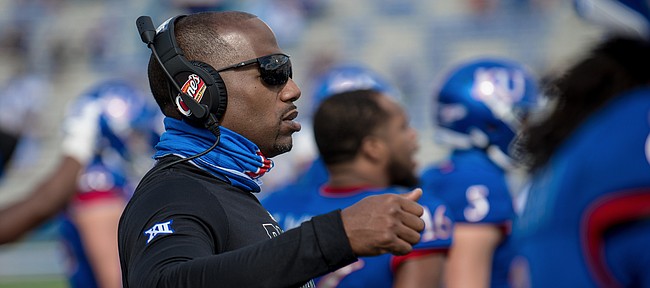 The Kansas football program had a new visitor at practice on Tuesday when Travis Goff, KU's athletic director, stopped by.
Jayhawks super senior Ricky Thomas told reporters after the session that he and other teammates learned that Goff was in attendance and observing.
"He was pretty busy," Thomas said, while explaining the new AD's first day back in Lawrence didn't include speaking to the KU football team.
With Goff set to have an introductory press conference on Wednesday, many are wondering what his plans for the future of the program entail, and exactly how long interim head coach Emmett Jones will remain in charge of the program.
Several players on Monday used social media as a platform for them to endorse Jones for the long haul.
All the while, the Jayhawks, winless in 2020 under former head coach Les Miles, are going through a critical portion of the offseason. As they put in the work that they hope will help turn the program around, they don't know whether Jones or someone else will be leading them onto the field in the fall.
Thomas, a safety entering his fourth year in the program, downplayed the challenges the circumstances present.
"We're just players, man. So we're just focusing on the task in front of us," Thomas said, "and that's just getting better every single day. Put our best foot forward and let whoever takes care of that handle that."
Likewise, junior tight end Mason Fairchild said the Jayhawks "try not to think about" the current uncertainty attached to the head coaching position.
"We just come in with that attitude that we're going to get better today," Fairchild said shortly after KU's third spring practice. "We'll let what happens happen. But ultimately we can't make any decisions."
According to Fairchild, Jones has done a "great job" leading the players and helping them not worry about what's going on outside of their facility.
Jones wasn't made available for the interview session Tuesday night, but is expected to field questions following a practice later this week. On March 30, following the Jayhawks' first spring practice, Jones was asked about the difficulty of operating amid the uncertainty. He responded with a similar line of thought to the ones voiced by Thomas and Fairchild.
"I just take it one day at a time, and try to be great," Jones said.
The Jayhawks still have 12 spring practices remaining — including a May 1 spring game a few weeks away. Would Goff consider bringing in a new head coach in the midst of spring ball? It may not even be feasible, depending on the new AD's plans for the struggling program.
Thomas was asked Tuesday how difficult it would be for the Jayhawks if a change in leadership did occur before spring practices concluded.
"I just feel like we have to focus on what we have to do, and let them focus on that," Thomas replied, "and let the chips fall where they fall."
The players don't yet know who will become their next permanent head coach. But Fairchild said Jones, KU's receivers coach and passing game coordinator, has helped them remain zeroed in on what's in front of them in the present.
"Just come in and get better so you can perform in the fall," Fairchild said of the interim head coach's message. "That's really been the biggest thing."