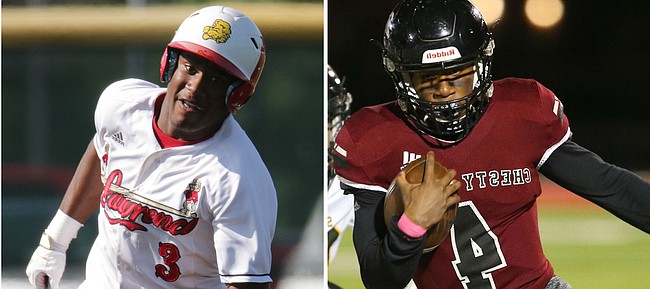 Due to the coronavirus pandemic, there hasn't been a lot of positive news as of late. Schools have been forced to move online, sports have been canceled and social gatherings have been limited to 10 or fewer people.
For a brief moment, at least in the city of Lawrence, Devin Neal changed all of that with a single tweet late Friday night. Neal announced his verbal commitment to the University of Kansas to play both football and baseball after he graduates in 2021.
What followed has been a day full of congratulatory messages for the talented two-sport standout from Lawrence High. Neal's original tweet had over 1,500 likes on Twitter within 24 hours after he posted it.
"It seems like the whole city kind of erupted," Neal said. "They were all wondering what I was going to do and they are super stoked about me staying home. It's just an exciting time during a grim time period."
The threat of COVID-19 has suspended in-person recruiting for the time being, but Neal felt confident in his decision on Thursday. He reached out to members of KU's coaching staff for both football and baseball to let them know he planned to stay in Lawrence after high school.
"It's home for me," Neal said. "I love this city, I love everybody in it. My family is here, my friends can come to the games and I just fell in love with the coaching staff. I get to play both there, and it's just a perfect opportunity for me to keep climbing and get to where I want to be."
Neal, who is 5-foot-11 and 190 pounds, then spent Friday telling coaches from other programs that he had made his decision. According to Rivals, Neal is a three-star running back who had offers from Oklahoma State, Kansas State, Nebraska and Iowa.
"I have the utmost respect for all those programs and coaches," Neal said. "Calling them and letting them know personally, instead of them finding out on social media, that was a big thing for me and my family."
Kansas ended up being the frontrunner for a multitude of reasons. Not only did Neal grow up minutes away from the campus, but it was a program that targeted him early on. Kansas baseball, led by head coach Ritch Price, started showing interest in Neal during his sophomore season when LHS played its games at Hoglund Ballpark.
The Jayhawks offered him a football scholarship last summer before he eventually became the 43rd-best prospect at his position on Rivals. Neal is currently the No. 3 ranked recruit in his class among Kansas prospects.
It also doesn't hurt that Neal grew up a KU fan, going to plenty of games as a kid well before he became one of the most coveted local recruits.
"It's almost dream-like, because now I'm going to be on that field and not watching," Neal said. "It's honestly crazy to see how life comes back around."
For good measure, Neal isn't even going to be the lone dual-sport athlete at KU. Trevor Kardell, who was a member of the 2020 signing class out of Lee's Summit West, will play both baseball and football next year for Kansas.
Kardell is a three-star recruit and the No. 21 tight end in the state of Missouri by Rivals. He's also the third-best baseball player in Missouri, according to the Prep Baseball Report.
Neal says communication between Price and head football coach Les Miles will be key for both dual-sport athletes, especially with spring practice taking place during the baseball season. Kardell will go through that process next year, while Neal is slated to do both the following year.
"That's big time," Neal said. "We both know that it is going to be hard to do. I think we both can handle it quite well and I'm fortunate to have him be able to do it before me."
Playing both sports is essential for Neal, who has aspirations of continuing his career in both baseball and football for as long as possible. On the gridiron, Neal is coming off a sensational junior campaign that helped the Lions finish at 8-2.
Neal carried the ball 220 times last fall for LHS, turning that into 1,687 yards and 26 touchdowns on the ground. Neal recorded at least 150 rushing yards in each of his final nine games of the season, capped by a 270-yard, four-touchdown performance against Topeka High.
Neal was also a threat in the receiving game, lining up all over the field in the process. Neal finished with 520 yards and six scores on 30 receptions last year. He was also an All-Sunflower League outfielder and a second-team selection on the all-state team in Class 6A during his sophomore season on the baseball diamond.
"Both of them are my passion and my love," Neal said. "To be quite honest with you, I could see myself playing professionally in both. I'm fortunate to have the ability to play both at the high level and it is definitely something I want to pursue more."
With the spring sports season being canceled and his commitment being announced, Neal now turns his attention to his final year with the Lions. And he has just one goal — well, technically two — for his final season at Lawrence High.
"(I) definitely want to win a state championship," Neal said. "For both (sports) would be ideal."
KU football Class of 2021 commitments
(Rivals rankings)
• Majik Rector — Texas prep WR
• Ben Easters — 3-star Indiana prep QB
• Jaddai Henry — 3-star Texas prep WR
• Kelan Robinson — 3-star Texas prep WR
• Devin Neal — 3-star Lawrence prep RB