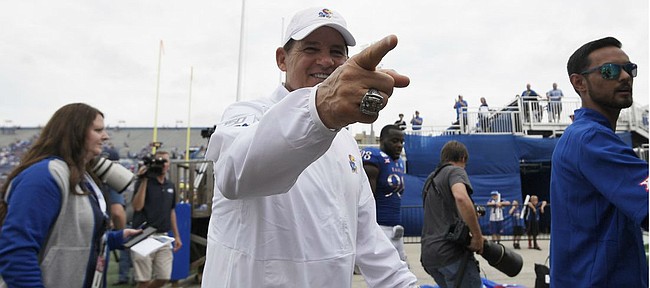 Even before University of Kansas football coaches secured a verbal commitment from hometown Lawrence High prospect Devin Neal this weekend, the program's 2021 recruiting class looked to be ahead of schedule.
In fact, KU had four high school prospects committed as juniors in 2019, more than a year before any of them could sign with the Jayhawks and make their pledges official.
"Usually with Kansas classes," said Jon Kirby, who covers football recruiting for Jayhawk Slant, "you don't see four kids committed before the month of February for the upcoming class. That's moving pretty quick for them."
All graded as three-star prospects by Rivals, Texas receiver Majik Rector committed this past July, Indiana quarterback Ben Easters gave his verbal in August, Texas receiver Jaddai Henry joined the class in September and Texas receiver Kelan Robinson made his commitment in November.
With head coach Les Miles now entering his second season with KU, he and his staff were able to work ahead with this upcoming recruiting class, a stark contrast to the way they had to play catchup with the 2019 class, when Miles first took over the program 16 months ago.
As of Sunday, according to Rivals, only 13 FBS programs had more commitments lined up for 2021 than KU, with its five.
That head start has KU's next recruiting class currently ranked 26th in the nation by Rivals and 25th by 247Sports.
Exactly how recruiting is impacted for football programs in the Big 12 and beyond from here is hard to forecast, with in-person visits restricted because of the coronavirus pandemic. It's also far too early in the year to assume KU can maintain its current ranking. All of these commitments are nonbinding, and the earliest anyone can sign is December. Additionally, numerous big-time programs are bound to zoom past KU in the rankings once they get closer to filling out their classes — Oklahoma, for instance, only has three commitments at the moment. Penn State has two. National powerhouse Alabama has one.
"Now obviously we'll see how things stand and where it goes from here," Kirby said, "and what they're allowed to do with recruiting and when it will open back up. But I think they're off to a good start and a fast start."
Just ahead of National Signing Day in February, Miles promoted Josh Eargle to tight ends coach and recruiting coordinator. Kirby said Eargle deserves some credit for how the staff has attacked recruiting since then.
Generally in football recruiting, each assistant coach has a region for which he is responsible when it comes to finding potential signees and that assistant is the one doing most of the communication with a prospect. Kirby said in his conversations with recruits, he is noticing KU is doing a lot of "cross-recruiting" of sorts.
"The coach who recruits that area is talking to them. And then the coordinator from that side of the ball, then that position coach, and I've even had some times where even a coach on the other side of the ball, who doesn't even recruit that area, maybe got to meet the parents of a recruit on a recent visit or got to know them," Kirby said. "It's a little bit more of a group effort kind of attack going on."
KU football class of 2021 commitments
(Rivals rankings)
• Majik Rector — 3-star Texas prep WR
• Ben Easters — 3-star Indiana prep QB
• Jaddai Henry — 3-star Texas prep WR
• Kelan Robinson — 3-star Texas prep WR
• Devin Neal — 3-star Lawrence prep RB