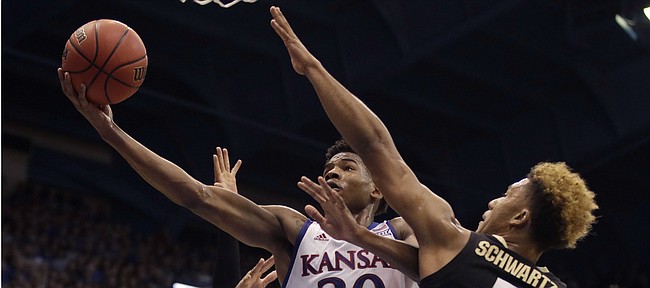 No. 3 Kansas Jayhawks (16-3 overall, 5-1 Big 12) at Oklahoma State Cowboys (10-9 overall, 0-6 Big 12)
Time: 8 p.m. | Location: Gallagher-Iba Arena, Stillwater, Okla.
TV: ESPN2 | Radio: IMG Jayhawk Radio Network
Log on to KUsports.com for our live game blog coverage and follow the KUsports.com staff on Twitter: @KUSports @mctait @bentonasmith @SJacksonLJW & @ByBradenShaw
Keys for Kansas
1. Start fast
Historically speaking, Gallagher-Iba Arena has been as tough of a place to play as any for the Kansas men's basketball team.
The fans are hostile, the environment can get rocking like few other buildings and the Jayhawks coming to town always seems to bring out the best in the Cowboys, no matter who is on the roster.
The Jayhawks are 35-35 all-time inside GIA and KU coach Bill Self is 20-13 all-time against his alma mater, including a 19-10 mark while at Kansas.
Although the Cowboys' home gym has been anything but hostile and electric for most of the season so far, there's little doubt that it will be rocking with Big Monday and the Jayhawks in town for this one.
Add to that the fact that Kansas, just a week ago, was involved in the story of the college basketball season to date when they engaged in a bench-clearing brawl with Kansas State, and it's easy to see how the home crowd could be more than a little fired up to get after the Jayhawks.
The easiest way to combat that and make it more manageable is by jumping out to an early lead with a fast start and taking the crowd out of it.
The Jayhawks will have to be clicking on offense to make that happen, but the easiest place to see that taking place is on the defensive end. KU forced Tennessee into 15 turnovers, with nine of them coming via KU steals.
A similar game plan against the Cowboys would go a long way toward taking the crowd out of this one.
2. All about Azubuike
With sophomore forward David McCormack suspended for one more game following his role in the KU-KSU brawl, the Jayhawks will be forced to play with Udoka Azubuike as their lone big man for the second game in a row.
While that proved to be difficult at times against Tennessee, KU survived it thanks to a monster effort from Azubuike when he was on the floor.
In 27 minutes, he finished with 18 points, 11 rebounds and four blocks, all while juggling four fouls throughout the game.
If Azubuike can steer clear of foul trouble in this one, the Jayhawks should be fine and he should again have room to rumble down low on both ends of the floor.
If foul trouble enters the equation again, at least the Jayhawks will have experience playing with a few different five-guard lineups. None of them looked particularly strong against the Volunteers, but playing with them for the second time could seem more comfortable.
"It was an adjustment," point guard Devon Dotson said of playing without a true frontcourt body against Tennessee. "I felt we did a pretty good job, but we can be better."
Junior guard Marcus Garrett made sure to point out that, when the Jayhawks play without Azubuike, it's not just a matter of plugging someone else into the 5 spot. Instead, it truly is playing with five guards on the floor.
"We don't have a 5," Garrett said of those instances without Azubuike for the time being. "(It was) very difficult. We were just trying to find ways to score and find ways to defend and we just have to find a way to get the ball moving faster."
3. Agbaji's progress
Sophomore guard Ochai Agbaji finished with 16 points on 6-of-12 shooting and made 3-of-7 from 3-point range agains the Volunteers.
It was a welcome sign of life from a talented player who had been struggling on the offensive end. And it marked the second such promising outing in a row. The first came four nights earlier when he continued to struggle with his shot but grabbed seven rebounds — four offensive — in a much more active effort.
Agbaji has scored in double digits 10 times this season and is averaging 3.3 made 3-pointers in those 10 games. In the nine games where he has failed to reach double digits, Agbaji has made just 0.4 3-pointers per game.
That's a pretty telling statistic, but it's also a tough one to count on. So much of making 3-pointers is out of a player's control, with the style of defense, good passes from teammates and finding the right spots on the floor to shoot from all being key elements of getting hot from the outside.
Agbaji's 6-of-12 showing from the floor the other day included the 6-foot-5 sophomore missing his first two shots of the game.
The Jayhawks want to see more all-around consistency from Agbaji and need it now more than ever with just seven available scholarship players.
And his last two games seem to indicate that Agbaji could be poised to turn the corner here soon.
Marquee Matchup
KU's strong defense vs. Oklahoma State's poor offense
On paper, there is one area of this matchup that should be a particularly obvious mismatch and that's when Oklahoma State has the ball.
The Cowboys have been one of the worst shooting and scoring teams in the Big 12 Conference so far this season, averaging just 67.5 points per game and shooting 41% from the floor, 31% from 3-point range and 72% from the free-throw line.
Those numbers are down to 29.2% on 3-point attempts (9th in the Big 12) and 40% on 2-point shots (10th) since Big 12 play began.
On the flip side, KU's defense is allowing opponents to make 31.1% of its 3-point attempts (6th in the Big 12) and just 40.5% of its 2-point attempts (1st).
KU's defense, of course, is bolstered by its 15.3% block rate, which also ranks first in the Big 12.
If Azubuike stays on the floor for 30-plus minutes and Oklahoma State stays around its season averages, it's hard to envision the Cowboys scoring enough to win this one against a stout Kansas defense, which ranks third nationally in efficiency per KenPom.com.
Jayhawk Pulse
Still short-handed after the suspensions to Silvio De Sousa and McCormack, the Jayhawks will take seven available scholarship players to Stillwater, looking for their second win in a row at Oklahoma State.
In its latest victory, a 74-68 win over Tennessee on Saturday at Allen Fieldhouse, the Jayhawks basically used just six players, as freshman wing Tristan Enaruna logged just five minutes in the win.
"It'll be a hard game," KU coach Bill Self said of the clash with OSU. "Especially playing (just) seven guys. We've got to be better than we were (vs. Tennessee) and we've got to be a little bit more efficient. I think we will be. That doesn't guarantee victory, but I think there's some things about (the Tennessee win) that we can learn from and definitely be better for."
KU's road game at Oklahoma State marks the first of four Big Monday battles for the Jayhawks this season on ESPN.
Kansas is 69-18 all-time on the ESPN showcase, with a 40-1 mark at home and a record of 29-17 on the road.
KU leads the series with Oklahoma State, 116-59. The first meeting between the two longtime conference rivals took place on Feb. 11, 1926. Last year's victory by the Jayhawks evened KU's all-time record at Gallagher-Iba at 35-35, and KU is 35-37 all-time in games played in Stillwater.
No other program has had as much recent success against Kansas as OSU, which has eight wins over the Jayhawks since 2008.
The Cowboys have won four of the last six games against KU in Gallagher-Iba Arena and swept KU during the regular 2017-18 regular season, the first such accomplishment by any program since 2001.
Probable Starters
No. 3 Kansas
G – Devon Dotson, 6-2, 185, Soph.
G – Ochai Agbaji, 6-5, 210, Soph.
G – Isaiah Moss, 6-5, 208, Sr.
G – Marcus Garrett, 6-5, 195, Jr.
C – Udoka Azubuike, 7-0, 265, Sr.
Oklahoma State
G – Avery Anderson III, 6-2, 170, Fr.
G – Isaac Likekele, 6-4, 215, Soph.
G – Lindy Waters III, 6-6, 210, Sr.
F – Cameron McGriff, 6-7, 220, Sr.
F – Kalib Boone, 6-9, 205, Fr.