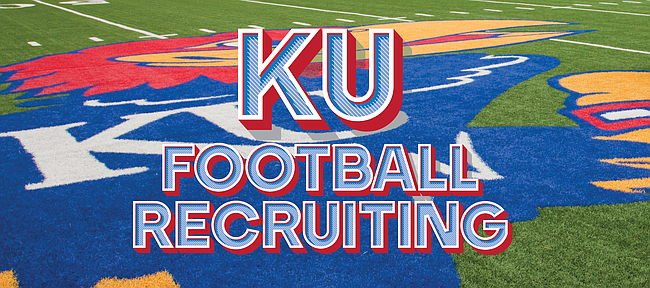 Outside of a quick drive over to Allen Fieldhouse on Saturday to make a cameo on ESPN's College GameDay, Kansas football coach Les Miles spent the majority of the past few days with high school prospects and their families at Anderson Family Football Complex, during a busy recruiting weekend.
While some of the players who made the trek to Lawrence for the program's big junior day — some high school seniors attended as well — already had committed to the Jayhawks, the majority of the visitors checked out campus and the KU facilities unattached.
Two of the four class of 2021 players who committed to KU months back were in Lawrence and posted photos of their visit to Twitter. Quarterback Ben Easters, a three-star prospect per Rivals, shared that he had an "incredible time" on his visit. Jaddai Henry, a three-star receiver, thanked Miles, receivers coach Emmett Jones and offensive coordinator Brent Dearmon in a post that included photos of his "great" junior day.
Another committed recruit, receiver Majik Rector, retweeted some photos that showed him posing with other visitors, as well as Jones and Dearmon.
Meanwhile, numerous other high school juniors, including the following players, took to Twitter to document their visits:
• Collin Oliver, 3-star LB, Oklahoma
• Luke Pinnick, 3-star OL, Iowa
• Byron Murphy, 3-star DT, Texas
• Dylan Betts-Pauley, 3-star RB, Alabama
• Rejhan Tatum, 3-star athlete, Oklahoma
• Kenji Christian, 3-star RB, Alabama
• Darius Jackson, CB, Texas
• Ethan Hassler, LB, Tennessee
• Lathan Adams, S, Texas
• Ja'Derris Carr, RB, Colorado
• Cord Kringlen, OL, Colorado
• Charles Esters III, DE, Texas
• Patrick Turner, LB, Texas
KU's staff also welcomed a number of in-state and area prospects, including the following:
• Tank Young, 3-star RB, St. Thomas Aquinas
• Devin Neal, 3-star RB, Lawrence High
• Davin Simms, WR, Wichita Northwest
• Jermaine Hamilton-Jordan, LB, Lincoln College Prep (Kansas City, Mo.)
• Gabe Havlovic, OL, Wichita Bishop Carroll
Some high school seniors who will soon have the chance to make their college decisions official, during the first week of February, spent some time at the KU football facilities this weekend as well.
Two-star offensive lineman Bryce Cabeldue committed to the Jayhawks on Sunday, after visiting KU.
As Jon Kirby of Jayhawk Slant reported, the group of visiting seniors included three-star defensive lineman Kenean Caldwell, three-star defensive end Chris Jones and three-star offensive lineman Jackson Satterwhite, all of whom had already committed to KU.
Additionally, Davon Martin, a two-star cornerback from Orlando, Fla., and Reis Vernon, a kicker from Oklahoma, told Jayhawk Slant they visited KU this weekend. Vernon announced Sunday night his commitment to KU.