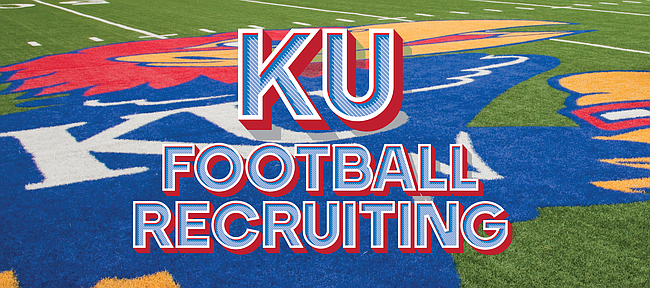 While Kansas football coach Les Miles and his staff welcomed many high school juniors to campus this weekend for visits, they kept working on their 2020 recruiting class, too, picking up another commitment.
A 6-foot-6 offensive lineman from Clovis, N.M., Bryce Cabeldue committed to the Jayhawks on Sunday, on the heels of his official visit to Lawrence.
"I am 100% committed to furthering my academic and athletic career at Kansas," Cabeldue wrote in a note he posted via Twitter to announce his decision.
Rated a two-star prospect by Rivals, Cabeldue reportedly had several other offers from smaller programs, as well as one from New Mexico.
Ahead of his visit and commitment, Cabeldue told Jon Kirby of Jayhawk Slant that KU offensive line coach Luke Meadows was in his hometown a couple of times recently, first to talk to Cabeldue's head coach, and then to watch the recruit play in a basketball game for Clovis.
With Cabeldue's commitment, KU now has five offensive linemen in its 2020 recruiting class. Three signed in December, and three-star O-lineman Garrett Jones is already enrolled at KU.
All verbal commitments, of course, are nonbinding and can't become official until National Signing Day, on Feb. 5.
KU announced the signing of 19 high school seniors in December. Cabeldue's verbal pledge brought the Jayhawks' 2020 class to 26 members. The NCAA allows programs to sign a maximum of 25 scholarship players each year. Theoretically, KU's staff could take a blueshirt or grayshirt approach with one or more of its 2020 recruits to make the numbers work.
A blueshirt player doesn't sign his official scholarship paperwork until arriving on campus, and counts toward the next year's recruiting class. A grayshirt player doesn't enroll and officially join the program until the spring semester of the following year.
Satterwhite gets rating bump
When KU added a verbal commitment earlier in January from high school offensive lineman Jackson Satterwhite, the 6-5 prospect from Miami, Okla., was unranked by recruiting sites Rivals and 247Sports.
However, Satterwhite is now considered a three-star talent by both recruiting sites.
Oklahoma kicker commits to KU
The Jayhawks are in position to add another kicker to the roster for 2020, as high school senior Reis Vernon announced Sunday night his plans to join the program.
Vernon reportedly had garnered interest in the past from Army and Air Force. The kicker and punter is from Bixby, Okla.
Specialist plans to walk on at KU
KU also picked up a commitment on Friday from Eli Chism, a long snapper from Shreveport, La.
Per 247Sports, Louisiana Tech and McNeese State also were interested in Chism.
The specialist told the Journal-World he will join the Jayhawks as a preferred walk-on.
KU football's announced 2020 signees
(Rivals recruiting rankings listed)
√ Garrett Jones - 3-star OL from Michigan; 6-4, 285 pounds
√ Will Huggins - 3-star TE from Kansas; 6-7, 235 pounds
√ Caleb Taylor - 3-star DE from Missouri; 6-2, 255 pounds
√ Trevor Kardell - 3-star TE from Lee's Missouri; 6-5, 225 pounds
√ Krishawn Brown - 3-star LB from Oklahoma; 6-1, 200 pounds
√ Taiwan Berryhill - 3-star LB from Louisiana; 6-2, 200 pounds
√ Steven McBride - 3-star WR from Louisiana; 6-0, 160 pounds
√ Johnquai Lewis - 3-star CB from Florida; 6-0, 185 pounds
√ Tristan Golightly - 3-star WR/TE from Texas; 6-4, 200 pounds
√ Lawrence Arnold - 3-star WR from Texas; 6-3, 185 pounds
√ Malik Johnson - 3-star WR from Texas; 5-9, 180 pounds
√ Nicholas Martinez - 3-star OL from California; 6-5, 285 pounds
√ Duece Mayberry - 3-star CB from Oklahoma; 6-0, 185 pounds
√ Alonso Person - 3-star LB from California; 6-3, 200 pounds
√ Luke Grimm - 3-star WR from Missouri; 6-0, 170 pounds
√ Daniel Hishaw Jr. - 2-star athlete from Oklahoma; 5-10, 200 pounds
√ Armaj Adams-Reed - 2-star OL from Texas; 6-5, 350 pounds
√ Karon Prunty - 2-star CB from Virginia; 6-1, 190 pounds
√ Jalon Daniels - 2-star QB from California; 6-0, 207 pounds
KU football 2020 unsigned commitments
• JaCobee Bryant - 3-star CB from Alabama
• Kenean Caldwell - 3-star DT from Louisiana
• Chris Jones - 3-star DE from Florida
• Jackson Satterwhite - 3-star OL from Oklahoma
• Da'Vonshai Harden Jr. - 2-star QB from Kansas
• Kyler Pearson - 2-star WR from Oklahoma (signing not yet announced by KU)
• Bryce Cabeldue - 2-star OL from New Mexico