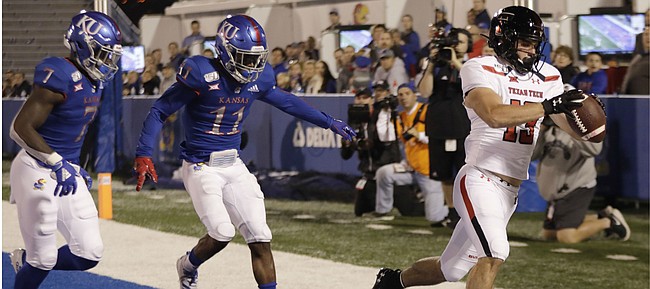 An already shorthanded Kansas defense lost an integral player within nine minutes Saturday night at David Booth Kansas Memorial Stadium.
After a lengthy review, senior Bryce Torneden was called for targeting with the helmet after making a play in punt coverage. He was ultimately ejected at the 7:21 mark in the opening period.
In the end, though, KU's defense made enough plays when it mattered most en route to a 37-34 win over Texas Tech.
"It feels long overdue, we had a couple close games that we felt we should have won," sophomore safety Davon Ferguson said. "We just wanted it more than Texas Tech."
At first, the idea that would be the case seemed far fetched. The Jayhawks (3-5, 1-4 Big 12) halted the Red Raiders (3-5, 1-4) on the game's opening possession, though things were much more difficult after Torneden's departure. Texas Tech proceeded to score 17 unanswered points over the next three drives to jump out to a commanding lead against KU's depleted defense.
Entering Saturday, Torneden paced the team with 51 total tackles. Junior linebacker Dru Prox, who missed his fourth consecutive game, was second on the team in stops with 39 prior to the Texas Tech game. Safety Jeremiah McCullough was sidelined this week after suffering an injury during a 50-48 loss at Texas last week.
"It was deflating (to lose Torneden), but we couldn't hang our heads on that," senior linebacker Najee Stevens-McKenzie said.
Yet the Red Raiders were able to do whatever they wanted once Torneden was forced from action.
Texas Tech proceeded to march down the field in seven plays to take an early advantage following a 1-yard touchdown run by SaRodorick Thompson. The Red Raiders then produced 10 points over their next two drives, using a total of 25 plays in the process.
Quarterback Jett Duffey, who began the year as a backup before an injury forced him into the starting role, baffled KU defenders with his ability to make plays through the air and on the ground. He completed 14-of-21 passes in the first half alone, while showing the ability to gain yardage on the ground via read options.
At one point, Duffey even had a pass attempt batted back into his own hands before picking up the first down on a 14-yard scamper during the second period.
"We weren't going to lose like how we did last week," Stevens-McKenzie said. "The offense had been carrying us the whole game. There were times where the defense didn't do a good job of getting them off the field."
Texas Tech's offense seemingly always had an answer for the first three-and-half quarter. After KU pulled within a field goal by the intermission, the Red Raiders responded with a 4-play, 70-yard drive that took just one minute to begin the second half.
T.J. Vasher got behind a pair of players in the KU secondary to haul in a 19-yard touchdown pass from Duffey to gift the Red Raiders a 24-14 advantage. A similar answer took place after the Jayhawks knotted things up early in the fourth quarter. Texas Tech scored three plays later to take a 34-27 lead, when Duffey delivered a 48-yard strike to Dalton Rigdon.
But KU's first signature stop came on a three-and-out with about nine minutes remaining in the game. On third-and-10, Duffey's keeper was stuffed 2 yards shy of the first-down marker. The Jayhawks then evened things back up with a 10-play scoring drive of their own.
One drive later, the Kansas defense forced another three-and-out to set the stage for the late comeback. KU's defense bottled up Thompson at the line of scrimmage on third-and-1, which warranted an animated celebration by the defensive unit. Those two occasions were the only time all night that the Jayhawks forced a three-and-out.
"Those were big stops," senior safety Mike Lee said. "If we wouldn't have stopped them, then the game would have probably ended the way we didn't want it to end."
It wasn't always pretty, but it was a positive sign for a defensive unit that has really struggled to get stops this season.
"Those (stops) were critical," Stevens-McKenzie said. "When he called the personnel, we just told ourselves that they weren't going to let them get it."
Coming into this weekend's matchup, Kansas ranked toward the bottom of nearly every statistical category. The Jayhawks were 123rd in rushing defense out of 130 teams, allowing an average of 223.43 yards per game. Kansas was also 106th in scoring defense, and ranked dead last in the country in third-down defense.
Still, at least compared to last week's narrow loss at Texas, it was a step in the right direction. KU's defense let the Longhorns get in position for a game-winning field goal on a 10-play, 60-yard drive that took a total of 71 seconds.
"After Monday, we put that Texas game behind us," Ferguson said. "I feel like we had a whole new mindset and we came in ready to play."
This time around, the Jayhawks did enough to win the game despite an undermanned defense. It allowed Liam Jones to nail the game-winning field goal as time expired, which was really a poetic way for KU to secure its first conference win under head coach Les Miles.
"This was a big step in the right direction," Stevens-Mackenzie said. "Because these last few games might come down to the wire and we are going to need to continue to play how we played today."