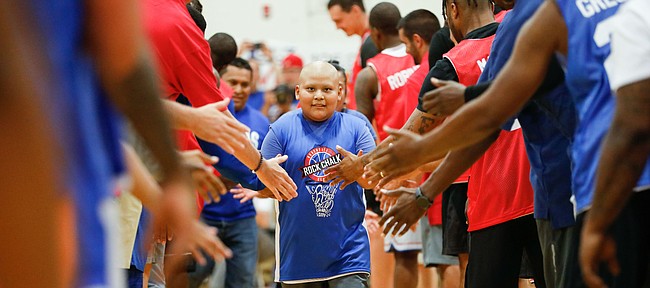 Eudora — The 50-plus former Kansas basketball players on hand might have carried the biggest names, but there was little doubt about to whom Thursday night belonged.
That was the Starting Five at the 11th annual Rock Chalk Roundball Classic, a basketball fundraiser extravaganza put on by Brian Hanni to benefit five local families battling pediatric cancer.
Shortly after all of the players and coaches were introduced to the packed house at Eudora High, the Starting Five took their turn in the spotlight, brought onto the floor by the same booming, enthusiastic introduction given to so many KU greats by Allen Fieldhouse public address announcer Eric Danielson.
Photo Gallery
2019 Rock Chalk Roundball Classic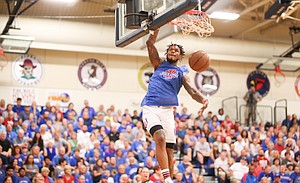 View a gallery of images from the 2019 Rock Chalk Roundball Classic
Their big moment, — lights out, legendary Chicago Bulls intro music bumping — which Hanni calls by far the best part of the night, brought the crowd of 1,600-plus to their feet, with a roar far surpassing that received by Mario Chalmers, Frank Mason III, Ben McLemore and other Kansas greats who played in Thursday's game.
Here's a look at each of this year's beneficiaries:
• Taylia Vannicola, 2, Eudora
The youngest member of this year's Starting Five, Taylia is described as "a radiant burst of sunshine that will steal your heart in an instant," whom, her mother says, has never met a stranger. "She'll high-five and hug and fist bump just about anybody that wants to and she's just full of energy and life and love."
• Nathan Tuder, 8, Kansas City
A big fan of video games and legos, Nathan has big plans for his future. "When I grow up I want to be a doctor," he says. "I want to extinct cancer for everybody. Not just me. Everybody."
• Dontez Guzman, 10, Topeka
Like Tuder, Guzman also wants to help fight cancer as a medical doctor when he grows up, but he has a part-time gig in mind, as well. "I also want to be a YouTuber at the same time," he says.
• Sergio Gomez, 11, Topeka
A young man whom people say is happiest when he's with his family, Gomez wants to be a police officer when he grows up. "If I had a super power, my favorite super power would be (to be) invisible," he says.
• Nicholas Parscale, 12, Lawrence
A fan of billiards, nerf guns and video games, Nicholas also wants to be an oncologist when he grows up, and his resolve in fighting the disease showed up the minute he was diagnosed. His father recalled the very moment he realized that: "He turned to me and said, 'You know why I have cancer?' And I said, 'Why buddy?' He said, 'So somebody else that can't handle it doesn't get it.'"
More fun ahead
While the game, won by Frank Mason III's Crimson team, 127-124, has always been the highlight of the event, Hanni and company have expanded things in recent years to include an entire weekend of fun.
Tonight, at Abe & Jake's Landing in Lawrence, more than 350 people will pack the VIP Dinner, which will include several former KU players — one sitting at each table — and present a panel of select Jayhawks sharing stories from their playing days and offering behind-the-scenes access.
And Saturday, at Lawrence Country Club, the annual celebrity golf tournament, which also will feature several former Jayhawks as either golfers or supporters, will cap the weekend of fun. Both events are sold out.
Those interested in contributing to the cause can still visit RockChalkRoundballClassic.com to see how you can help.
Roundball Classic by the numbers
Heading into its 11th year of existence Hanni's Roundball Classic had raised roughly $412,000 for more than 20 families with children battling various types of cancer.
While that total surely will exceed half a million dollars by the end of the weekend, there are a few other notable numbers worth highlighting.
In all, more than 80 former KU players have been a part of this event in one way or another during the past 11 years, with many of the same faces showing up annually.
Included in that number is 15 NCAA national champions, 18 NBA draft picks and four NBA champions. Beyond basketball, four members of KU's 2008 Orange Bowl championship team have traded in their cleats for high tops, one former WBC Welterweight Champion has hit the floor, along with one SportsCenter anchor and a past winner of the hit television show Survivor.