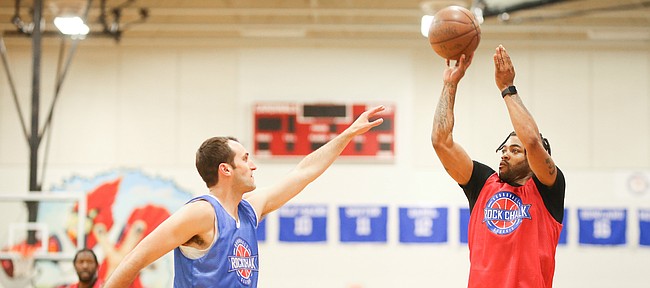 Eudora — It's become a bit of annual summer ritual for former Kansas guard Ben McLemore to return to Lawrence and put on a show at the Rock Chalk Roundball Classic.
This time, however, McLemore had company.
Although McLemore led all scorers with a whopping 42 points, it was former KU point guard Frank Mason III's Crimson team that pulled out a 127-124 victory on Thursday night in front of a packed house of more than 1,600 fans at Eudora High.
Mason, who recently completed his second season with the NBA's Sacramento Kings, played the first 27 minutes of the 40-minute game — planned to play all 40 — and finished with 33 points in his debut performance at the 11th annual event put on by KU play-by-play announcer Brian Hanni and a team of dedicated volunteers.
Asked after the victory for his highlight of the night, Mason, who delivered plenty of them with his play, needed just one word to answer.
"Winning," he said with a grin. "I want to win everything I play."
Photo Gallery
2019 Rock Chalk Roundball Classic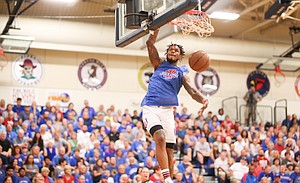 View a gallery of images from the 2019 Rock Chalk Roundball Classic
Former Mason teammate, Perry Ellis, who poured in 22 points to help lead the Crimson team to victory, said it was a thrill being back on the floor with his old point guard.
"It was awesome, man," said Ellis. "He's still going at it. Still a dog."
McLemore, who locked horns with Mason in some of the game's better one-on-one battles, also could do nothing but smile when talking about competing against the KU program's sixth all-time leading scorer.
"Frank definitely entertained the fans tonight," McLemore said. "Obviously, he did that for four years at Kansas and I definitely think he's going to come back here next year."
In all, more than 25 former Jayhawks suited up for Thursday's game, which featured breaks to honor the families of past and present beneficiaries of Hanni's foundation, which raises money to help local families fight pediatric cancer.
One break, which featured a 2-minute tribute video to his younger brother, Kevin McLemore, who unexpectedly passed away last November, caught the former Jayhawk off guard.
"I think it was amazing," McLemore said of the tribute that left him teary-eyed before the action picked back up. "I actually didn't know they were going to do it so it kind of touched me and I know he's looking down on me and keeping me in high spirits. I miss him, I love him and I'm doing everything I do each and every day for him."
If Kevin McLemore was watching on Thursday, he saw quite a show. Here's a quick look back at some of the highlight moments from the fast-paced, action-packed game.
• Mason, who went between his legs more times on Thursday than he did during his entire KU career, flipped one lob to Kevin Young after jumping and putting the ball between his legs from front to back.
• A fundamentally sound extra pass from former KU women's standout Natalie Knight landed in the hands of her husband, Elijah Johnson, who knew well enough to drill the shot and get the assist for his wife.
• Keith Langford showed he's still got some hops by throwing down a 360-dunk on a breakaway.
• On another breakaway, Mason later threw the ball off the glass to himself and finished the play with a dunk.
• A young Eudora baller, Kelton Ford, got a few minutes to run with the Jayhawks at the start of the second half. And in addition to scoring on a layup and some entertaining battles with Mason, Ford actually recorded an assist when he tossed a lob to McLemore, who flushed it.
Those plays and so many more like them were present throughout the game, bringing smiles and inspiring oohs and ahhs from just about everyone in the gym.
As these things often do, the game came down to the wire, despite the Crimson team leading for most of the second half.
Brandon Rush, Mario Chalmers and Tyshawn Taylor helped erase a double-digit deficit and brought the Blue squad all the way back to within one (122-121) with 1:48 to play. But they could draw no closer.
Those players, and McLemore, all got cracks to tie the game in the final minute, but this time, none of them fell through.
Even though everyone who suited up had that same competitive drive as Mason somewhere inside of them, that final score hardly mattered.
"I just come out here to have fun, entertain the families and kids and play with some of my former teammates and other players and have a good time," McLemore said. "The passion of the kids and the love from their families, to play in front of those families, I think it's for a great cause and it's something special."
As for coming up on the losing end, that didn't bother McLemore one bit.
"Not only did they win, but we all won as a unit, to be out here playing together for a great cause," he said.
Mason agreed.
"It was a fun event," he said. "I'm happy to be back and this is bigger than basketball and I just wanted to contribute in as many ways as I can."
Crimson 127
Frank Mason 33, Perry Ellis 22, Mario Little 21, Kevin Young 15, Travis Releford 11, Keith Langford 10, Dezmon Briscoe 5, Jeff Hawkins 3, Monica Engelman 2, Russell Robinson 0, Sasha Kaun 0.
Blue 124
Ben McLemore 42, Tyshawn Taylor 18, Brandon Rush 14, Elijah Johnson 13, Mario Chalmers 10, Kenny Gregory 7, Cole Aldrich 6, Clay Young 5, Billy Thomas 3, Scooter Barry 3, Tyrel Reed 2, Kelton Ford 2, Natalie Knight 2, Brandon McAnderson 0, Sherron Collins 0, Jeff Graves 0.
* The points for each individual player are correct, but a mistake on the scoreboard kept the final numbers from correctly adding up.