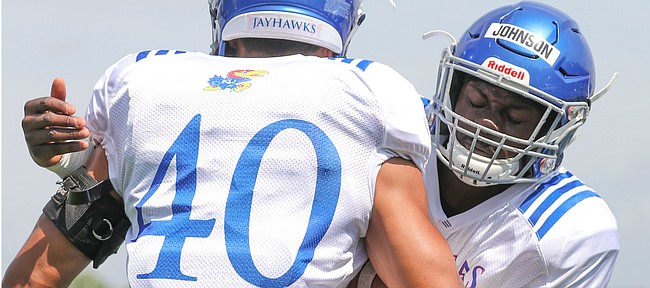 It might just be easier to list the positions that Kyron Johnson hasn't played.
The Kansas junior has tried on many hats during his football career at both the collegiate and high school level. Last season, Johnson mostly played outside linebacker for the Jayhawks during a 3-9 campaign. Johnson has even played defensive end and nickelback at times.
His latest venture will be inside linebacker, a position that Johnson has manned twice before. But now he appears to be at home.
"It just feels right to me," Johnson said. "I just like the fact that I'm right there at the center of the attention. I get to just be there and make plays. It is fun, it is a really fun experience."
Switching positions is nothing new to Johnson. At Lamar High School, Johnson started out as a running back before moving to safety the following year. He then transitioned to linebacker as a junior, and eventually accumulated 125 tackles from that spot as a senior.
When Johnson got to Kansas, the coaching staff also rotated him around on the defensive side of the ball. During his sophomore season in 2018, Johnson tallied 18 total tackles in 10 games. He registered 12 solo stops, and even recovered a fumble on a muffed punt against Nicholls in the season opener.
"It has been really challenging," Johnson said of playing multiple positions. "I get more experience and get wiser of what I need to look for and how I can set up and help the defense out. Not just me, but also the other linebackers as well."
That experience could prove to be pivotal, as Johnson figures to embrace more responsibility by moving inside. The Arlington, Texas native admitted that he is essentially the quarterback of KU's defense in 2019.
"As inside, you are more likely to make the calls," Johnson said. "You need to be the one that everyone relies on, they are counting on you. We are the core of the defense."
Johnson was approached about moving inside by the KU coaching staff in the spring.
Before that, Johnson would lean on his speed to make plays off the edge. Because of the role change, however, Johnson decided to bulk up over the summer. Johnson estimated that he was at 233 pounds during the early part of preseason camp, meaning he is nearly 20 pounds heavier than he was last year.
"I was just eating burgers with eggs," Johnson said. "It was something I usually eat with my little brother. Whenever, it was just me and him, we'd always buy a pack of burgers and a thing of eggs."
Johnson noted that he has not lost his speed, which has been his defining attribute. His teammates have certainly taken notice, too.
"He's going to bring a lot to the table this year," linebacker Azur Kamara said. "I'm really looking forward to being on the field with him. He started out as an outside linebacker, and now he's moved to inside. He's still going to get the job done."
It is no secret that Johnson has enormous shoes to fill. Joe Dineen Jr., who is now with the Denver Broncos, accumulated 275 total tackles over the last two years at the center of the Kansas defense.
Yet Johnson isn't concerned with replacing Dineen this fall. Johnson is focused on making the most of his latest position change by doing what he does best.
"With Joe being gone, it really wasn't much of a setback," Johnson said. "It was really who is going to step up now type of deal. It was really step up and being the man, just do you. Try to be the best you that you can be."