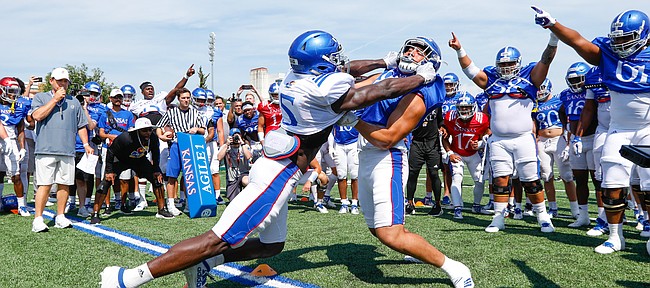 It's a daily conversation between Les Miles and his coaching staff, but there's no tag line or marketing ploy associated with it.
It's just good, old-fashioned evaluation, and it's just as important today as it was on Day 1 of preseason camp and as it will be on the final Friday before the season opener, which is now just 19 days away.
Miles calls it "a daily mull," as in "mull it over," — learn it as opposed to earn it — and it's an opportunity each day for him and his assistants to discuss in greater detail who has done what out there on the field.
"See who's shown," Miles explained. "Somebody made a big catch, somebody made a nice throw; we're going to go by that. That's some of the most enjoyable parts of camp."
The goal of the mull, of course, is to identify the top talent on the roster so that the coaches can put the right players in position to help the Jayhawks win.
But there's more to it than that. Now that camp is in full swing — practice No. 9 of 19 was scheduled for Monday — the Jayhawks are getting closer to becoming a finished product every day. And a key part of putting the finishing touches on the offseason is coming up with one final preseason depth chart.
"We're looking to fill spots," Miles said recently. "The good news is we don't have many spots to fill."
Whether that's good news on game day remains to be seen. But spending the majority of preseason camp with some kind of order is absolutely a positive.
Knowing who fits in where and how the team's depth looks at any given position allows Miles and his staff to give the projected starters more reps overall and more reps together.
That approach typically results in better, tighter, more polished teams.
It's important to note, however, that Miles' staff is not forcing it. Look no further than quarterback for evidence of that. Rather than handing the job to newcomer Thomas MacVittie or subtly hoping to see experienced veteran Carter Stanley win it, Miles is letting the QB battle play out.
"The guys that make the biggest impact are the guys that it comes to them in a natural way, organically," Miles said. "And I think that'll certainly happen."
It's OK to wait in some instances. But I never was a fan of watching the depth chart get flipped on its head on any given day and this team should benefit from a more structured approach.
It's nice to see a player have a good practice or show well during a particular drill. But it's not helpful to have either of those things vault a player from fourth or fifth on the depth chart at breakfast to No. 1 by dinner.
Not only does that allow uncertainty to be a part of your every day routine, but it also eliminates the idea of forgiveness for a bad rep.
Nobody's perfect. And just like with any good signs, which you want to see stacked on top of each other day after day and week after week, it's OK to forgive the bad ones as long as they don't become a recurring problem.
As you'd probably expect, Miles admitted that the depth chart would remain somewhat "fluid" throughout camp. But he also made it clear that even though his goal was to give everybody a fair shot to show what they could do, there were some spots where movement up or down the depth chart would take more than one good or bad day.
Continuity is key in this game. And Miles appears to be providing that for the Jayhawks so far.