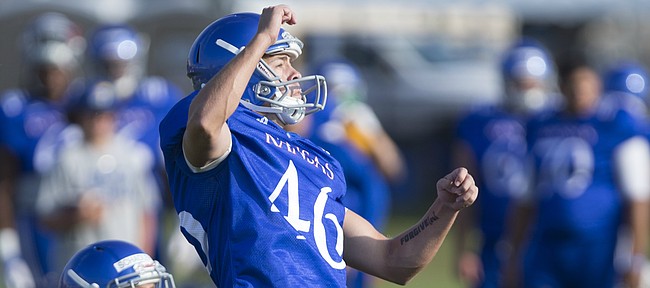 In between his stops in Stillwater, Okla., first as an assistant coach and later as the man in charge at Oklahoma State, Les Miles spent three seasons working in the NFL.
It was then, as a tight ends coach for the Dallas Cowboys from 1998 through 2000, that Miles developed a deeper appreciation for the work that bridges the gap from offense to defense and vice versa.
"I have always been a special teams guy," Miles professed recently.
His regard for that third phase of football went up a notch roughly 20 years ago, thanks to the time he spent working with Dallas' special teams coach at the time, Joe Avezzano.
"I really enjoyed it, how they approached it," Miles recalled. "I think we've done some similar things right here. And I think our guys really enjoy playing special teams. It's a great group of guys."
Miles hired Mike Ekeler this past offseason not only to coach inside linebackers for KU's defense but also to coordinate the program's special teams. The head coach explained the philosophy he and Ekeler are using to build what they hope will be effective coverage units for kickoffs and punts.
"You have to have speed under a ball when you punt it or kick it," Miles said. "And we're going to. We're really going to have it. We took a couple of linebackers, a couple of — kind of the recruiting that we've done has really spoke to what would be speed under our specialty kicks."
While Miles didn't name any specific players while referencing KU's coverage units, it is safe to assume many of those spots will go to younger linebackers and defensive backs.
"The defensive players, generally speaking, donate their talents and skills to special teams," Miles pointed out. "Our offensive players don't necessarily have the same skill set that the defensive players do."
When Miles is looking for extra points or field goals from KU's special teams it will turn to one of two kickers, who will become the team's replacement for Gabriel Rui, who graduated and exhausted his eligibility this past year.
"Our kickers certainly are having some good competition with Liam Jones and," Miles said, before having to pause, "and really a quality guy," the coach went on, but stopping again to get some help on the pronunciation.
"Borcila," Miles said, repeating the last name of freshman kicker Jacob Borcila. "I can't say that name if you gave me a week. But they're really competing routinely."
Jones, a junior from Choctaw, Okla., has handled KU's kickoffs each of the past two seasons. Borcila, a freshman from Westerville, Ohio, was part of Miles' first signing class at KU this past winter.
No competition exists, meanwhile, for the Jayhawks' punting duties. Junior Kyle Thompson enters the fall as a preseason All-Big 12 honoree.
Elsewhere, per Miles, the Jayhawks have some options when it's time to return kickoffs or punts.
"I think we will have a number of guys that will go out there and work on that and decide," Miles said of ongoing battles during preseason practices, while also mentioning junior receivers Stephon Robinson and Kwamie Lassiter II as candidates. "There's some other guys that may pursue and compete in there."
Lassiter said he, Robinson and freshman cornerback Valerian Agbaw Jr., have taken reps on punt returns.
"I'm going to control what I can control," Lassiter added of potentially securing the position, "and let the coaches handle that. But hopefully. We'll see."
Some of the most overlooked players on any football team tend to be the specialists — long snappers, such as KU's Logan Klusman, Kolin Hayes and Luke Hosford. But Miles emphasized special teamers won't be overlooked with what KU is trying to accomplish.
"That special group of specialists that are holders and kickers and that thrive in that environment of special teams, they're a key part to every school, every team that steps onto the field," Miles said. "You have to have great special teams, and I think that you really will enjoy our special teams. I think we'll be — a lot of energy in the room. And I think there's a lot of speed on that team."
KU football specialists
Kickers
Liam Jones, jr.
Jacob Borcila, fr.
Joe O'Leary, fr.
Cole Brungardt, soph.
Punters
Kyle Thompson, jr.
Donovan Gagen, jr.
Long snappers
Logan Klusman, jr.
Kolin Hayes, jr.
Luke Hosford, fr.