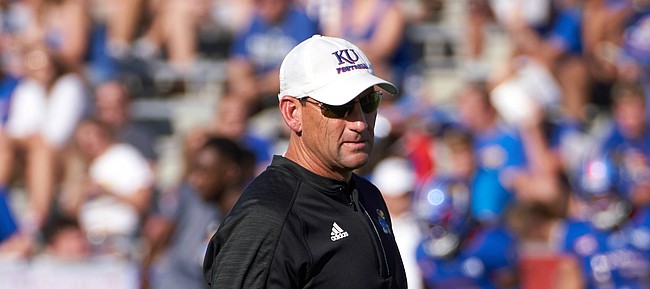 In David Beaty's first game this season serving as head coach, offensive coordinator and quarterbacks coach, the Kansas football offense never put his team in position to challenge Texas Tech on Saturday.
While quarterback Peyton Bender's 221 passing yards marked KU's second-highest total this season, behind Carter Stanley's 247 against Oklahoma State, 161 of the Jayhawks' passing yards at Tech came in the second half, which KU entered down three touchdowns.
The Jayhawks didn't help themselves on the ground, either. Their 29 run attempts netted only 87 yards (the team lost 30 on three sacks of Bender), giving them their third-lowest rushing total of 2018.
Freshman running back Pooka Williams led Kansas with 16 carries and 70 yards and made three catches for 26 yards. But Beaty said after the loss he "of course" had hoped to get KU's star freshman back more involved.
"That guy on the other side of the field has been coaching for a long time," Beaty said, referencing Texas Tech defensive coordinator David Gibbs. "When you have a really good player, people are going to do what they've got to do to try to limit him. I thought he still had good production. I don't think it was off the charts. When we got behind there, it changes the game plan just a little bit. That alters it a little bit."
Williams contributed a pair of chunk plays on the ground, with rushes of 12 and 20 yards in the first half. Backup Khalil Herbert did, too, with rushes for 20 and 10 yards, on a day that he finished with 39 yards on eight carries.
While Beaty thought Williams, who only touched the ball three times in the third quarter, delivered some "really nice runs," the coach said the 5-foot-10 freshman from New Orleans never did "get loose" in the open field.
"We would love to be able to find a way to be in situations where we're not feeling like we have to throw it a lot to get back in the game quick," Beaty said. "Obviously we'd like all of them to have better production."
KU (2-5 overall, 0-4 Big 12) successfully converted on just four of its 15 third down chances — its second-worst showing of the season in that category, trailing a 3-for-13 day versus Oklahoma State.
The Kansas offense ventured into the red zone four times (it twice started drives there thanks to defensive takeaways), but only had 10 points to show for those possessions, which concluded with one field goal, one touchdown (with 11 seconds left in the fourth), one lost fumble and one interception.
Offensively, the Jayhawks went three-and-out on four of their 15 drives, and picked up 19 or fewer yards on 12 of their possessions. Five series featured single-digit yardage, another netted exactly zero yards and two more in the third quarter actually went backward.
According to those involved, the only thing that seemed to go well for the offense was the play-calling process.
Bender, who may or may not maintain his starting spot at QB against TCU, depending on how this week's practices go, was asked whether the offense went through any type of feeling out process with the midseason firing of Doug Meacham and Beaty altering some of his coaching responsibilities.
"Yeah, I mean there's a little bit of an adjustment period, but I felt like our preparation all week was good," Bender told the Journal-World after KU's 32-point loss in Lubbock, Texas. "I thought we had good chemistry in the meeting room and I thought our play-calling process was smooth all week. Felt like it was smooth (at Tech), didn't have a lot of busts that I can remember off the top of my head, it was just a matter of execution."
Senior receiver Steven Sims Jr. told the Journal-World the offense experienced "nothing major" in terms of recalibrating once Beaty replaced Meacham. Sims noted the primary in-game deviation was how each offensive call reached the players on the field.
"Simple changes like that. We're looking to the sideline now rather than Peyton giving everybody the play call and protections," Sims explained. "That's the only difference."
Sims didn't think an adjustment period would necessarily be unavoidable given the circumstances.
"I just feel like we've got to go out there and execute," Sims said. "The defense played great (at Tech), like they always do. It just comes down to the offense putting up points, and that's something we've got to do a better job of."
Sophomore receiver Kwamie Lassiter II, who caught four passes for 41 yards against the Red Raiders, told the Journal-World that KU's skill players mostly felt comfortable, despite the switch at offensive coordinator.
"I guess it's different seeing somebody else call the plays," Lassiter said, "but everything else is the same. We're running the same routes and everything."
On Monday, during the Big 12 coaches media teleconference, Beaty offered his thoughts on the play-calling process during the 48-16 defeat.
"Logistically we felt really good about the way things went Saturday. We felt like we shored up a lot of the procedural issues that we were having in terms of making sure we give our quarterback time to go to school on the information. Gave us some stability in that area," KU's fourth-year head coach said. "Procedurally, I know that our kids felt really comfortable with the way that Saturday operated. I just know we've got to execute better."
KU plays host to TCU (3-4, 1-3) on Saturday (2 p.m., FOX Sports 1) at David Booth Kansas Memorial Stadium.