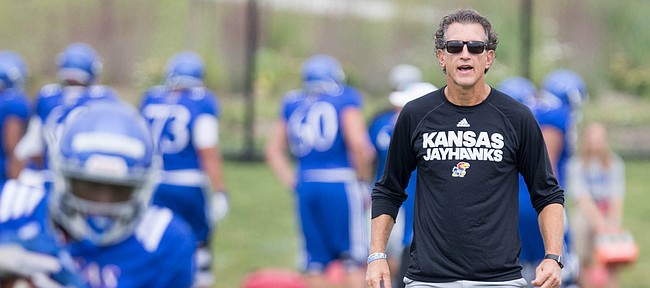 With his Kansas football team 0-3 in the Big 12 following a 2-1 start during the less challenging nonconference portion of the schedule, head coach David Beaty decided this past Wednesday, during the Jayhawks' bye week, to fire offensive coordinator Doug Meacham.
On Monday, during his slot on the Big 12 coaches media teleconference, Beaty spoke publicly for the first time about what went into landing on such a momentous move.
"Ideally you would never want to make a change at this time of the season," said Beaty, who will now be in charge of the offense. "But I asked myself two questions as I got to this point, and the first one was basically: Are we putting our players in the best position to be successful? And as a leader, you've got to put your emotions to the side, because Coach Meacham is one of my best friends in the world and I love him to death and respect him greatly. But I had to ask myself that question."
According to KU's fourth-year head coach — now 5-37 overall and 1-29 in the Big 12 — the second question was: "Have we made the progress that we're capable of and do I see the progress improving from here?"
The answers to those questions, Beaty added, "clearly" led him to his conclusion to fire Meacham.
"Just understanding that all of these decisions that we make in our program," he said, "are based completely on football facts that lead us to what's best for the players."
Entering this week's trip to Texas Tech, KU currently ranks ninth in Big 12 play in scoring (19.0 points per game) and passing (200.7 yards per game) and 10th in rushing (107.7 yards per game).
In its three conference games, KU started Peyton Bender at quarterback at Baylor, before switching to Carter Stanley the next week against Oklahoma State. Stanley started at West Virginia, as well, but was yanked from the No. 1 QB spot before the end of the first quarter. It remains unclear who will start for the Jayhawks at Texas Tech.
Given the unstable QB situation — Miles Kendrick also featured into the game plan before he suffered a shoulder injury at Baylor — Beaty was asked whether there was any consensus between him and Meacham on who the primary QB should be and whether that factored into Meacham's firing.
"No, that doesn't have anything to do with the decision. I will say this. Doug is a dear friend, like I've said. I did not interfere with Doug," Beaty replied. "I allowed him to do it, allowed him to do it the way that he needed to do it. And at the end of the day it's no different from you or me or anyone else. There's a production piece to it that all of us have to face at some point. When it comes to who he needed to use at the quarterback spot, obviously I would have final say. But there was never a situation where we differed on that, just based on availability, injury, what we may be doing that week or what he felt like he needed to do that week."
In five games (four starts), redshirt senior Bender has completed 60.5 percent of his 114 passes for 681 yards and six touchdowns, with one interception.
Also appearing in five games (two starts), Stanley has connected on 72.3 percent of his 47 throws for 304 yards and three touchdowns, with one interception.
In four games, sophomore Kendrick has only attempted 19 passes, connecting on 11 (57.9 percent) for 100 yards and one touchdown, without an interception.
Now that Beaty is taking on Meacham's roles as KU's quarterbacks coach and offensive coordinator, his day-to-day functions have changed. Asked to reveal what he is dealing with now that he wasn't previously and how his game week preparation might be altered, Beaty said he plans each week as if he is the coordinator on both sides of the ball.
"I think one of the things where this week is different is I'm putting in obviously a lot more time on the offensive side than I have on the other side," Beaty said." But that's just part of the job. You're responsible for the whole and total program. It just requires a little bit more time on your part because of that. But really the good thing is the components are all there. It's about sticking to our philosophy throughout the games and avoiding drifting away from our identity and the game plan. We know that that production is there. It's just a matter of getting our players comfortable with understanding that we're going to stay in that realm of things. We're going to stay with who we are, because we know who we are and what we're capable of and if we stay in those areas we certainly know that the production can go way up."
KU-TCU details announced
KU's next home football game — its first in four weeks — will mark the Jayhawks' second week in a row on FOX Sports 1.
The Big 12 announced Monday KU's Oct. 27 matchup with TCU at David Booth Kansas Memorial Stadium will kick off at 2 p.m. and air on the national sports network.
This coming Saturday, KU also will play on FOX Sports 1 (2:30 p.m.), when the Jayhawks (2-4 overall, 0-3 Big 12) take on Texas Tech (4-2, 2-1) on the road.