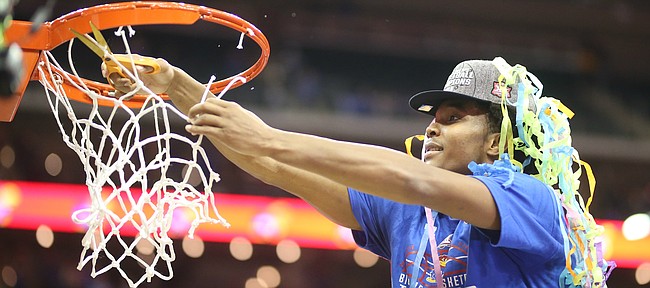 The night before KU's opener in the Big 12 tournament, Devonte' Graham was in his hotel room with a towel draped over his neck. Svi Mykhailiuk, his roommate and fellow senior, was preoccupied with the television, but Graham was focused in on the words coming out of his phone.
Specifically he was singing and dancing along to the latest single about a KU basketball player from a familiar voice.
Graham learned of RedHead, whose real name is Derek Minigan, through Frank Mason III. Minigan wrote two songs about the former National Player of the Year, one which actually featured a prelude recorded by Mason himself.
This song, though, was all about Graham. The anthem? "Free D'Tae. Free D'Tae. Free D'Tae. Yo."
"He sent me some snaps of the song, telling me that he was about to drop me a song," Graham said. "He'd been telling me for like the last week, so I knew it was coming, but I ain't know when."
When Graham got his hands on the single, he quickly learned most of the words — "Not quite (all), not quite, but close," Graham said — and then sent it out on Snapchat and Instagram so others could experience it.
"When the song released, man he just showed so much love," RedHead told the Journal-World. "He tells me he listens to it before every game now. So that's like a big thing for me. Like, 'Wow.'"
* * *
KU freshman Marcus Garrett was on a bus when he first heard "Frank Mason 2.0." The song, RedHead's second about Mason, was displayed on Graham's Snapchat story, prompting Garrett to send a text to the then-junior to ask what exactly he was listening to.
"Me and my teammates were always singing like the D'Tae part," Garrett recalled. "We controlled the music before the game. We would play it on there."
So with the anthem powering Garrett's high school games — and leading to the creation of T-shirts, hashtags, Snapchat edits and even photoshops of potential Allen Fieldhouse banners — there was no doubt the song was making its way around town.
"This is the biggest thing that has ever happened … a girl on Instagram," RedHead said, "when I dropped Frank Mason 2.0, she got BIFM tatted on the inside of her lip.
"She got something I created in my apartment, just sitting on my couch, she got it tattooed."
RedHead has other music, of which Graham supports on Instagram. Among his most recent songs was "They Never," which has a music video on YouTube. But it's his KU music that has garnered some of the most attention.
The original "Frank Mason" song on YouTube is nearing 135,000 views. The sequel is over 51,000 while the two have combined for another 37,000-plus listens on SoundCloud. "Free DTAE" has nearly 7,000 hits on YouTube in the week since it came out. The two songs about Mason are also available on iTunes.
One thing that makes "Free DTAE" different than many of RedHead's others, though, is that there's no profanity, a choice he said was intentional.
"I really want to get the D'Tae song played at some of the games," RedHead said. "I used no profanity purposely, so it could be played everywhere."
And he doesn't just want other people to play it.
RedHead, who said he wrote "Free DTAE" over the course of a few hours while he watched highlights and did other research about the senior, is hoping to return to Kansas should the Jayhawks win the National Championship.
"I'm going on record and saying we're winning the championship," RedHead said. "When that happens, I want to fly to Kansas. I really want to come out there and perform."
* * *
If he were to make it out to Kansas, it wouldn't be the first time.
RedHead got to meet members of the team when he came out to visit with Mason. Since then — even before getting his own song — Graham has supported RedHead's music, while Mason, Redhead said, went as far as to get him tickets to a game when Mason's Kings played up in Portland.
"I was courtside," recalled RedHead, who now lives in Washington. "He had me real close to the floor."
At first, there weren't going to be any more KU songs.
RedHead didn't want people to get tired of his music or think it was some kind of schtick. He was satisfied with the two songs about Mason until, he recalled, people began to reach out and ask if he'd do more songs.
The tipping point came when Peter Fusilero, a videographer for the KU basketball team, messaged RedHead on Instagram and brought up the idea of a song about the team.
"Once he sent me the message, I'm like, 'Man, that's all I need right there,'" RedHead said. "Everyone was saying do it."
The logical conclusion was for a song about Graham, who, in RedHead's own words, was already a National-Player-of-the-Year caliber talent.
"Him and Frank was like Curry and Klay Thompson," RedHead said. "If I could give somebody an answer on why I did the song, it's because he deserves it. ... He plays crazy, bro. He's real good."
And while there may not always be that level of player on the roster, it may be in the cards for RedHead's music to become a yearly tradition.
KU fans have previously asked RedHead about the idea of rapping about a new player each year. Garrett joked he was going to message RedHead right after the Big 12 tournament opener to check on his own song, while KU sophomore Malik Newman had some thoughts of his own after dropping 30 points in KU's win over Oklahoma State.
"If I get one from RedHead I think I've made it," said Newman. "Shoutout to RedHead. Maybe he'll give me one."
He's definitely considering it.
"Who knows, man?" said RedHead. "Maybe a Malik song in the future. Who knows?"
* * *
RedHead's original inspiration for a song about Frank Mason came because of their hometowns in Virginia.
Mason, who RedHead said was present at his first show, went from living in a tough area to becoming a college superstar and eventual NBA draft pick. It's that type of subplot that led to the most meaningful line in Graham's song: "Come from nothing, we just trying to get rich."
"I'm just from Hopewell, Virginia, man. I really come from nothing," RedHead said. "We started off from nothing and we're just trying to make it to where we want to be. That line means a lot to me."
RedHead, who said he's recently lost some people close to him to cancer, said he hopes to be able to start a foundation for cancer research someday. He also aspires to open an animal shelter and says he knows both he and Graham want to be in positions to take care of their families in the long-term.
"I just want to help people," RedHead said. "That's why that line touches me. It may be a simple line, but it's very deep."
As for his KU music, RedHead maintains his appreciation for all the support he's received from fans.
"The reaction is just really unbelievable," RedHead said. "To see all that love from people I don't know, that's just breathtaking."