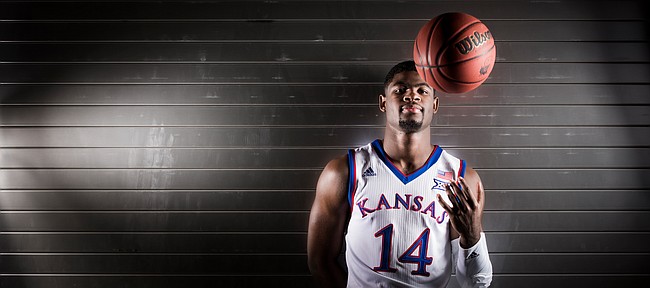 For most of the world, the idea of Kansas sophomore Malik Newman turning into the kind of player KU coach Bill Self promised he would be eventually became a bit of an abstract concept.
Although Newman started 25 games during the regular season and played big minutes because of the lack of depth on this Kansas roster, there were enough nights when the Mississippi State transfer and former McDonald's All-American no-showed and struggled to score, play defense or even put together three meaningful dribbles in a row.
As a result, the doubt became too deeply rooted in people's minds for them to allow their thoughts about Newman to change at the risk that their high hopes again would be dashed.

No one knows this better than Newman's father, Horatio Webster. And no one outside of the Kansas basketball program played a bigger role in helping Newman find his way.
A proud father who lives and dies with every good and bad moment his son has on the basketball court, Webster absorbed blows about Newman's struggles from all sides.
During games at Allen Fieldhouse, seated next to oblivious and well-meaning Kansas fans, Webster heard some tough conversations.
"I used to sit in the stands by people who didn't even know I was his dad and, when Marcus Garrett was starting in Malik's spot, they were like, 'Yes! Marcus is starting today. Thank God. We've got to be done with Newman. He just doesn't have it,'" Webster recalled in a conversation with the Journal-World. "That was their opinion. And, of course, I wasn't going to say nothing. But that was hard to hear. I knew what I was seeing out there wasn't my son."
One problem. At the time, it most definitely was.
Newman's struggles this season have been well documented. And they've had very little to do with his offense.
His biggest issue, which was both obvious to any observer and confirmed by his father Monday night, was that Newman simply had a hard time learning how to play for Self.
It wasn't that he did not like it. Nor that he did not get it. More that he just could not do it. He could not play the way Self demanded he play because so many coaches from his past never held him to the same standard.
"Normally coaches would bend a little bit," Webster remembered. "'Malik, you can get 30 (points) for me so I'm going to let you cut the corner.' Coach Self didn't give a damn if he could get 100. He'd say, 'You're going to do it how I want you to do it, when I want you to do it.' And I think that was great for Malik. It taught him that nothing's going to be given to you."
It's not that Newman came to Kansas thinking that would be the case. Far from it, in fact. He never has been afraid of hard work, always wanted to improve as a player and, ever since he was 5 years old, has dreamed of playing in the NBA.
But it was not until he started playing for Self that he realized all of the work that achieving that dream would require.

"Coming to Kansas was probably one of the greatest things to ever happen to him," Webster said. "Because, if Malik wants to play basketball beyond Kansas, he's got to have those things that Coach Self has instilled in him."
Today he possesses more of those traits than when he first arrived. And even though many of them still do not come as naturally to him as an open 3-pointer or a pull-up jumper, the progress has been astounding.
After his 30-point outburst in the opening round of the Big 12 tournament two weeks ago, Newman credited his big night to looking in the mirror and finally buying into the things Self was asking him to do.
The fact that it was money time — the postseason — certainly did not hurt anything and even may have provided a significant amount of motivation.
After all, we're talking about a young man that Webster said, above and beyond anything else, has always been a winner.

Before high school back in Jackson, during a television interview about his future, Newman boldly proclaimed that he would lead Callaway High to four consecutive state championships.
"And then he went and did it," Webster said.
During those same years, while playing with USA Basketball's 16U and 17U programs, Newman played point guard and led Team USA to two gold medals, winning MVP honors each time.
"People gloss over that," Webster said. "But Malik Newman is a winner, and he's going to do everything in his power to produce, especially in an elimination game where if you lose you go home. He never went home. He was always the last man standing."
It was that reality that made his slow start at Kansas so tough to take. Webster recalls long nights on the telephone with his son, breaking down the finest details of every game and trying, for the life of him, to figure out a way to help Newman break through.
After each phone call, which lasted anywhere from 20 minutes to three hours, Newman always signed off with the same words.
"Dad, we're going to be OK," Newman would say. Or, "Dad, I'll be better tomorrow."
"And he never blamed anyone for any of it," Webster boasted. "It was just that, until Malik figured it out for himself, it was going to be a roller-coaster ride."
Slowly but surely those ah-ha moments came and the ride began to have fewer sudden drops and upside-down adventures.
After spending most of his basketball-playing life worrying first, and sometimes only, about offense, Newman began to understand that there were more important things that needed to be done before checking the stat sheet to see how many points he scored or shots he got.
"Anybody can score," said Webster, sounding an awful lot like Self in recent weeks. "But go make a play for somebody else. Go in there and get a rebound for your team. Talk on offense. Talk on defense. Get a deflection."
Said Self of Newman, during a recent radio interview with Nick Bahe: "I think he always thought if you make shots you're playing well. And I've tried to convince our guys that that's a pretty sad way to think. When you don't make shots and somebody says, 'Hey, you were really good today,' that should ring home with you more than anything else."
When those other aspects of the game became the things Newman started to worry most about, it freed his mind and allowed him to operate better on both ends of the court.
Webster credits Self for refusing to budge and squeezing everything out of Newman that he could.
"Coach was on him pretty hard and I was like, 'If coach could only just coach the hell out of him but still let him play through his mistakes, it could do wonders,' Webster said. "I mean, he would show glimpses of the kid he was in high school and then he would show glimpses of, 'Who the hell is this kid?' He had everybody scratching their heads and I was like, 'Malik, how you play the whole game and get no points?'
"But I think Coach Self had a plan, he wasn't going to let up, he was going to keep his foot on his neck until he got out of Malik what he thought he had in him. And I respect Coach Self for that. Coach is a Hall of Famer. He's one of the greatest coaches to ever coach in college. And you're either going to do it his way or no way. I don't give a damn if you're Kobe Bryant."
As soon as Newman's game began to turn around, so did the things that Webster began hearing.
No longer did he have to endure grumbling in the stands from frustrated Kansas fans. Instead, KU fans started high-fiving him and telling him good luck before the next big game.
Even those closest to Newman and his father changed their tune.
"People used to call me saying, 'Coach Self's doing Malik wrong,'" Webster shared. "And I'd say, 'No, he's not. He ain't doing nothing. You all see him on defense. Coach Self shouldn't play him at all.'"
Today, Newman is better in that area and Webster is hearing about that, too.
"When he dives on the floor now I get 100 texts saying, 'Hey, is that Malik diving on the floor,'" said Webster with full-bodied laughter. "I don't think he had one floor burn until he got to Kansas. He didn't know how that hardwood felt. He never got on the floor."
He does now, whenever he has to. And that understanding and refocused effort has led to some of the best basketball of his life.
"I'm real pleased with him," Self told Bahe. "We'd have no chance to be where we are if he hadn't been playing the way he has been."
During the past five games — all do-or-die contests — Newman has averaged 22 points per game for the top-seeded Jayhawks while shooting 58 percent from the floor, 59 percent from 3-point range and leading KU into the Sweet 16, where they will face No. 5 seed Clemson at 6:07 p.m. Friday night in Omaha, Nebraska.

As it turned out, all Newman really needed was a little guidance and a brush with rock bottom.
Sure, you'd be hard-pressed to find someone who feels too sorry for the young man. After all, when you play basketball at Kansas, you're basically royalty and you live in the lap of luxury, experiencing things that most normal college students can only dream of.
So perspective is important when it comes to remembering Newman's path.
But like most normal college kids on campuses across the country, Newman's experiences at Kansas forced him to grow up, dig deeper and become a better version of himself.
And being a part of Kansas basketball inspired him — on his timeline or otherwise — to change the way he approached the game he has loved to play since he could walk.
"Before he came to KU, I think he was just trying to get to the NBA," Webster said. "He thought he could just show up and it was going to happen. And then reality hit him in the face and he realized you got to lace 'em up harder than that."
---
— Take our latest KUsports.com Quiz below and enter to win a $25 gift card —