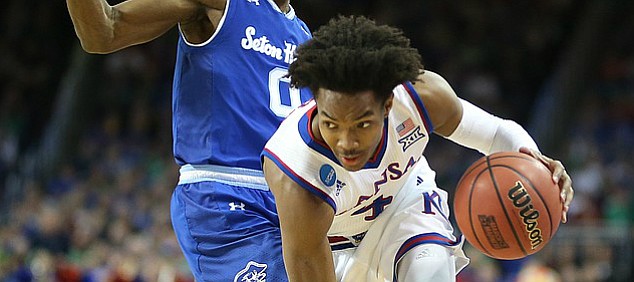 Wichita — It was the simplest of plays — one Kansas has run a thousand times this season. And it almost was responsible for the end of the Jayhawks' season.
With less than a minute to play in the first half of Saturday's 83-79 victory over Seton Hall, Kansas point guard Devonte' Graham drove left and tried to get around a ball screen set by sophomore center Udoka Azubuike.
One problem. Instead of getting around the screen clean and going by his man, Graham ran right smack into it, banging his forehead into Azubuike's shoulder and double-dribbling in the process before falling to the floor in pain.
"Man, it just hurt," Graham said after the victory. "Especially when it hits you in the middle of the forehead. … I just felt like I went black for a second so I just had to sit there."
Photo Gallery
Kansas basketball v. Seton Hall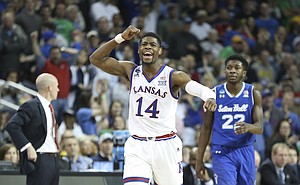 View a gallery of images from Saturday's second-round game between the Jayhawks and the Pirates in Wichita.
With Graham on the bench and trainers checking him, the Jayhawks (29-7) picked up a huge 3-pointer from Malik Newman just before halftime to extend their lead to five at the break.
KU coach Bill Self said the 3-pointer was big but that the prognosis on Graham's collision was even bigger.
"He just kind of lost it there for a second," Self explained. "The doctors looked at him and he passed the on-court concussion stuff or he wouldn't have been able to come back in and play. That was a break for us that we were able to get 40 minutes out of him."
The final 45 seconds of the first half was the only time Graham sat in this one, a common theme throughout the season.
In playing 39-plus minutes in the win over Seton Hall, the KU senior set a Kansas record for minutes played in a single season, passing Danny Manning's record of 1,336 minutes in 1988.
Graham now has played 1,355 minutes and, at least, has an opportunity to play 40 more next week in the Sweet 16. That last part was the sweetest aspect of Graham's Saturday night, even if he was slightly concerned about waking up with a bump on his head on Sunday morning.
"It feels great," he said. "This is what you expect to do from the beginning of the season. We always talk about getting back to the Elite Eight and stuff like that, and we've got one more game to get back there and we've just got to focus and regroup this week. … I just want to keep going as far as I can on my last ride."
Angel Del-flop-o?
Asked after the game if the two offensive fouls called on him were the result of sneaky, veteran flops by Seton Hall big man Angel Delgado, KU sophomore Udoka Azubuike did not hesitate to answer.
"Oh yeah. He definitely flopped," said Azubuike, who finished with four fouls. "He tapped me after that and he was like, 'Oh yeah. I had to get you like that.' And I was like, 'That's fine.'"
Luck of the Irish?
On more than a handful of occasions late in the game, the Jayhawks benefited from the ball simply bouncing their way.
The first time came on a key Graham free throw that pushed the KU lead from five points to 72-66 but looked, during most of the ball's flight toward the rim, like it had no shot of going in.
"Just the way it came out, the crowd was like, 'Oh,'" recalled Graham, who actually laughed to himself after the ball fell through the net. "It just plopped on the back of the rim and went in. And Malik rimmed in two of them. It just kind of felt like it was destined for us to win."
As for the Pirates (22-12) making it harder than the Jayhawks would've liked down the stretch, Graham said his team stayed poised because they knew it was coming.
"That's what we expect," he said. "Ain't nobody going to come out and lay down and every game from here on out is probably going to be the same way. That's what you ask for. You want it to be a close game and see who comes out on top."
No reminders needed
Asked in the locker room if 16th-seeded Maryland-Baltimore County's historic upset of No. 1 seed Virginia on Friday night provided any added motivation for the Jayhawks to come out with a little more fire than normal, Graham said he has been through this too many times before to think that anything less would be acceptable.
"We already know it's the madness, you can't take a night off or your season's going to be done," he said. "Virginia proved it (Friday) night. You've got to be ready to play no matter the seed, especially at this time of year. The seedings don't matter. You've got to come out every game focused."
The dagger
With just under two minutes to play and the Jayhawks leading by five points, attempting to hang on for dear life, Newman drove hard to the paint on the right side and found himself surrounded with nowhere to go.
It looked, at the time, like it could be one of those plays that ended poorly for Kansas and allowed Seton Hall a little life in their attempt at a comeback.
Instead, with all of the composure of a veteran playing his 10th NCAA Tournament game instead of his second, Newman calmly found senior Svi Mykhailiuk out top and Mykhailiuk buried one of his two 3-pointers on the night to put the Jayhawks up 71-63 with 1:20 to play.
"You got to make those," said Mykhailiuk, who pumped his fist and flashed a sigh of relief after the ball swished through the net. "Everybody just went inside (with Newman) and I was just wide open. I thought he was going to pass to the corner but he really couldn't. I was pumped. We just needed a bucket. It was like a minute left. We needed something."
This and that...
The victory gave Kansas 29 wins for the third year in a row and the eighth time in Self's 15 seasons in charge... Next week, KU will be making its 31st all-time appearance in the Sweet 16... The Jayhawks now lead the all-time series with Seton Hall, 2-1, and are 14-3 away from Allen Fieldhouse this season... KU improved to 105-45 all-time in NCAA Tournament games, 35-13 under Self.
---
More news and notes from Kansas vs. Seton Hall
---