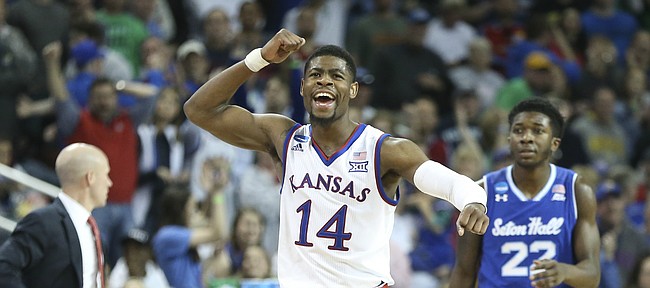 Wichita — Kansas basketball coach Bill Self had finished talking to his team during a timeout midway through the first half of Saturday night's second-round game against Seton Hall, but he had one more thing to say to sophomore Malik Newman.
"I was leaving the huddle and he just pulled me to the side and told me: 'Malik, you just played 10 minutes and you only took one shot. You're not being aggressive right now. You're trying to let the flow of the game come to you instead of playing in it and being aggressive.' At that point, I changed my mindset," Newman said.
Newman's first points came on a drive with 7:57 left in the first half and he finished with 28 points.
"Coach Self did a great job of reminding me that I wasn't doing anything the first 10 minutes of the game," Newman said.
He did plenty during the rest of KU's 83-79 survival against Seton Hall, his most vital contribution coming on a great escape on a play going south in a hurry.
Photo Gallery
Kansas basketball v. Seton Hall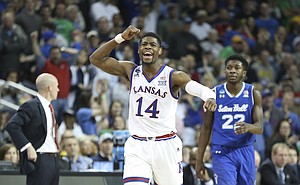 View a gallery of images from Saturday's second-round game between the Jayhawks and the Pirates in Wichita.
Kansas clinging to a five-point lead, Newman drove down low, a little too low, and was trapped in a land of giants, his dribbled picked up. Pirates center Angel Delgado didn't bite on his pump-fake, killing the chance that a whistle might bail him out. Newman pivoted and scanned the perimeter, hoping to have somewhere, anywhere, to go with the ball. He couldn't have dreamed up anything better than what popped into view: Svi Mykhailiuk alone, outside the 3-point line. Newman found enough of an opening to zip him a pass and Mykhailiuk buried the shot from which Seton Hall couldn't recover, giving Kansas a 71-63 lead with 1:20 left.
"Svi did a great job of getting open and relocating, and I was able to find him and he made a big-time shot," Newman said. "No doubt, that was going in. I was at half court before the ball went in. Once I saw his elbow pull I was telling them (at the scorer's table) put three on the board."
Mykhailiuk, more stoic than most, reacted with a popular modern 3-point celebration, an archer pulling back an arrow and letting it go.
"He doesn't always show that side, but he does have it in him," Newman said.
Mykhailiuk didn't take the pass for granted.
"I think he had like three people around him, so that was a pretty tough pass," Mykhailiuk said. "This time of year, everybody's trying to run me off the 3-point line, so I was kind of surprised I was that open."
A couple of minutes earlier, Newman had the ball, but he wasn't open until freeing himself with a wicked crossover. He used the space he created for himself to nail a 3-pointer that turned back the charging Pirates and extended KU's lead to 66-59 with 3:37 left.
Asked if that were one of his favorite moves, Newman ranked it.
"The way I've been driving it lately, defenses kind of play back on their heels, so for me to be able to act like I'm going downhill real fast and then be able to pull back and create that little separation to rise up and shoot, it's definitely a top-five move," Newman said.
A sophomore transfer from Mississippi State, Newman had an up-and-down Big 12 regular season and caught fire in the conference tournament, averaging 24 points and making 15 of 22 3-pointers to lead KU to the conference championship.
He made 4 of 8 3-pointers against Seton Hall, 8 of 14 field goals and 8 of 8 free throws.
"Any one of our starting five always has a chance to go out and get 20-plus," Newman said.
He has done that four times during the team's active five-game winning streak and eight times this season, seven of them victories.
---
More news and notes from Kansas vs. Seton Hall
---