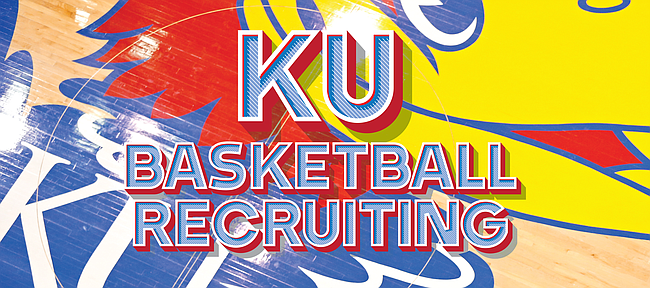 Kansas freshman Quentin Grimes won't forget the locker room celebration anytime soon.
Grimes, who spoke to reporters in Allen Fieldhouse Tuesday, described the scene after Team USA captured a gold medal with a 113-74 win against host Canada.
"It was the most lit I have ever been in a locker room," Grimes said. "We just came together in a matter of two or three weeks. I felt like I knew those guys two or three years. It just made relationships that will last for a long time."
But Grimes is hopeful that those relationships could blossom into something more down the road.
Grimes, who was named the event's most valuable player, admitted he tried to sway a few of his USA teammates to join him in Lawrence. Grimes was one of four players on the roster slated to be a freshman during the 2018-19 season. The other eight players are from the class of 2019, including Matthew Hurt and Jeremiah Robinson-Earl.
Hurt, a power forward from Rochester, Minn., has been recruited by the Jayhawks for a few years. Kansas is considered the favorite to land Hurt, who is the No. 5 overall player per Rivals. Hurt averaged 33.9 points per game in his junior campaign.
Robinson-Earl, meanwhile, is a 6-foot-9 power forward from Bishop Miege. According to Rivals, Robinson-Earl is the No. 16 overall player and top recruit in Kansas. Grimes said the three of them formed a bond during their time in the FIBA Americas U18 Championships in St. Catherines, Canada.
"We grew closer," Grimes said. "Matt definitely came out of his shell a little bit. He's known as a quiet guy, but he wasn't really quiet around us. I feel like I did a good job persuading them to come to Kansas."
In addition, Kansas head coach Bill Self had a recruiting advantage by serving as the head coach for Team USA. He got to spend an unlimited amount of time with two of his top recruits for the class of 2019, as well as a number of other unsigned players.
Yet there were also disadvantages for Self, who had to trim the roster down to 12 players in early June.
"There were 21 youngsters cut," Self said. "So there was a much higher number of kids cut than there were kids kept. You can go back over time, and guys that have coached these teams, they have lost players they were leading on."
Scottie Lewis, who was one of the 21 players to not make the roster, announced his final seven schools on June 7. Lewis, the No. 11 overall player per Rivals, narrowed his list down to Duke, Florida, Harvard, Kentucky, St. John's, Stanford and Villanova. The 6-foot-5 wing included Kansas in his top 12, which he revealed Oct. 1.
"We knew that going in that it could happen," Self said of losing recruits. "I thought this was bigger than that. I thought this was a situation that you just want to coach and be a part of what is a very monumental athletic event. That trumped the potential negative of it."