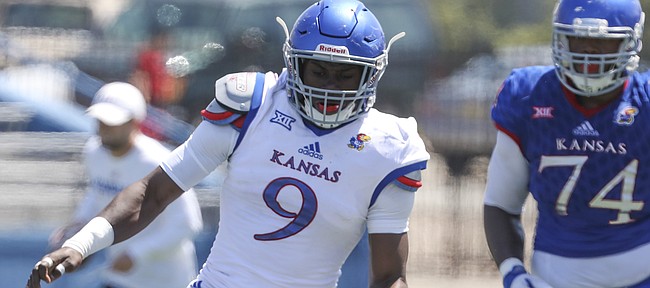 Teammates describe University of Kansas linebacker Osaze Ogbebor as fast.
The 6-foot-1, 225-pound senior agrees with that assessment. Ogbebor even ventures to call himself the fastest linebacker at KU right now — an argument he admits comes with a technicality.
The subject of the speediest linebacker came up when Ogbebor and a few of his teammates made a recent appearance on 1320 KLWN's Rock Chalk Sports Talk, with Nick Schwerdt.
"That's a debate," Ogbebor said. "Kyron (Johnson), he would say he's the fastest, but he switches positions. So I want to say I'm the fastest."
A 6-1, 220-pound sophomore, Johnson, listed at linebacker on the roster, began playing a hybrid position for KU's defense this past spring, allowing him to line up at defensive end on the edge at times.
So Ogbebor claimed that disqualified Johnson from the fastest linebacker title.
"It's either between me or Joe (Dineen)," Ogbebor said. "And I like to say I am."
All joking aside, Ogbebor sees "a lot of upside" within Johnson's skill set: "Fast, smart, athletic — very athletic," the senior lauded.
In fact, earlier this month, Johnson made a case for himself as fastest player on the entire roster during a morning workout.
Racing in heats that were split up by position group, Johnson won a 15-yard sprint against his position peers. Then the winner from each position group lined up for the 15-yard final.
"He won everything," Ogbebor recounted. "As time goes on, you'll see he's a really good athlete."
Johnson didn't buy Ogbebor's claim that the senior deserved the fastest linebacker designation.
"He only says that because I'm a hybrid player," a chuckling Johnson said. "I play a little bit of two to three positions at a time. So I'll still take the title as the fastest player."
According to Johnson, he and Najee Stevens-McKenzie, a junior defensive end, went back and forth this spring in a different sort of competition, to see who was the best edge rusher on KU's defense.
"We're still competing," Johnson said of the unresolved battle.
Although both Johnson and Stevens-McKenzie wore a No. 9 jersey this past spring, Johnson said he will wear No. 15 for his upcoming sophomore season.
Feaster emerging
Although seniors Dineen, Keith Loneker Jr. and Ogbebor, as well as sophomore Johnson, might be the most familiar names within KU's linebacking corps, those Jayhawks think one of their teammates shouldn't be overlooked.
According to Dineen, redshirt junior linebacker Denzel Feaster has made significant progress this offseason.
"He was one of the kids this year that really just blew up in the spring," Dineen said. "I knew he could play, but this spring he really stepped up and made a ton of plays for us. I'm really excited to play next to him next year."
Feaster took a redshirt in 2017 due to injury.
"The big thing with Feast is all the extra work he puts in," Dineen said. "He's just really motivated and dedicated to the game."
Different vibe for KU this year?
KU's linebackers all referenced the presence of veteran leaders as a factor in giving offseason preparation a different feel over the past several months.
Although Loneker said some important traits have existed in past seasons, they seemed more noticeable of late.
"I've seen a new level of resilience. And what I mean by that is guys are competing," Loneker said. "Through spring practice it was a lot of competing. Guys on the offense wanted to get at guys on the defense, and guys on the defense wanted to get at the guys on the offense. So it was a lot of what football should be: going back and forth and trying to make each other better."