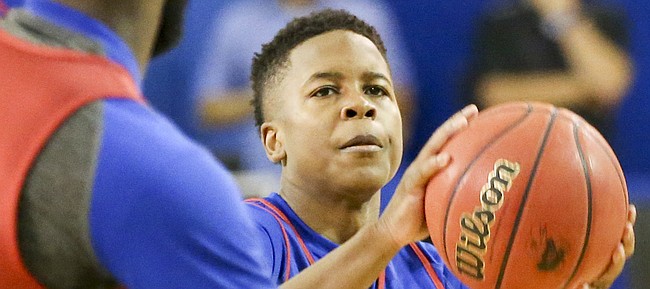 It seems not at all uncommon for a team's smallest athlete in the huddle, on the diamond or in the layup line to double as the most confident.
Think: Todd Reesing, Jose Altuve, Allen Iverson.
It makes sense when you think about it. If they lacked confidence, they wouldn't dare venture into the land of giants and might even listen to those who tell them they're too short to succeed.
Give a coach the slightest reason to go to a taller option in most sports, and he's liable to pounce on it.
Which brings us to Kansas sophomore guard Charlie Moore, who plays the game as if he thinks he's 10 feet tall, backs down from nobody and shows no fear in putting up shots from way downtown, as well as shots over defenders whose arms are way up there.
"I always have the most confidence in myself," Moore said after a recent camp scrimmage. "I put a lot of work in to shoot the shots I take. I feel confident taking them because I practice them in the gym."
One of the best ways for a freshman to rot on the bench is to look meek on the court. That wasn't a problem for Moore during his first season of college basketball, spent in the Pac-12 playing for California. Moore moved from Berkeley to Lawrence after the Golden Bears' coach, Cuonzo Martin, bolted to become Missouri's coach.
Moore averaged 12.2 points as a freshman and was one of four double-figures scorers on that Cal team. The other three missed the season's second game, sidelined by three different injuries.
Moore never again played a game for Cal surrounded by so little scoring punch and he never will at Kansas. He took advantage of the green light and scored 38 points, including Cal's final 12 points in regulation, to lead the Golden Bears to a 75-65 overtime victory vs. visiting UC Irvine.
He took a career-high 20 shots, made 10, shot 3 of 7 on 3-pointers and made 15 of 17 free throws.
Listed at 5-foot-11 and 170 pounds by Kansas, Moore headed to Cal out of Morgan Park High, a perennial basketball power in the competitive Chicago Public League.
The mind tends to expect prototypical athletes, so when someone breaks the mold, it's easy to be taken off guard initially. You expect to see a player Moore's size struggle to get his shot off.
Wrong. He can get a shot whenever he feels like putting one up and his outrageous cross-over dribble is his best friend in that regard.
What will surprise spectators crammed into Allen Fieldhouse watching Moore play for the first time?
"His shot got better," Kansas assistant coach Kurtis Townsend said. "I don't know if that'll surprise them. But I thought he was unbelievable getting by his man and then finding the open guy and passing the ball."
Townsend added that Moore "needs to get a little bit better defensively," which probably means he needs to get a whole lot better. Playing time will serve as a nice motivator for that to happen.
"But I think they'll be surprised about how good he is at getting in the lane coming off ball screens, then finding guys," Townsend said.
It's reasonable to expect Moore to improve the 1.2-to-1 assists-to-turnovers ratio he compiled at Cal because he'll need to do so in order to stay on the court and because he'll be in his third year out of high school, not his first.
It's also reasonable to expect an improvement from a 3-point percentage of .352 as a freshman to closer to .400 as a red-shirt sophomore. Why? He'll be stronger, physically, and added experience should enable him to exhibit better shot selection. Plus, Townsend said Moore's shot has improved during his time at Kansas.
If Moore is beaten out by fellow freshmen combo guards Devon Dotson and Quentin Grimes, he'll likely get close to starter's minutes, lighting up the crowd with no-look passes, deep 3-pointers and fearless drives to the bucket.