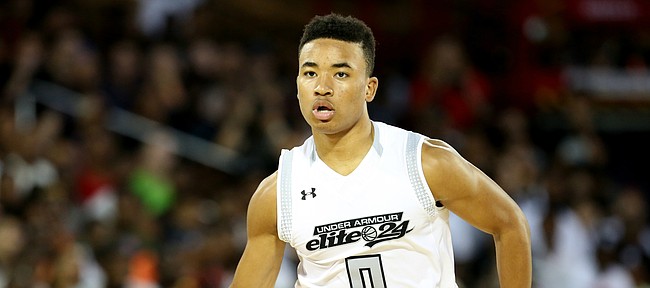 In the wake of the en masse departure of four starting guards who helped the Jayhawks reach the Final Four this past March, the Kansas backcourt looked rather thin the first week of June, when players arrived on campus for summer classes and workouts.
Other than sophomores Charlie Moore and Marcus Garrett, it was difficult to spot a surefire rotation player for the 2018-19 season among the guards who played in KU's camp scrimmage this past week.
The backcourt took on a more formidable air, though, once freshman point guard Devon Dotson arrived in Lawrence this past Thursday.
A five-star, McDonald's All-American point guard from Charlotte, N.C., Dotson didn't take long to settle in to his new college basketball home, just a few days removed from his high school graduation.
"He fits in good," KU assistant coach Kurtis Townsend said Monday, after watching KU players go through drills in front of hundreds of aspiring Jayhawks, at the team's summer basketball camp.
"He's trying. And he doesn't know what's going on yet, like most of them," Townsend said of Dotson, and freshmen in general. "He'll get acclimated. He'll be way better two weeks from now than he is now. So he'll be good by the end of the summer."
Dotson and the rest of the Jayhawks can work out under their coaches' watch a total of four hours each week this time of year, per NCAA rules.
Those sessions, for now, are taking place without KU head coach Bill Self and another key member of the Jayhawks' backcourt, incoming freshman Quentin Grimes. Self and Grimes, of course, are involved with USA Basketball's U18 team, which is competing at the FIBA Americas championship, in Ontario, throughout this coming Saturday.
KU's coaches should begin having an even better idea about their guard group for the coming season once everyone is back on campus.
In the meantime, the Jayhawks are getting a peek at Dotson's potential, as they try their best to go about replacing All-American point guard Devonte' Graham.
Townsend said right now Dotson's speed as a 6-foot-2 ball-handler appears to be his biggest asset.
"He's unbelievable. He can get wherever he wants," Townsend began. "He's great in the open floor. He's a great passer and I think he's a pretty tough kid. He needs to get a lot better shooting wise, which most kids when they're freshmen do. And we'll work on that all summer."
Townsend said both Dotson and Moore, a sophomore transfer from Cal who sat out this past season, have the tools to start at point guard.
"But he's a jet," the longtime KU assistant added of Dotson. "He's really fast. He's quick and he's got a high basketball IQ."