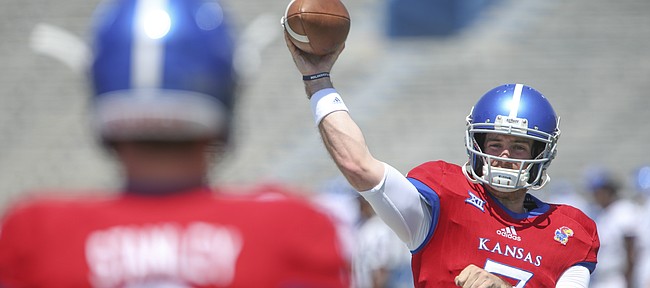 If everything goes according to plan, members of the Kansas football team's offense won't have to wait all of preseason camp and the week leading up to the season opener — like they did last year — to learn the identity of the starting quarterback.
Head coach David Beaty this past week used words such as "urgency" when describing how he and offensive coordinator and quarterbacks coach Doug Meacham plan to narrow a three-man QB competition to two once practices begin the first week of August.
What's more, the coaches want to determine the No. 1 QB — "the guy," as Beaty put it — with haste, as well.
Those intentions sounded appealing to at least one prominent Jayhawk who, like the starting quarterback to (hypothetically) be named sooner rather than later, will play a crucial role for the offense.
Ahead of the 2017 season, Beaty opted to let a two-man race between Peyton Bender and Carter Stanley drag on as long as possible. Senior receiver Steven Sims Jr., no stranger to preseason QB battles in his time at KU, said the offense should benefit this time around if either Bender, Stanley or newcomer Miles Kendrick win the job in a more expedient timeframe.
"No matter who is back there I feel like we'll be a successful team, but just pick one and we'll just ride with one," Sims said at Big 12 Football Media Days. "I feel like that there's no better way to do it. Just pick one and we'll ride with one."
In theory, the entire offense would have more time to develop together and function at a higher level prior to the Sept. 1 opener against Nicholls State if the receivers, running backs and offensive linemen work at length with the same starting QB in the weeks leading up to it.
"In a way it does establish rhythm, especially for those (quarterbacks)," Sims suggested of picking a starter earlier in the process of preparation, "because I know it's a hard position to catch a rhythm in. They pick one and we'll go from there."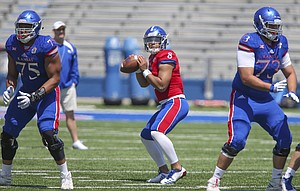 During KU's 1-11 2017 season, Bender, then a junior, started the opener and eight games in total, completing 54.2 percent of his 273 passes for 1,609 yards, with 10 touchdowns and 10 interceptions.
Stanley took over as the new No. 1 QB with five games remaining, then started four before missing the finale due to injury. Stanley, appearing in nine games, connected on 54.6 percent of his 185 throws for 1,108 yards, with four TD passes and seven picks.
Kendrick, meanwhile, in his lone season playing at the junior college level, at College of San Mateo (Calif.), started nine games, passed for 1,889 yards and 18 touchdowns and nine picks, while rushing for 417 yards and five TDs.
Much evaluation and scrutiny will go into naming KU's starter. Junior running back Khalil Herbert revealed what he thinks is the most important trait for a No. 1 QB.
"Just knowing what the defense is going to do before they do it," Herbert said.
According to the most experienced running back in the program, Bender, Stanley and Kendrick are "pretty good" at reading defenses at the line of scrimmage.
"They come in and compete every day. Sometimes I don't even know who's next to me," Herbert added, "because they're all interchangeable, I feel like, and all do a really good job."
Over the past several months, all three quarterbacks have taken repetitions with first-, second- and third-string personnel, Herbert said.
Asked if it would benefit the offense to know the starter a couple of weeks before the season begins, Herbert played it cool.
"It's not really a difference to us who plays," the running back responded, "but I'm confident in each of those guys that they can get the job done."