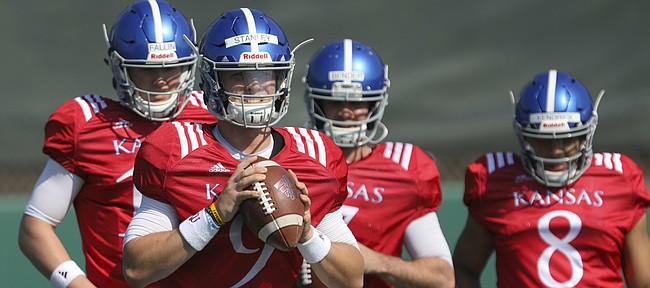 A little less than seven weeks away from its season opener against Nicholls State, the identity of the Kansas football team's starting quarterback remains up in the air.
In 2017, head coach David Beaty didn't officially award the job to Peyton Bender until hours before the Jayhawks' Week 1 kickoff. Whether the race for No. 1 QB stretches on so long this year remains to be seen. But the battle could prove even more complex this time around, with three legitimate candidates for KU offensive coordinator and quarterbacks coach Doug Meacham and Beaty to consider.
Neither Bender, who started the first seven games this past season before being replaced in the midst of the offense flatlining, nor his successor, Carter Stanley, wowed enough to enter the off-season as the unequivocal starter.
Once Miles Kendrick arrived in January as a transfer from College of San Mateo (Calif.), he quickly became as legitimate a contender to lead the offense as either of KU's two returning starters.
With a new contender in the mix, redshirt junior Stanley said all three quarterbacks benefited.
"I think it just elevated pretty much everything — competition, leadership among our quarterback group and I think pretty much every aspect of the QB room has been elevated since he joined us," Stanley said this past week, during an appearance on 1320 KLWN's Rock Chalk Sports Talk, with Nick Schwerdt.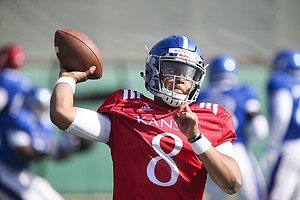 In his one season playing at the junior college level, Kendrick started nine games, passed for 1,889 yards and 18 touchdowns and rushed for 417 yards and five TDs.
The 5-foot-10, 200-pound sophomore from Morgan Hill, Calif., considers himself "lucky" to have moved in and out of the juco ranks in a matter of months. He landed at KU motivated.
"Since Day 1 I've always wanted to prove that I can play at the highest level in one of the best conferences in the country," Kendrick said. "And play and be successful. I think that's always been my goal. There's a lot of good high school quarterbacks, a lot of good youth players, but this is the level where you prove yourself and you show the world how talented you are, how special you are as a player."
As the newcomer challenges the KU quarterbacks who already have faced Big 12 defenses, Kendrick projects as more comparable to Stanley than Bender.
A 6-2 QB form Vero Beach, Fla., Stanley is considered more of a threat to run than the 6-1 Bender, a student of the Air Raid offense since his college career began at Washington State.
Stanley described Bender as "more of a thrower," before chuckling and giving his roommate some credit for his athletic ability, as well.
"Don't get me wrong. He can get some yards when he runs," Stanley added, "but I think Miles and I do have more of a similar style."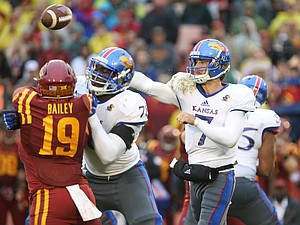 Amid a 1-11 2017 season for KU, Bender started eight games (the first seven and the finale), completing 54.2 percent of his 273 passes for 1,609 yards, with 10 touchdowns and 10 interceptions.
Stanley became the new No. 1 QB with five games remaining, then started four before missing the finale due to injury. Stanley, appearing in nine games total, connected on 54.6 percent of his 185 throws for 1,108 yards, with four TD passes and seven picks.
In what will be his final college football season, Bender, of course, hopes for more success in his second year at Kansas than he experienced in his first.
"Just to continue the maturation process for my career," Bender said of a primary goal. "It's coming to an end here shortly. So just trying to do the most I can form now until the season starts to prepare myself is really all I can do. Then the rest is in the coaches' hands."
Wyatt returns to KU
A former defensive line coach at Kansas, Buddy Wyatt has rejoined the football staff this season as a senior analyst.
Wyatt left SMU, where he coached the D-line each of the past three seasons, to return to Lawrence.
In his previous stint at KU, Wyatt coached the defensive line form 2010 to 2014.
Prior to that, Wyatt coached D-linemen at Texas A & M, Nebraska, Alabama, Colorado, Northwestern, Oklahoma State and Minnesota.