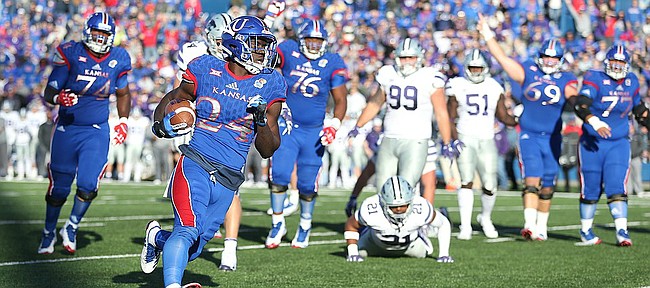 The Kansas football program published its 2018 media guide just in time for this week's Big 12 Media Days, in Frisco, Texas.
The unveil revealed the departure of some Jayhawks who were still with the program as recently as the spring semester.
A would-be senior running back, Taylor Martin left the team after three seasons of contributing to KU's rushing attack.
Martin, a 5-foot-10 back from Fort Worth, Texas, finished 2017 as KU's second-leading rusher, with 286 yards and three touchdowns.
While a KU official could not disclose the reason for Martin leaving, two other members of the offense had to give up the sport due to medical reasons.
Another would-be senior, offensive lineman Jacob Bragg, can no longer play football. Neither can tight end Kenyon Tabor, who would have been a redshirt freshman.
One of KU's top signees in its 2017 recruiting class, Tabor took a medical redshirt this past season and his future remained in limbo in the spring, as the 6-4 passing target from Derby sought out medical experts while dealing with severe back issues.
Bragg, a 6-4 lineman from Nacogdoches, Texas, started eight games over the course of the past three seasons and moonlighted as a fullback for a brief time in 2017.
Fullback Quinton McQuillan also left KU football.