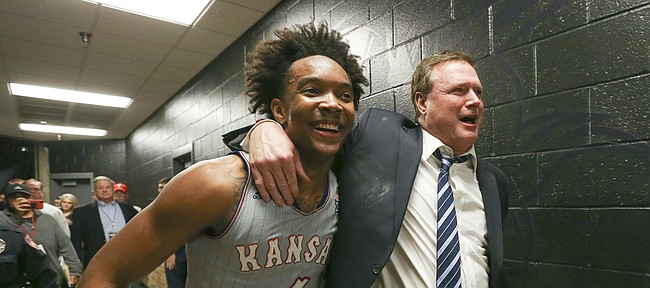 In watching Texas Tech hammer Kansas on the boards, handle all that comes with playing in a pressure-packed environment and come away with a 12-point victory in Allen Fieldhouse on the second day of January, a thought came to mind.
It was as if I were watching a Bill Self basketball team playing in the visiting uniforms in Allen Fieldhouse.
And on the day Kansas clinched at least a share of the Big 12 title, toughness was cited by the coach of another tough team as the primary reason.
"I have a lot of respect for how tough they are," Red Raiders coach Chris Beard said. "In our program, we pride ourselves on mental toughness. And I'd like to think that people think we're a pretty tough team, but I don't think Kansas gets enough credit for how tough they are."
The two coaches go back to the 1999-2000 season when Beard was in his first assignment as a head coach at Fort Scott Community College and Self was in his second stop as a head coach at Tulsa. Self recruited one of Beard's players.
"Their identity is their talent and their Hall of Fame coach and their great home court, but they also have a big-time toughness to them," Beard said. "That's what coach Self's teams were known for at Tulsa, and it's almost like when the players get better, you forget that that's still Bill Self."
Any discussion of the team's toughness starts with Self and quickly shifts to Devonte' Graham, who has made the shift from riding shotgun beside Frank Mason III to steering better than anyone could have expected — well, almost anyone. If Self didn't think Graham was capable of doing it, he wouldn't have pushed him so hard to become a different player.
Graham's shooting touch and range made him the perfect complement to Mason, who was so skilled at breaking down defenses with exceptional driving ability. When Mason didn't finish, he knew he had Graham waiting for the ball to drain a 3-pointer. Now, nobody is there to set up Graham.
"He doesn't get any shots off the catch, hardly," Self said. "He's had to go create shots on his own and that really isn't his game. He's had to learn to do that. He's never been a guy who really got to the free-throw line. He's learned to do that this year. His assists-to-turnovers (2.7-to-1 ratio) is ridiculous, considering how many plays he's got to make at the end of the clock. I'm really proud of him."
A coach doesn't build toughness in a player by telling him he's tough. He does it by telling him he's not and making him believe that the only reason he's not doing something is because he lacks the toughness to do it. By setting the bar so high for his players, Self shows he's confident in them, even if what he tells them at times is not easy on the ears.
As long as they play aggressively in trying to become the players he believes they can become, Self is more likely to live with their mistakes.
Passive players don't make as many mistakes as aggressive ones. They also don't improve as rapidly because they aren't making as many discoveries. They aren't trying new things and learning that they can, in fact, excel in areas that used to be considered weaknesses.
"He's one of the best players in college basketball," Beard said of Graham. "He's one of the best shooters. He controls his team, plays intelligent defense, stays out of foul trouble, then makes plays late in the game defensively. He's a great passer. He's kind of come up the ranks. ... They've got guys who play 40 and 39 minutes. Their strength coach (Andrea Hudy) must be a magician."
After a full season of playing a new role on a team that has nobody else who can play his position, Graham has developed into a player without weaknesses. And don't let his smile and friendly demeanor fool you. Toughness is his greatest strength.