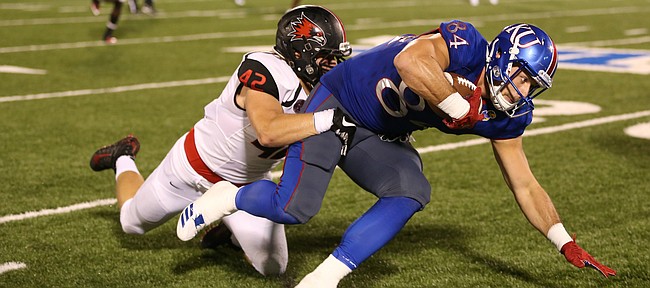 As the final rounds of the NFL Draft played out this past Saturday in Dallas, Ben Johnson observed it all on television, from his mother's home in Basehor, confident in his football future.
Though Johnson, the former University of Kansas tight end, didn't know with any certainty whether an organization would select him in rounds five through seven, as he heard was possible, his agent informed him Friday evening potential free-agent deals already were in the works.
"The first team that offers you with a signing bonus," Johnson's agent told him of the plan if he went undrafted, "we're gonna jump on it."
The seven-round draft didn't include Johnson, but he heard during the fifth round that the Los Angeles Chargers "really wanted" him. Sure enough, the team that first took interest in Johnson during KU's 2017 pre-season camp followed through.
"As soon as (the draft) was over," Johnson shared, "they already had made the deal."
Next week, Johnson will head to Costa Mesa, Calif., for the Chargers' rookie minicamp. The tight end who measured a smidge under 6-foot-4 and weighed in at 246 pounds at KU's pro day, when he also showed off his 33-inch vertical, knows he will have to prove himself throughout his three-day introduction to the NFL. But it is his understanding that the team plans to keep him around past rookie camp, and this is just his first step toward trying to achieve his professional dreams by making the 53-man roster this coming fall.
The Chargers scout with whom Johnson spoke on a couple of occasions in the weeks leading up to the draft — he heard from 19 teams overall — told the prospect he first took note of Johnson this past August while watching KU practice, because the tight end stood out.
Johnson rarely experienced such chances to shine in his final season at KU, when he caught 30 passes for 363 yards and a touchdown over the course of 12 games. While the offense only sprinkled Johnson in at times, it turned out his lack of a featured role didn't destroy his NFL outlook.
"You know, I had glimpses where I showed what I can do. Teams see that and they know football. They're able to notice the little things, and sometimes the little things are what they like," Johnson said, adding game footage can be more beneficial than statistics at times. "The film speaks for itself, so I think that's huge as far as getting looked at."
Although Johnson didn't use it as an excuse, his exposure could have been brighter, too, had he not played for such an under-the-radar college football program like Kansas.
"I think there's definitely an advantage if you played for a successful team or a blue blood team like Michigan," Johnson said, before adding, "I think if you're good they'll find you."