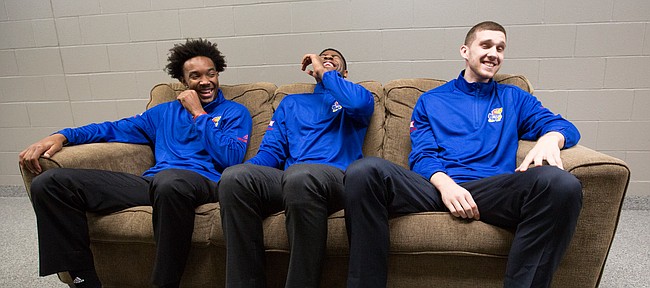 KANSAS CITY, MO. — Of all the reasons point guard Devonte' Graham chose to return to Kansas for his senior season, KU coach Bill Self believes one might be getting overlooked.
"He likes college," Self said of Graham Tuesday afternoon at Big 12 media day at Sprint Center. "He also wants to see if he can improve himself and his positioning much like Frank (Mason III) did last year by having a big senior year."
Whether Graham delivers the kind of numbers and production that led to Mason earning Big 12 and national player of the year honors a season ago remains to be seen. But the whole liking college part, at least for one more year, is well under way for the Raleigh, N.C.., native, who continues to make the most of every day and every experience of life as a college athlete.
Photo Gallery
Kansas basketball at Big 12 Media Day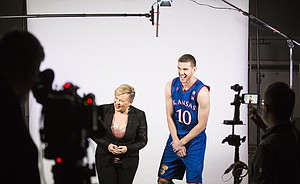 View a gallery of images from Big 12 Media Day at Sprint Center.
From interactions with the student body and enjoyable moments in class to sessions in the weight room and road trips to fancy, far-away places like Hawaii, New York, Las Vegas and more, Graham has fluidly moved his way through it all with the youthful exuberance and complete comfort of a man who is thrilled to be where he is in life.
"Definitely," said Graham, when asked if Self's assessment of him loving college life was accurate. "Especially Lawrence. There's not too many places like being at KU, the way we're treated here and the fan base and the atmospheres we get to play in. After college, even if you play in the NBA, you won't experience anything like playing in college."
So while Graham hopes his senior season mirrors that of Mason's a year ago, he also plans to pack as many more memories as possible into his final go-round, which already has begun in the classroom and practice gym and will get going at Allen Fieldhouse on Tuesday in the exhibition opener against Pittsburg State.
"It's a long season," he said. "But it goes by so fast and once you're a senior you kind of realize that, like, 'Man, I'm a senior already, I've gotta make the best of every day,' because it'll be over before I know."
Asked if he had approached his final chapter with that mentality thus far, Graham said simply, "Yeah. I think I have."
That's on the court, where he has done everything in his power to match or exceed the work that Mason put in before him. Around campus, Graham continues to be more than just the face of the basketball program.

"I think he's the most popular kid on campus," Self said. "I don't know that positively, but he's different. They'll tell me, if he doesn't have anything to do, he may go sit in the union and just go talk to people, just hang out. You don't see very many college athletes doing stuff like that."
But Graham relishes every moment. Whether it's quick conversations with adoring classmates between classes or at KU volleyball matches, where he, for a few moments at least, gets to blend in with the crowd as just another spectator, the demands on Graham on KU's campus are like the Energizer Bunny, always going, going, going.
"When I first got here it was overwhelming," Graham admitted. "I wasn't highly recruited, I wasn't a McDonald's All-American, people didn't know who I was, blah, blah, blah. But then I came here and people started knowing who I was and wanting to take pictures and I was just like, 'Whoa, whoa.' But now I'm kind of used to it so it's just kind of second nature."
He said the one spot he most often gets to operate as a "normal college student," was in the classroom, where he is majoring in communication studies.
"They treat you regular there," he said. "Maybe sometimes walking to and from class I get asked for a picture or an autograph or something like that. But it's just all love. I've had a couple of good classes. I've got some great teachers, actually, pretty cool teachers, but I'm a COMS major so I take a lot of communications classes and COMS Problem-solving in Teams and Groups was pretty fun."
So where does the preseason Big 12 player of the year and one of the most well-known players in all of college basketball prefer to sit during class, the front of the back of the room?
"Both," he said. "It depends (on) certain classes. One class we've got everybody sitting around the outside (in a circle), so there's no front or back."
Is Graham as outgoing and full of life during his classes as he appears to be during KU basketball games? That depends on the situation. Graham said he had no problem raising his hand and participating in class lectures as long as one key ingredient was in place.
"If I know (the answer)," he joked. "If not, no. I better know the answer."
Answer or no answer, jam-packed Allen Fieldhouse or a quiet corner of the student union, all that Graham has achieved during his first three years as a Jayhawk, along with his willingness to embrace the ever-shining spotlight, have put him firmly in the fabled position of Big Man On Campus.
And whether he longs for the days of anonymity or relishes the love he receives from people from all walks of life, Graham said he had become used to living life as something other than a normal college student.
"Sometimes," he said when asked how often he felt like just another one of the nearly 30,000 KU students on campus. "Not every day. Not if we go out or things like that. But I don't look at it like me being a big star."
However, one does not have to see it the way the masses do for something to be true. Graham most definitely is a star. And everyone knows it.
"He's the most famous person on campus," senior teammate and close friend Svi Mykhailiuk said. "If you ask anybody, 'Hey, who do you know on the team?' The first person they're gonna tell you is Devonte' Graham. Everybody loves him, he's really outgoing, he likes to talk to everybody even when he's going to class, people love him."