Chicago — Legendary Duke basketball coach Mike Krzyzewski talked about his team after it defeated Michigan State, but some of his words applied just as well to Kansas after the Jayhawks' attractively flawed grinder of a close triumph over ridiculously young, talented Kentucky.
"A lot of adversity and beating a great team," Krzyzewski said. "Not a bad night for us. Pretty good one."
The adversity Krzyzewski referenced: Duke's freshman post man Marvin Bagley III, whom Coach K called, "our most talented player," was limited to 10 minutes because he took an inadvertent shot to the eye in the first half and did not return.
Kansas, already thin on the front line, survived despite Billy Preston watching from the bench in street clothes.
Eleven of the top 22 players, including Preston, from the Rivals Class of 2017 rankings play for the four schools in the Champions Classic doubleheader.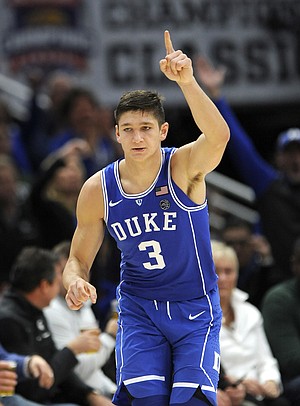 But a senior, Duke's Grayson Allen, rose above all the future stars.
Krzyzewski distributed 61 percent of the 200 minutes to six freshmen, but Allen scored 42 percent of Duke's points in a high-quality, 88-81 victory against Michigan State.
Allen, a national slam-dunk champion in high school, scored a career-high 37 points and made 7 of 11 3-pointers.
Krzyzewski discussed Allen's evolution in interesting fashion.
"He's a great shooter," Krzyzewski said. "He's not a good shooter; he's a great shooter. And he's really a good driver. Concentrate on shooting and then driving. He shoots an NBA 3 easy. Grayson's a great shooter and then he's a really outstanding scorer, but he needs to be a shooter and then a scorer in that way, and that's what he did tonight."
Allen, as was KU's Perry Ellis, is one of those college basketball players who seems as if he's been around for a decade.
In many ways, Allen's career has been a long, strange trip. He became a college basketball household name when, as a freshman, he drove hard into the lane and rallied Duke from nine points down by scoring eight consecutive points on a 16-point night to lead Duke past Wisconsin in the national title game. He played so sparingly during the season that he had 14 scoreless games, but showed his talent with 27 points against Wake Forest late in the ACC season.
Allen shot .346 from 3 as a freshman, .417 as a sophomore, .395 as a junior and, so far, .654 in three games this season.
"His sophomore year, he started really shooting the ball, then he was hurt all his junior year (averaged 14.5 points after averaging 21.6 as a sophomore)," Krzyzewski said. "I think too he's matured as far as knowing who he is as a player. He doesn't have to be this guy who gets knocked to the floor all the time. In practice, he would always extend himself and get hit. In practice now, that never happens. Don't put yourself in harm's way that way. He's just become a great player, great college player."
If Allen can control his emotions better than in past seasons, Duke will be tough to topple from the top spot in the rankings. Allen on three different occasions in his college career tripped an opponent and for the third, received a suspension from Coach K. At times in the heat of battle, Allen seems to have trouble connecting the consequences of his actions to the actions, which of course are all his doing.
If history's a good predictor of the future, the problem will resurface, but it was nowhere to be found Tuesday against Michigan State. Allen was in complete control and already has great chemistry with speedy freshman point guard Trevon Duval, the first person Allen mentioned in every post-game interview. Everything about Allen screamed senior at the United Center.
With him leading the way, Duke convincingly justified its No. 1 ranking, which qualified as the loudest echo from the always entertaining Champions Classic. Duke's so big, so fast, so confident and cohesive already for a freshman-dominated team.
A college basketball season is always more interesting when a clear-cut No. 1 exists. The nation tunes in and viewers easily can be grouped into two parties: Duke fans and fans of the underdog. Come March, the heat of the spotlight shines brightest on one school. Early returns suggest Duke won't wilt under it.
"They're pretty good. They're tough. They had a big moment," Krzyzewski said. "Not many teams get a chance to play in big moments. This doubleheader's a big moment, so you don't know if the moment or the other team will defeat you, and tonight neither defeated them. I really love that. They had a lot of adversity."
Again, those words just as easily could have applied to the Jayhawks.