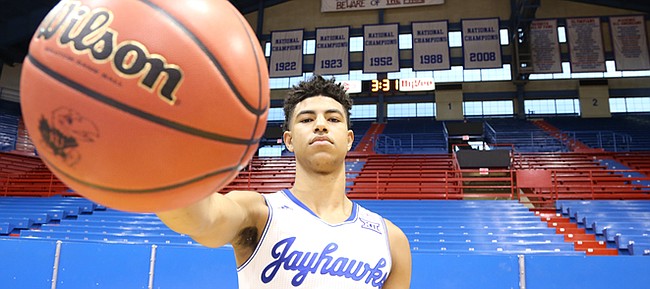 On Tuesday in Chicago, the Kansas men's basketball team beat Kentucky in the Champions Classic to give the Jayhawks their third consecutive victory over the Wildcats.
On Wednesday, back in Lawrence, Kansas made it four in a row.
No, Kansas and Kentucky did not do battle in an encore performance of Tuesday's 65-61, KU victory at United Center. Instead, Bill Self and the Jayhawks defeated Kentucky in a recruiting battle for one of the top players in the country, five-star guard Quentin Grimes.
Most recruiting analysts had Grimes' decision down to Kansas and Texas, but Kentucky and Marquette were his other finalists, so the Jayhawks can take credit for the victory over Big Blue Nation, too.
Grimes, who has long been at the top of KU's Class of 2018 wish list, announced his commitment to Kansas at a ceremony at College Park High in The Woodlands, Texas. Shortly thereafter, he sent his national letter of intent to the KU basketball offices to make his commitment official. Needless to say, the news was well received in Lawrence.
"We feel Quentin Grimes is as good as guard as there is in high school basketball," Self said of the 6-foot-5, 180-pound combo guard. "He's got great size. He's got point guard vision. He can really handle the ball. He reminds me of a guy that I coached at Illinois, Deron Williams, but probably a better scorer than Deron at this stage. We think Quentin will be an impact guy for us and be one of the premier guards in the country early in his career."
For Grimes, who held up a No. 5 Kansas jersey in front of a huge smile in the moments that followed his big announcement, the moment he made it official was unlike anything he had ever experienced.
"It was just a feeling that you can't even really describe," Grimes told the Journal-World late Wednesday night. "Just knowing that you're going to the school you want to go to and you're going to be playing for a Hall-of-Fame coach like Bill Self, you can't even put that into words."
Grimes said making his decision and sending his letter in before the end of the early signing period, which arrived at midnight Wednesday, was a goal of his throughout the process.
"It was important because I knew all of the benefits that would come after if I signed early rather than late," Grimes said. "Just the unlimited amount of visits, they can come by, I can talk to (Andrea) Hudy, the strength coach, and just get a little head-start before I get on the actual college campus."
When he does, Grimes, like Self, expects to make an immediate impact. He said he wants to continue to develop his consistency from behind the 3-point line before arriving at Kansas and added that he would continue to build his all-around game in the process.
KU assistant coach Jerrance Howard, along with Self, played a huge role in enticing Grimes to Kansas and the newest Jayhawk said Wednesday that the bonds he felt with those two, along with how comfortable he was around the current team on his visit, made Kansas feel like home.
"I think that's the biggest key when you're picking a college, the relationship you build with the head coach," Grimes said. "Me and Coach Self have a great relationship. He was at almost every game of mine in the summer and Coach Howard was in every week just to see me, check on me, calling me almost every day. Just to see how committed they were really set the tone right there."
Grimes becomes the fourth player to commit to and sign with Kansas during the early signing period, giving Self and company a fast start to what is shaping up to be one of their most impressive recruiting classes at Kansas.
Adding Grimes to a class that already included point guard Devon Dotson (6-1, 180, No. 17 per Rivals.com), Silvio De Sousa (6-9, 245, No. 25) and David McCormack (6-10, 280, No. 33), vaulted KU back into the No. 2 spot on Rivals.com's team rankings for the 2018 class.
With more scholarships to give out and Self and his coaching staff still searching to add more talent, there's no telling just how strong the 2018 class could end up. But even if they don't add another player, Self seemed overjoyed with how things have played out thus far.
"We are very excited about this class," Self said. "The four we've signed are high IQ basketball guys that understand how to play with other good players."