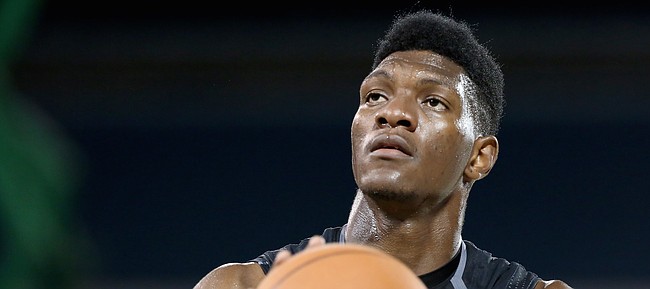 A handful of Twitter messages that surfaced Thursday suggesting that Class of 2018 power forward Silvio De Sousa had been authorized to join the Kansas basketball program in time for the second semester of the current season were not quite accurate, according to a source with knowledge of De Sousa's recruitment.
But the tweets, which came from what appears to be some kind of KU fan account and have since been deleted, were not completely unfounded.
While announcing his commitment to Kansas to the Journal-World back in August, De Sousa said then that he wanted to explore the idea of graduating from IMG Academy early in time to join the Jayhawks this season.
"Of course I want to play for my team in high school this year," De Sousa told the Journal-World in August. "But if I get a chance to go straight to Kansas, I would love to just go to Kansas. That would be something great for me and I will be grateful."
His guardian, Fenny Falmagne, confirmed to the Journal-World on Thursday night that De Sousa was in fact waiting to see if such a move was possible.
"We feel good about the process," Falmagne said. "Right now, it's just a matter of making sure the NCAA is going to allow everything to happen. We just have to know 100 percent where he's at, if he can do it or not. And we don't want to assume anything."
Falmagne said they expected to hear some kind of news by Tuesday and added that, if the news is positive, De Sousa would move forward as quickly as possible.
Final exams at IMG are scheduled for Dec. 18-20, meaning that the earliest De Sousa could realistically join the Jayhawks would be ahead of their Big 12 Conference opener on Dec. 29 at Texas.
"Academics is no problem," Falmagne said. "We're basically waiting for the NCAA to let us know if it's OK for him to do this. He's definitely excited about it. It's a big step on his path to what he wants to do in his life. And any time you have a checklist, you get excited to check that box."
At this point, it's difficult to know whether De Sousa will be permitted to join the Kansas program this season or not. If he is, the 6-foot-9, 245-pound power forward ranked by Rivals.com as the No. 25 player in the 2018 class would provide a huge boost for a thin Kansas frontcourt and a roster that features just eight scholarship players who are eligible to play during the first semester.
"Most people know how I play basketball," De Sousa told the Journal-World. "But I want to help them with my size and just rebound the ball and do whatever it takes to help them win."