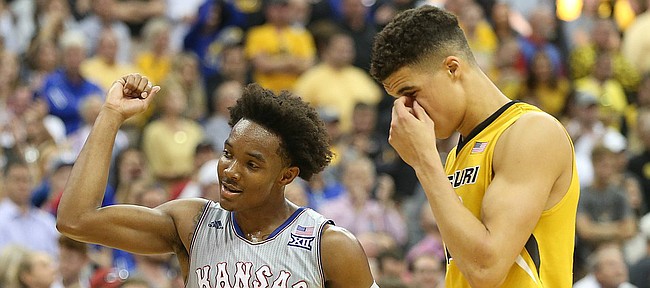 It did not take Kansas senior Devonté Graham long to get excited about tonight's regular season opener.
Just minutes after Tuesday's exhibition victory over Fort Hays State, Graham told teammates in the locker room, 'It's finally here,' and now it really is, as the fourth-ranked Jayhawks will kick off the 2017-18 campaign at 8 p.m. tonight against Tennessee State at Allen Fieldhouse.
While it has been well documented how Graham enters the season as the unquestioned leader and clear face of the Kansas basketball program, KU coach Bill Self said those realities were really nothing new.
Despite playing the role of Robin to Frank Mason III's Batman a season ago, Self said Graham still carried out many of the duties of a leader both on and off the court.
"I think people look at it a little bit different than I do," Self said Thursday. "I'm not sure we passed the torch from Frank to Devonté from a leadership standpoint. I think we passed the keys to him. But I think that Devonté has always been a great leader. I think, potentially, he's as good a leader as we've had, because people respect his talent, they respect his work ethic, he's got personality and he can talk."
Because of that, despite all of the question marks that surround the fourth-ranked Jayhawks — depth, transfers, mindset, etc. — Self enters his 15th season as the leader of the Jayhawks with supreme confidence in the man guiding the ship.
Fourth-year point guards at blue blood programs are rare these days. And now, for the second year in a row, Kansas is led by one.
"I've never thought about trust ratings," joked Self when asked if he felt as good about Graham today as he did Mason at this point last season. "But I would say it's pretty comparable. Last year, it was probably a little bit easier to trust Frank because you had Devonté. This year, you trust Devonté, but there are still some unknowns out there with some other guys. But, yeah, I trust Devonté as much as I've trusted any guard that we've had here."
Self is not alone in feeling that way. The Jayhawks, to a man, have supreme confidence in Graham as their general and tend to follow his lead in performance, personality and panache.
"To see Devonté rolling and knowing every position on the court, telling us where we need to be, defensive strategy and stuff like that, it's always good for our confidence," sophomore forward Mitch Lightfoot said. "He's made great strides, even from last year to this year, as a leader, and I'm really excited to see what he has going this season."
Naismith watch list
Graham and sophomore Malik Newman are two of the 50 players named to the preseason Naismith Trophy watch list, the Atlanta Tipoff Club announced Thursday.
Graham, the Big 12 Conference's preseason player of the year, and Newman, the Big 12's preseason newcomer of the year, will team together in the Kansas backcourt in both trying to emulate what Graham and Mason delivered a season ago and following directly in the former KU point guard's footsteps.
Mason, now a rookie with the Sacramento Kings, swept all of the major national player of the year awards following his stellar senior season, including the Naismith Trophy.