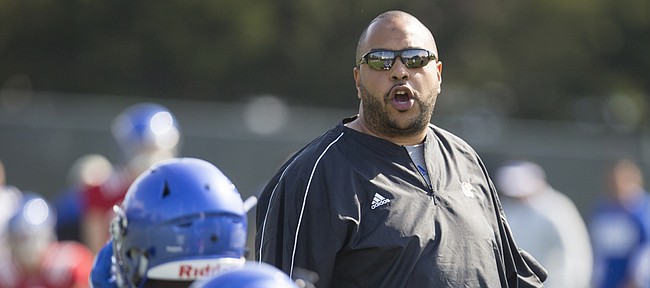 The Kansas athletic department made another serious commitment to improving its football program Tuesday when it more than doubled the salary of running backs coach and standout recruiter Tony Hull, who also received a new title.
David Beaty announced on his Twitter account that he had promoted Hull to associate head coach, saying "Tony's recruiting prowess speaks for itself, but he is more than just a dynamic recruiter. Tony is a great football coach and his positive impact on this team is felt on a daily basis."
Hull, entering his second season on Beaty's staff, left his position as head coach of Warren East High in New Orleans to fill the running backs job vacated when Reggie Mitchell left Kansas for Arkansas.
Hull earned $150,000 in his first season at Kansas and received a raise to $400,000, according to a source with knowledge of the salaries of Beaty's assistants.
Hull's promotion came in the wake of his banner recruiting week and was announced a day after LSU filled its running backs coach vacancy with Tommie Robinson, a former USC assistant from Los Angeles.
LSU head coach Ed Orgeron demoted Jabbar Juluke as running backs coach, which reportedly upset area high school coaches. Juluke since has left LSU to take the same title at Texas Tech as Hull has at Kansas, associate head coach/running backs coach. Hull's recruiting success in Louisiana gave him strong qualifications to become Juluke's successor, but Orgeron didn't stay local with the hire.
Hull's raise comes after his huge recent recruiting haul, which led to the following headline on seccountry.com: "Should LSU be concerned about a pipeline from Louisiana to Lawrence?"
Hull in the past five days has received six verbal commitments from high school juniors from the state of Louisiana, including two prospects ranked in the top 60 in the nation, five of the commitments happening after the recruits attended KU's basketball loss Saturday to Iowa State at Allen Fieldhouse.
"It's a pleasure in this business to reward people for a job well done," Kansas athletic director Sheahon Zenger said. "And the thing about Tony that I think it's important for people to know is this isn't just about recruiting.
"Tony has a way with players that's important for this program. We're talking about a former engineer at NASA. He's an impressive guy who gave up that career for what he felt was a calling to go back and be a teacher and a coach and affect young people's lives."
Hull grew up in New Orleans East, an area hit hard by a tornado Tuesday. Hull tweeted that he was driving in New Orleans when the tornado hit and he posted photos of the neighborhood in the wake of the tornado. He could not be reached for comment Wednesday.