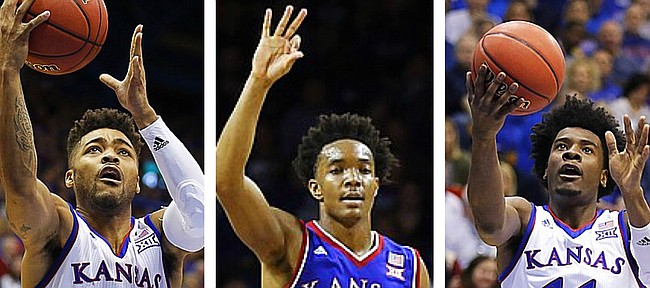 A talented trio of terrific guards in the starting lineup hardly has been a rare occurrence at Kansas throughout the past 25 years, but few groups have had the sort of night in, night out impact that senior Frank Mason III, junior Devonte' Graham and freshman Josh Jackson have for this year's Jayhawks.
While Jackson technically has been playing the four spot, with junior Svi Mykhailiuk starting at the three, KU coach Bill Self has said on more than one occasion that even though Jackson is at the four, the Jayhawks are using him, 100 percent of the time, as a guard.
That's a key distinction for the following exercise, which will both tug at the heart strings of even the most loyal Kansas fans and also challenge many memories.
With that said, let's rank the best starting trios on KU's perimeter of the past quarter century.
My list:
1. 2016-17 — Frank Mason III, Devonte' Graham and Josh Jackson
This season's trio gets my vote because of their impact and enormous importance every time they step on the floor. Mason and Graham are averaging 35 minutes a game, Jackson is right at 30 and that group has accounted for nearly 60 percent of KU's points and 75 percent of the Jayhawks' assists while also being asked to carry the load both offensively and defensively. They do not have a Jeff Withey, Thomas Robinson, Perry Ellis or set of Morris twins to help them out. That's not a knock on this team's supporting cast, more a tip of the cap to just how good these three have been.
2. 2002-03 — Aaron Miles, Keith Langford and Kirk Hinrich
This group features the Big 12 and KU's all-time leading assist man in Miles (954 career assists) and two of KU's Top 11 all-time scorers in Langford (7th with 1,812 points) and Hinrich (11th, 1753 points). Beyond that, they played fast, fit together perfectly and led the Jayhawks to the 2003 NCAA title game, an achievement that can't be overlooked on this list and will factor heavily into how Mason, Graham and Jackson will be remembered.
3. 1996-97 — Jacque Vaughn, Jerod Haase and Paul Pierce
Had Pierce stayed for his senior season, which players actually did back then, he likely would have scored enough to move into the No. 2 spot on KU's all-time scoring list. As it stands, the future NBA champion and 10-time All Star sits in ninth place with 1,768 career points, the most per season by any Jayhawk not named Chamberlain, Lovellette or Manning. Add to that fierce competitors like Vaughn and Haase, who defended as well as any KU backcourt ever and also did enough offensively to keep teams from swarming Pierce and it's easy to see why this group was known as one of the best college teams to not win a national title.
4. 2007-08 — Russell Robinson, Mario Chalmers and Brandon Rush
The only trio on this list with a national championship ring falls to fourth on my list simply because of the incredible talent that surrounded them. KU's 2008 title team was known as one of the deepest and most balanced groups in recent memory and it was the presence of players like Darrell Arthur, Darnell Jackson and Sasha Kaun, along with Sherron Collins, who shared point guard duties with Russell Robinson, that made this team so tough to beat.
5. 1992-93 — Adonis Jordan, Rex Walters and Steve Woodberry
For two seasons in the early 90s, Jordan and Walters set the standard for tough backcourts in college basketball by playing fast, tough and with a ferocious will to win. Leading the second Roy Williams-coached team to reach the Final Four in Williams' first four seasons at Kansas, all three guards averaged in double figures in scoring and accounted for 44 percent of the team's scoring and 61 percent of its assist total. Jordan was the first big time recruit landed by Williams at Kansas, and when Walters joined him after transferring from Northwestern, it was a match made in heaven.
6. 2009-10 — Sherron Collins, Tyshawn Taylor and Xavier Henry
Led by Collins' 15.5 points-per-game average and tenacious attitude, the Jayhawks entered the 2010 NCAA Tournament as the No. 1 overall seed with a 32-2 record. Two games later, their season was over, well short of where anyone thought it would end, but that did not erase the monster effort turned in by this trio of athletic and attacking guards that could deliver inside and out.
7. 2011-12 — Tyshawn Taylor, Elijah Johnson and Travis Releford
Not the most impressive group when it comes to the recruiting rankings, but they may have had the most impressive run of any trio on this list. Refusing to lose time after time in the 2012 NCAA Tournament, Taylor, Johnson and Releford led the Jayhawks all the way to the national title game where they fell to Kentucky in a game that many believe could have gone KU's way if the game was just a few minutes longer. Long, athletic, deadly in transition and as tough as nails on the defensive end, this group also benefited a great deal from the presence of All-American Thomas Robinson and shot blocker extraordinaire Jeff Withey.
8. 2013-14 — Naadir Tharpe, Wayne Selden Jr. and Andrew Wiggins
When you've got a team that includes arguably the best recruit a school has ever landed, it has to show up somewhere on a list like this. But as good as Wiggins was on the stat sheet during his lone season as a Jayhawk, this group never quite gelled and went home early after a disappointing loss to Stanford in the second game of the 2014 NCAA Tournament. All three players were among KU's Top 5 leading scorers that season, with Wiggins leading the way with 17.1 points per game.